Spring has arrived in Whatcom County. Cherry trees punctuate gray skies and golfers head onto the green. Meanwhile, high school seniors prepare for college and fortunate student athletes win scholarships, paving the way to becoming legends like their sports heroes.
While the late Chelsey Rae Ebert never graduated from Ferndale High School, she did leave a legacy. The former high school volleyball and basketball player died in December 2007 after a battle with a rare form of cancer. She and her father, Jay Ebert, founded the Chelsey Ebert Trust that awards scholarships to female high school athletes from Whatcom County to fund their university education. Thus far, the trust has awarded scholarships to over 85 female high school athletes from Whatcom County.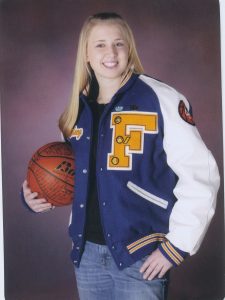 The Ferndale Chamber of Commerce partners with the Chelsey Ebert Trust in hosting the Chelsey Ebert Celebrity Weekend Event. The weekend includes a dinner with an auction and a golf tournament. The ninth annual dinner-auction will be held at the Silver Reef Event Center on Friday, May 12 from 5:00 to 10:00 p.m. The ninth annual celebrity golf scramble will be held at the Shuksan Golf Club on Saturday, May 13 from 9:00 a.m. to 6:00 p.m. with an 11:00 a.m. shotgun start.
This year's celebrities include Jordan Babineaux, Luke Willson, Sam Adkins, Mark Lee, Jared Zabransky, Colin McCarthy, Randal Morris, Jay Hill, Tali Ena, Jessica Hopkins (Ferndale High School graduate, LFL Hall of Fame, Seattle Mist) and Paul Johns, just to name a few. A long-time supporter and returning celebrity this year is Sam Adkins who formerly wore the number 12 jersey as a quarterback for the Seattle Seahawks. The dinner, auction and golf tournament offer attendees the opportunity to rub elbows with celebrities and raise funds for university scholarships and an array of charities dear to Chelsey Ebert's heart.
According to Ann Serwold at the Ferndale Chamber of Commerce, "Chelsey decided at the end of her illness that she wanted to do a girl's basketball scholarship for Ferndale as her legacy. From there it has grown to two scholarships for senior girls in any sport for every school in Whatcom County."
While the scholarship grabs the limelight, the Chelsey Ebert Trust also donates funds to Whatcom County Veterans, the Seattle Children's Hospital, Pretty in Pink Walk, Ferndale Food Bank and other worthy organizations. Ebert not only shone as a high school athlete, she was also on the honor roll and she excelled as a leader by volunteering in her community.
In 2016, the annual dinner and golf tournament raised $160,000 which contributed to the scholarship fund and other organizations. The 2017 recipients include scholarship winners, St. Joseph Medical Center, the Make-a-Wish Foundation, Ferndale High School, Mount Baker AAU Basketball, the Whatcom County Sheriff's Department and Ferndale Police.
The athletic scholarships are competitive and recipients must meet strict criteria. "Chelsey gave us the requirements she wanted used," says Stephanie Ebert. "The students had to have played their senior year in high school, have a 3.5 or higher GPA, no ejections, technical fouls or disqualifications and they show positive leadership." The recipients must also have been starters, however, they did not need to be the team captain or the best player.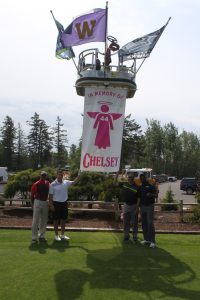 Tickets for the Celebrity Dinner are $54.44 per ticket with tables of ten for $544.44.  Sponsorships range from $5,044 for the Title Sponsor which includes two ten-tops and VIP passes for the dinner and auction and two golf teams plus the company logo on all promotional material. The Celebrity Dinner and Auction Sponsorship Package costs $3,544.00 and includes the company's logo on all the dinner and auction promotional material, a logo banner at the dinner, one golf foursome, a ten-top dinner table and 10 V.I.P. tickets to Friday's VIP reception.
Participating golfers have a few weeks left to work on their game. Meanwhile, Whatcom County philanthropists count down the days until the event that honors a very humble young lady that excelled, not only at sports, but also as a humanitarian.
Business sponsors include Phillips 66, Ancon, Agent Pipeline, Bellingham Professional Office Cleaning, Fortiphi Financial, D&D Insurance Agency, Signs by Tomorrow, Whatcom #7 Fire Fighters, Silver Reef Casino, Swinomish Casino, Bellingham Grocery Outlet, Mills Electric and several small businesses. Tickets can be purchased at the Chelsey Ebert Trust website, https://www.chelseyebert.com/.
Sponsored