This May, the historic Mount Baker Theatre will celebrate 90 years as Whatcom County's hub for live entertainment from around the world. MBT is inviting the public to attend a free Community Open House on May 5, 2017 from 3 to 5 p.m. that will include birthday cake, historical information, video screenings and more.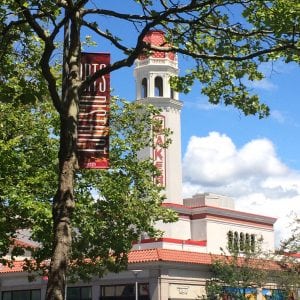 MBT History
MBT will officially turn 90 years old on Saturday, April 29. The true birthday gift is that what began as a luxe movie palace in 1927 has evolved through community, government and private support to become the historic home to a premiere Pacific Northwest cultural tourism destination that also sustains the regional community and economy in Bellingham's downtown Arts District.
Currently, MBT hosts over 110,000 people in more than 400 annual events across its three venues but in the 1980s MBT was slated for demolition. In a great example of civic partnership between city, county and community, a new structure emerged. Today the city-owned facility is managed by the Mount Baker Theatre Corporation, a 501(c)(3) nonprofit organization. That '80s wrecking ball was set aside to make room for a gorgeous restoration and repurpose of existing spaces. This was done in phases to arrive at the gem of a building we see today.
Access to the Performing Arts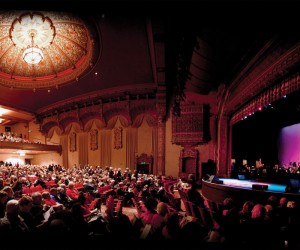 MBT gives our community access. Through the touring performances MBT presents, patrons can experience world-class entertainment without having to travel to New York or even Seattle. The Wade Bennett King Education Series hosts over 16,000 school-aged children annually, with professional programming aimed to inspire while augmenting topics studied in more traditional school settings. Commercial renters bring famous acts, festivals and their attendees into the building and the town.
"Access" is not limited to entertainment from afar, but to the building itself as a world-class facility for local presenters. Their professionally-managed historic stage hosts the little feet of local dance students, the "walks" of various college graduates, and well-heeled speakers from many civic and community groups. From ski films to local authors, the stunning theatrical setting can make local events "big."
But MBT is much more than events with tickets. The community spaces act as an anchor for downtown Bellingham's Arts District. Performances, rehearsals, keynote speakers, meetings and more happen on the Main Stage, in the Harold and Irene Walton Theatre and in the 1,200-square foot Encore Room. Many community arts nonprofits take advantage of the program that allows free use of the Encore room. There is usually something happening in the building in addition to the all-audience ticketed shows.
"Give Big" in May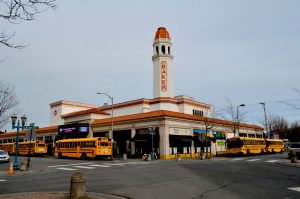 In early May, in honor of the 90th Birthday Celebration, MBT is encouraging the community to become MBT members and make donations to support the facility and its impact on the community. "Membership supports so many things at MBT: the preservation of the building, keeping the programming we provide accessible, keeping the use of the Encore Room free to local nonprofits, and underwriting the costs of MBT's extensive education program and the headliners we're able to bring to the area," explains Development Director John Purdie.
Fundraising work last year with Mercy Housing and Alderwood Elementary School allowed several children to attend Missoula Children's Theatre Summer Camps at MBT on scholarship. That success helped get more funds including a matching grant from Bellingham Bay Rotary Club that will support scholarships for more than 20 students to this summer's camps.
MBT is also planning to increase scholarships for the education program that serves Kindergarten through 12th grade. "Many teachers have told us that even our current low cost for tickets and the costs of bussing is too much for them so we'd like to help those most in need," adds Purdie. The upcoming William Shakespeare's Romeo & Juliet is a great example of the many shows presented as part of MBT's education program.
Donations can be made today on the MBT website or during the "Give Big" program in early May. Donors should note in the comments field, "for scholarships," when making their donations.
Community Open House Celebration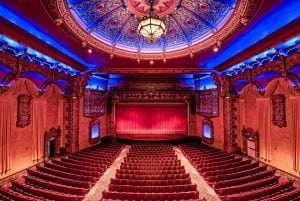 The Community Open House will run from 3 to 5 p.m. on May 5. Two screenings of a video project about MBT's history from local muralist Lanny Little will be in the Walton Theatre, beginning at 3 p.m. and 4 p.m.
The free, family-friendly event will include birthday cake and historical information from volunteer tour docents. A short public presentation and official celebratory announcement by local dignitaries will occur around 4:45 p.m. Advance reservations are not required.
The majestic MBT brings so much to the community as a performing arts center-piece, providing access and education to both locals and tourists of every age. With the help and hard work of staff, volunteers and donors, the theater is looking forward to the Community Open House and the "Give Big" campaign that will celebrate MBT's 90th year as a vital member of this lovely community.
Mount Baker Theatre
104 North Commercial Street
Bellingham, WA  98225
Phone:  360-733-5793
Tickets:  360-734-6080
www.mountbakertheatre.com