Josh Burdick, owner of Veritas Media Productions, has learned a lot about being a small business owner. Now he looks to 2017 as a year of growth in both business and life. "There's a clear ceiling as to what you can accomplish as one person," says Burdick. "You can accomplish far more when you build a team and leverage the skills than just by yourself."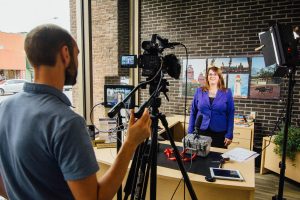 In January of 2017, Burdick decided it was time to expand the internal team at Veritas Media Productions. "I was looking for someone with skin in the game," says Burdick. "Someone who believed in what I'm doing. Video is a team sport." Since then he has added two such individuals to assist with production and editing, giving Burdick the opportunity to grow the business as well as grow personally.
Burdick, and Veritas Media Productions, found a critical point in the business had been reached making that decision for growth and expansion an easy one. And, with the recent acknowledgment and awards from Wistia for Storytelling and Hardworking Video, Burdick knows his name and credibility are growing now more than ever.
This opportunity for growth goes beyond adding employees for Burdick. "There is a mentorship component," he says. "I really enjoy teaching and helping another person grow."
Having a larger footprint in his business also means having a larger footprint in the community. Burdick has seen his personal and business growth expand as he becomes more involved with the community. "I have great exposure to different pieces of the community," says Burdick. "I want to better understand how I can engage in those different conversations as a producer of media. I want to help tell the story of the community in a way that is responsible and even-handed."
Burdick has a personal interest in understanding the issues impacting our community. He enjoys working with people who are passionate about the complexity of these issues in order to portray these stories. "I've really enjoyed being a part of Leadership Whatcom," Burdick says. "I've learned so much about civic issues, legacy and in-depth problem solving. It's been really interesting to learn."
Community growth is also something that Burdick believes should be a focus for himself and all business owners. By hiring locally and working with local businesses to prosper, he is able to contribute to the community.
2017 will see another new addition to the team. Burdick and wife, Nicole, are expecting their first child in May. "I have a wide range of emotions," says Burdick. "It's going to be my daughter's world some day and I want to help make this a place where she can flourish and grow. This is the most important next step in personal growth."
Like the team at Veritas Media, Burdick and his wife are a team. Burdick looks forward to growing and learning as a team when it comes to raising their child.
Burdick believes in investment when it comes to any kind of growth. From the investment in new equipment and people for Veritas Media Productions to his own learning through community involvement and Leadership Whatcom to learning what it takes to be a parent, Burdick is taking one step at a time. "It's important to have a team of people surrounding you that you trust to guide and help you get to the next level," he says.
Burdick describes his biggest moments of growth as the ones that took him out of his comfort zone. One example of this is how Burdick has built his business from the ground up. In the beginning, he had never run a business before and now he has a whole new level of confidence in himself and his product.
"I'm not done learning and growing yet," Burdick says. "It's always a process … We're in a season of unknowns, a season of change, and with that change comes growth. I'm excited about the future and excited for the growth in all areas including being a dad."
Sponsored