I spent most of the month of January cleaning and resetting my home. From moving furniture to clearing out closets, I decided the New Year was the perfect time to clear out what wasn't working.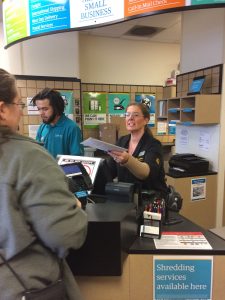 One thing that wasn't working for me: My piles of old mail. If you're anything like me you receive your bills and important documents electronically and end up with stacks of credit card offers and extra paper that you know you shouldn't recycle due to personal information, but don't want to keep in a filing cabinet. What started as a convenient spot to set a few pieces of mail until I figured out what to do with them quickly grew into the, "I Have No Idea What I'm Supposed to Do with This Pile," pile – a foot-high stack of paper slouching conspicuously in the corner of my closet. This is all about to change.
The UPS Store at Sehome Village is known for being a one-stop business and shipping center. But this time of year, manager Bobbi Gainer and her staff help lots of regulars and first-time customers tackle tax time and beginning of year projects. High on that list of tasks? Shredding.
"We offer shredding services here for a dollar a pound," shared Gainer. "We've got the shredding bin here on-site. It gets picked up every couple of weeks and goes bye-bye."
Old tax documents? Credit card offers? Old magnetic stripe debit and credit cards? The UPS Store can help you out. "We can take anything and everything," Gainer said. Plus WhatcomTalk Readers will receive a 50% discount when they mention this article – that's just 50 cents a pound. I guess I know where I'll be taking that unwieldy stack of paper that's been taunting me.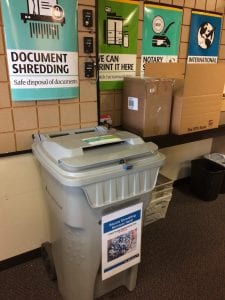 UPS is a major brand but the three UPS Stores in Bellingham and Burlington are locally owned and operated by Glen Groenig. The UPS Store at Sehome Village has been in business for 12 years now and many customers have become family to the staff who work there. "People come in regularly and we get used to seeing folks every day," Gainer explained. "We're still a family-owned business, so we have that family and hometown feel."
Since Yorkies in Fairhaven is now closed, many people who live on the south side are looking for a new place to provide mail services. The UPS Store is a convenient, welcoming spot to suit their needs, from sending birthday cards to keeping a mailbox for their home-based business.
"We are more than just your pack and ship place," said Gainer. In addition to printing and notary services, The UPS Store can provide a mailing address that qualifies as a physical street address. "We can also be your office," Gainer said. "A mailbox is a street address so we can accept and sign for packages to be kept safe and secure until you can pick them up. You can call ahead of time and find out what's in your mailbox if you can't come down and we do offer 24-hour access for folks to get into the lobby."
Gainer grew up in Whatcom County and is a great resource to her customers. "I'm able to help the students and others who are new to the area," Gainer explained. And because she's been working at The UPS Store for nine years and has been Manager for about five, she can provide an extra level of support to her business customers as well. "If they need something that I can't do in-house here I can refer them to another UPS Store or even another business."
With tax day just around the corner, staff at The UPS Store at Sehome Village are ready to help make sure your important documents get where they need to go. "It is tax time and we can get everyone's taxes out in a timely manner," said Gainer.
And The UPS Store has something special for those with loved ones serving in our Armed Forces. "During the month of February we provide the First Class stamp for Valentine's Day cards to be sent to military personnel overseas," Gainer said. From submitting tax forms to sending love to your loved ones serving abroad, The UPS Store's knowledgeable staff are ready to help.
The UPS Store 5075
336 36th Street
Bellingham, WA 98225
The UPS Store 2472
4152 Meridian St. #105
Bellingham, WA 98226
The UPS Store 5499
1777 S. Burlington Blvd
Burlington, WA 98233