Needing a document notarized is a situation that can come up urgently, and knowing where to get a document notarized can be a bit tricky. Sehome UPS Store Manager Bobbi Gainer has seen an upswing of Bellingham customers seeking notary services because their bank or title company no longer provides the service.
Documents needing a notary stamp can vary widely. A common use is real estate documents, which need to be notarized during the buying and selling of properties as well as for refinancing mortgages. Visa and passport applications also need to be notarized. Power of attorney is an important document to have notarized before a patient undergoes a surgery. Equally as important are letters of permission.
"During the summertime, we get a lot of parents that let kids travel with their grandparents across the borders, so the parents have to write a letter of permission, and we can notarize those," Bobbi shares. "We have parents bringing in letters of permission when the children go to camp. If the child needs medical attention while away at camp, having these documents notarized provides a valuable legal document for any doctors requiring parental approval before providing care."
Becoming a Notary Public is a fairly simple process. The applicant fills out a form that is publicly witnessed by three non-family members and notarized. Then a check is sent in to the city along with the application and proof of bonded insurance. Once approved, the new Notary Public obtains an individual stamp with which to notarize documents. The act of notarizing is really the verification of individuals on a document — that the individual being referred to is who they say they are. For this, each person on the document needs to be present with their photo ID to verify their identity.
"We've had some instances where the student has had the car in Bellingham and mom is in another state. They've wrecked the car. They need to file an insurance claim and the parents tell the student to come in and say, 'Get this notarized.' But, the student is not the owner of the car and I need mom here in front of me," Bobbi shares. "A lot of people don't realize that I have to have the person in front of me." Once that person on the document is present and verified, the document is signed and the Notary Public can then stamp the document.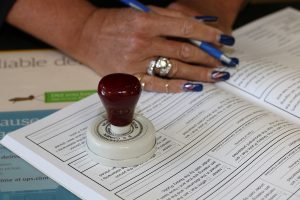 While it may be simple to become a Notary Public, it is important to be up to date on any laws that can change as well as knowing which forms can and cannot be notarized. This is where the staff members at the UPS Store really excel. Managers attend seminars and share information learned to keep everyone up to date on any changes to the notary service. Having this knowledge, staff members can educate customers on how documents need to be prepped to ensure they will be properly notarized and therefore legally accepted.
For example, one of the recent changes to notary law has to do with added text that now needs to be at the bottom of forms. "They've changed the rules a little bit to where what we call the notary language needs to be on the bottom of the page. I'm not allowed to provide that anymore," Bobbi explains. "It has to be on the document now and the document has to be prefilled out when they come in, but not signed." To find the required text, customers can either go online and find what is called a notarial certificate or Bobbi can give customers an example so that they can type it up or handwrite it themselves.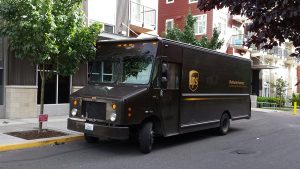 Another area that has recently changed is I-9 forms. "They have changed the rules on I-9 forms. For people who are getting jobs online with employers that are back east, we don't stamp those because there's no place for a stamp," Bobbi shares. "Unless that employer provides us with a letter saying, 'Yes I need you to do this. You are acting in my stead,' then we can do it, but until then, no."
One of the great things about going to the UPS Store for notary services is that each of the employees has the ability to provide the service. During the week days it's easy to drop in and any staff member will be able to help. Weekends can be a bit busier, so it's best to call ahead to reserve a time slot. This makes the process easy and convenient to get your document notarized with efficiency.
In addition to notarizing documents, the UPS Store is unique in that newly notarized documents can also be photocopied on site and shipped out as well, saving precious time.
Currently at the UPS Store, customers who drop off packages can receive a coupon for $1 off notary services. The local UPS Stores are conveniently located at Sehome Village and on Meridian Street.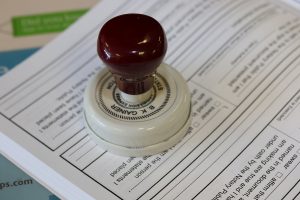 The UPS Store 5075
336 36th Street
Bellingham, WA 98225
The UPS Store 2472
4152 Meridian St. #105
Bellingham, WA 98226
Sponsored