Submitted by: Whatcom Community College
Whatcom Community College will use a five-year, $650,000 National Science Foundation (NSF) grant to provide scholarships and academic support for 36 low-income, academically talented students pursuing associate degrees in biology, chemistry, computer science, engineering, geology, mathematics and physics.  Leaders of the "STEM Excellence through Engagement in Collaboration, Research, and Scholarship" (SEECRS) grant will employ strategies that help students to successfully complete STEM (science, technology, engineering and math) associate degrees and promote transfer and completion at four-year institutions.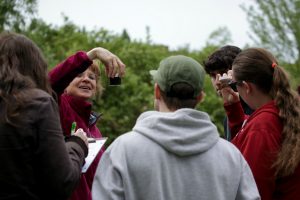 "The fact that Whatcom's proposal was selected in this highly competitive grant process indicates the caliber of WCC's faculty and the stature of the College's innovative STEM instruction," says Kathi Hiyane-Brown, WCC's president. "We're honored and eager to begin this important work."
Beginning fall 2017 and continuing through fall 2019, 12 SEECRS scholarship recipients will be selected annually to participate in the STEM Scholarship Academy at WCC. The project will use what is called a guided pathways approach to provide a distinct road map to the destination of STEM degree achievement, meaning students will spend less time and money earning their degrees. Together, students will experience faculty mentoring, STEM pathway degree planning, and optional research and internship opportunities. The program will support a national need to attract and provide access to students who do not typically pursue, persist in, or earn STEM degrees.
"The program will help boost students' confidence and concept of themselves as STEM scientists and leaders," says project leader Dr. Tommaso Vannelli, a chemistry instructor at WCC. "To accomplish this, it will do more than provide scholarships. It will activate strategies that are proven ingredients for STEM success such as mentoring and internships."
The SEECRS project will contribute to the national conversation on guided pathways and can serve as a model to other institutions. It builds on the strengths of existing College programs and initiatives, including student support, active and collaborative learning, and faculty involvement with other grant programs.
This academic year, WCC has been awarded four new NSF grants totaling $1.3 million. WCC currently leads or collaborates on eight NSF grants totaling $8.1 million. The College ranked third in the state and 150th in the nation among higher education institutions receiving NSF grants in 2015, the most recent year for which statistics are available.