Submitted by Port of Bellingham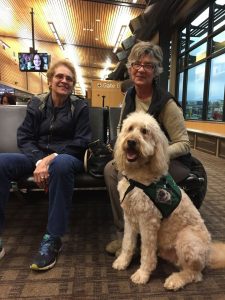 Whatcom Therapy Dogs has partnered with the Bellingham International Airport to provide a new stress-relieving program: Pups Easing Traveler Stress, or PETS, in the commercial air terminal.
Registered therapy dog teams will be in the terminal on a weekly basis to provide passengers and staff with a furry, stress reducing experience. PETS teams will be wearing ID tags and vests that invite travelers and staff to say 'hi,' and visit with the therapy dog teams.
More information about Whatcom Therapy Dogs can be found at www.whatcomtherapydogs.org.