Bellingham is well known for its great hikes and natural landscapes. Around here, where winters can get cold and rainy, hiking is usually thought of as a summer activity. But the area's entertaining walks don't have to be limited to warmer months. Fall and winter hikes have a lot to offer. This winter there are plenty of places where individuals, dogs and families can go to enjoy the multicolored foliage and crisp air.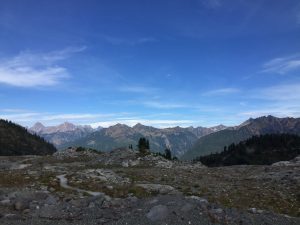 One of the easiest, most accessible and most common nearby walks is Whatcom Falls. The namesake waterfall is especially full this time of year with runoff from all of the rainfall. Running alongside many of the pathways are streams and smaller waterfalls. There are also plenty of yellow, orange and red leaves on the trees surrounding the trail. Extremely kid-friendly, this walk includes a playground and a multitude of trails. This makes it easy to tailor the trip to fit a schedule or avoid boredom with children. Dogs are also welcome on the trails and usually enjoy looking at the adjacent duck pond. Whatcom Falls is a great option for people with limited time, kids, or those who simply want a nice, relaxed walk.
Another easy walk is Lake Padden. Like Whatcom Falls, it has plenty of trail options. Some have uphill stretches while others are flat. There is a longer trail that follows the edge of the lake in a loop, which offers great views of the water. In some places, small streams and ponds can also be found. Lake Padden is perfect for people with dogs. A large portion of its trails are off-leash so dogs can run freely. Most of the trails are far from roads, so there are no worries about pets running off and putting themselves in danger. One small portion is a bit close to the freeway, but can be easily avoided. There is also a dog park which includes a tunnel, picnic benches and a hose for thirsty canines.
Lake Padden contains trails that connect to another popular hiking destination: Galbraith Mountain. The biggest attraction at Galbraith is mountain biking. There are plenty of challenging courses and even a space with ramps for jumping. Non-bikers are also welcome. It proves to be a very pretty walk, with a view of the city from the top. The high vantage point makes for a beautiful view. Small children might find the climb tiring, but dogs are common and seem to enjoy the hike.
For more of a hike and less of a walk, Fragrance Lake is a great medium level place to try. There is beautiful fall foliage to look at all along the way. Most of the hike is uphill so younger children might find it a bit difficult, but dogs are allowed. At the top of the hike is Fragrance Lake, a pristine spot to stop to rest or have a snack at one of the many benches overlooking the water. There is a small loop that circles the lake for those who are interested, but the trail layout allows people to skip it if they so choose.
Yellow Aster Butte is perfect for those in search of a challenge. The strenuous climb is not a good fit for most kids or elderly dogs, but for those who can swing it, it is extremely rewarding. Gorgeous views can be seen from the very beginning of the walk. Once up in the more mountainous regions, the 360 degree views begin. It is especially beautiful in the fall and winter when wildflowers and bright red leaves can be found all along the trail. Camping is also available.
Similar to Yellow Aster Butte, the trail at Artist's Point is a beautiful and demanding hike. The difficulty level is similar. Those willing to deal with the drive to get there will experience spectacularly beautiful scenery. Artist's Point offers a stunning view of Mount Baker and surrounding terrain. Fall foliage and colorful leaves abound and crystal clear lakes, streams, and waterfalls surround the area. It is also a popular camping spot. Many people like to use the spots closest to the lakes. Be sure to listen for marmots, too. Their high-pitched whistles can be heard at both Artist's Point and Yellow Aster Butte.