Whatcom County winters can be dark and wet, but we don't have to let the chilly weather get us down. Try any of these warming beverages, including non-alcoholic options, to beat the winter blues.
Bellingham Community Food Co-Op
Legend has it the London Fog tea latte was created in Vancouver, BC. The combination of steamed milk, vanilla syrup and Earl Grey tea is a delicious, foamy concoction reminiscent of London's thick fog.
This Winter each of the Bellingham Community Food Co-Op locations are serving the Lumberjack Fog, a tasty spin on this modern coffeehouse classic with smokey Russian Caravan tea, maple syrup and steamed milk of your choice (I recommend trying it with steamed half & half).
If you'd prefer something with a more traditional holiday flavor profile the Co-Op also serves Eggnog lattes, Gingerbread lattes, Pumpkin Spice lattes and BelleWood Acres hot apple cider with their house caramel sauce. All of these cozy treats are available at any of the three Co-Op locations:
Cordata Store & Deli: 315 Westerly Road in Bellingham
Downtown Store & Deli: 1220 N Forest Street in Bellingham
Bakery Cafe and Connections Building: 405 E. Holly Street in Bellingham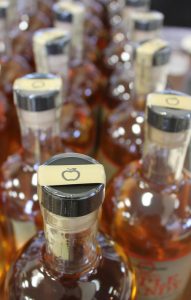 Bellewood Farms
When I asked for suggestions for the best winter warmers, my pal Natalie, of Pozie by Natalie, was quick to point me in the right direction. "Get any one of the three types of BelleWood Distilling brandy with anything apple, preferably also from BelleWood," she said. "It's so damn good." Enough said.
Bellewood Distillery/Bellewood Farms
6140 Guide Meridian, Lynden
Redlight
The Washington State tree is the Western Hemlock, not be confused with the infamously poisonous plant. Native people of the Pacific Northwest utilized the Western Hemlock in both medicine and food. Because Redlight bar is drawing inspiration from alchemy and medicine for its winter menu, hemlock made natural sense in one of their infused Hot Toddies. Try them by the cup or in a teapot for two with one of the following infusions: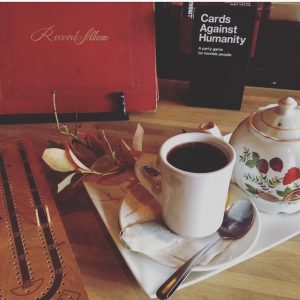 Ginger-orange-lemon bourbon
Hemlock-honey bourbon
Chai vodka (with maple and cream)
Apple-cinnamon-caramel gin
Hot Toddies not your thing? Redlight has many cures for what ails you this winter, including Vegan Hot Buttered Rum, the silky batch-made Ten Bells (vodka, Earl Grey, vanilla bean, brown sugar and egg white, served up) and The Cure (chamomile-honey-ginger vodka, activated charcoal and elderflower).
Redlight Bar
1017 N State Street, Bellingham
The Racket Bar & Pinball Lounge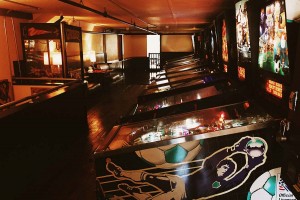 The "Fallow Heart" is back at the The Racket – Bar & Pinball Lounge after much popularity last year. This concoction of beet vodka, chamomile/orange/cacao tincture and ginger-infused honey is sure to quench your thirst while you keep warm by the light of the pinball machines.
The Racket
1220 N State Street, Bellingham
Uisce Irish Pub
Speaking of spiked coffee, I highly recommend stopping by Uisce Irish Pub for a traditional Irish Coffee: Fresh brewed coffee, Irish whiskey, sugar cubes and cream. It's the perfect way to warm-up when things get chilly outside.
Uisce (pronounced "ish-kuh")
1319 Commercial Street, Bellingham
Honey Moon
The only thing you really need to know about Honey Moon Mead & Cider's winter warmers can be summed up in three beautiful words: Hot Spiced Mead. Warm, lightly sweet, and holiday-spicy, it's hard to go wrong with a hot mug of this goodness.
Honey Moon Mead
1053 North State Street Alley, Bellingham
Temple Bar
No beverage round-up would be complete without a mention of Temple Bar. This peaceful, classy little nook is one of my favorite spots downtown. I can always find something tempting on their cocktail menu. Temple Bar is celebrating the moodiest season with their simple-yet-stunning Apple Ginger Toddy, featuring Cloud Mountain cider, fresh ginger, star anise and bourbon. It's the perfect warm cocktail for sipping at my favorite table by the window.
Temple Bar
306 W Champion Street, Bellingham