When I relocated to Bellingham, editors of the history anthology, "Western Washington Reflections" invited me to contribute a personal essay on Bellingham. I turned to Jeff Jewell at the Whatcom Museum. After climbing the long stairway to the museum's archive department, I engaged in my first conversation with Jewell, which lasted several hours and much of it ended up in my essay.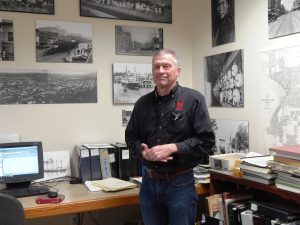 Jewell possesses in depth knowledge of Bellingham's history which spans around 150 years. The museum's archives and Jewell's immense knowledge of Whatcom County's past, presented a treasure trove. Any journalist or researcher benefits from a visit with Jewell, who is also a gifted storyteller.
After graduating from Western Washington University with a degree in Anthropology, Jewell began sleuthing Bellingham's past.
"I worked as a furniture mover and in restaurants as a dishwasher and cook for the next ten years," Jewell said. "Local history grew organically out of simply walking all over Bellingham and being curious as to when buildings were built or what had come before, or who lived in a house 100 years ago. The Bellingham Public Library had all the free resources for research. And I knew, met and befriended a lot of 'old-timers' who were kind enough to answer questions and tell me stories."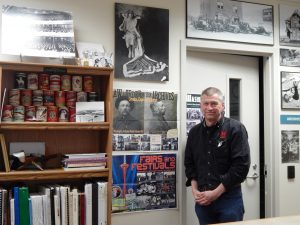 Some of those old-timers included, his former boss (proprietor of A-1 Moving and former City Council member) Charlie Lancaster, a long-time taxi driver Timothy Capone and Gordy Tweit of the Fairhaven Pharmacy.
"Gordy was always so generous with his time and in sharing photos and artifacts," Jewell said. "He's a wonderful person."
Jewell's list expanded to include other local favorites. "I remember talks with George Hunsby, the great storyteller, who held court at Aladdin's Lamp in the Mason Building at Railroad and Holly," Jewell said. "I got to work with Galen Biery, the historian, with a Pacific American Fisheries exhibit and video. I worked with Jack Carver, the Bellingham Herald staff photographer, for more than a decade. He was a dear friend. I've been fortunate to work with Rosamond Van Miert and all of her book projects."
In fact, one of the first photographs we saw as we entered the archives was Jack Carver's "Last Day of School" which the photographer took for the Bellingham Herald. On the far wall stood a bank of computers. Photographs peppered the archival office's austere walls.
While the space mostly houses two-dimensional representations (photographs), three-dimensional objects like canned food from other eras take up shelf-space. However, the most important collection housed in the museum's archives are the stories of everyday people. Ask the locals who grew up in Whatcom county and they're sure to share a significant story.
In the holiday spirit, Jewell shared a Christmas tree story.
"Bellingham's 135-foot Yule tree in 1948 established the record-setting pace, but it was a mere shrub compared to the 153-foot 'World's Tallest Christmas Tree' of 1949," Jewell said.
"The tree was conveyed 35 miles to Bellingham on two logging trucks from a quarter-mile west of Everson. Abner Ludtke, manning the guide truck, communicated via intercom phone with Frank Aubel who was 'driving blind' in a second truck hidden underneath the Douglas fir's branches. Two cranes and fourteen trucks lifted the tree upright in the middle of Railroad Avenue, between Holly and Chestnut streets, where it was decorated by the Jaycees with more than a thousand lights and topped by a fifteen-foot illuminated cross.
"Edward R. Murrow, the famous CBS newscaster, turned on the tree's lights for the first time while describing the scene during a national radio broadcast. Jack Carver's series of black-and-whites for the Bellingham Herald, which document the tree's arrival downtown, are celebrated every holiday season."
Unlike the locals who are second or third-generation residents of Bellingham, Jewell grew up in a vagabond family. It wasn't until he attended college during the early 1980s, that he decided to sink his roots in Bellingham.
"Coming to Bellingham to go to WWU, in 1981, Bellingham was magic," Jewell said. "It felt like home. There was a Woolworth's with a photo booth and a lunch counter. There was a bowling alley right downtown. It was Americana that I had only seen in old black and white movies or read about in Jack Kerouac novels. It had history, the Old City Hall, the Mount Baker Theatre, train tracks in the alley and there were neighborhoods of old houses that were like great mysteries."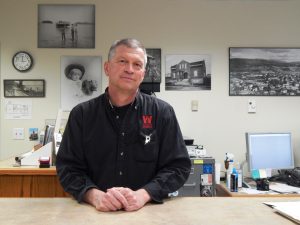 While retirees who settle in Bellingham often take up sleuthing Bellingham's past, Jewell began his quest much younger.
"In my 20s, when most people that age want to set out to see the world, I wanted to establish roots," Jewell said.
He's been telling Bellingham's stories ever since.