Submitted by Pickford Film Center
This October, Pickford Film Center enters the third year of its Doc-ED program, providing free tickets, popcorn, and transportation for more than 5,000 middle schools students in Whatcom County to attend documentary film screenings at no cost to their schools or families. Doc-ED aims to expose students to new films that will inspire, educate and introduce a wider world outside of their classroom.
The program began in October 2014, with support from the Mary Redman Foundation. That year, just over 1,100 Bellingham middle school students were provided a film-going opportunity. In 2015, with the help of scores of individual donors, that number increased to include all 2,400 public middle school students in Bellingham Public Schools. Bus transportation was included because it became clear that getting to the theater placed a burden on schools that was not affordable.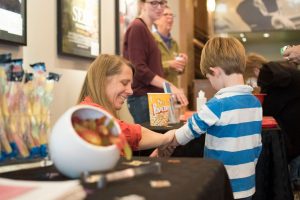 The burgeoning growth of Doc-ED can be attributed to PFC Executive Director Susie Purves' strong commitment to extending documentary programming to students from every part of the county, as well as the steadfast support of Pickford community members who have stepped up to contribute. In addition to continued support from the Mary Redman Foundation, 2016 donors include the Tulalip Tribes Charitable Fund, Whatcom Community Foundation, and over 250 individual donors.
"A seventh grade field trip to see the movie Sounder at the Detroit Institute of Arts changed the way I understood history and revealed the film-going experience as a new way to relate to my classmates. It also felt glamorous. There is nothing like seeing a movie in a theatrical setting. The big screen commands your attention and the group experience conveys excitement. At Pickford Film Center, we are committed to film as an art form," said Susie Purves, PFC Executive Director.
The 2016 Doc-ED program will feature three incredible films, selected for their age-appropriate content, educational nature, and ability to impact/ inspire students with new ideas, perspectives, and stories. These films are: Breaking a Monster; the story of three African American pre-teen musicians who embark on a real life adventure that could transform them into heavy metal rock stars, Elder in the Making; stories of the land, the treaties, and the culture that define the Blackfoot people, and What Tomorrow Brings; One year in the life of an all girls school in a remote Afghan village where educating girls is a radical concept.
All of these films are brand new, and are not viewable online or in any other local theater. A team including Purves, Pickford Program Director Michael Falter, and Associate Programmer Jane Julian, culled the films from hundreds of titles both at festivals and those released for distribution this year.
Discussion guides have been created by a volunteer with many years of K-12 public school experience, that include information and discussion topics about the subject matter as well as the structure of each film. Ties to the Common Core are also included.
Teachers and administrators interested in finding out more about Doc-ED can contact Education Outreach Manager Lucas Holtgeerts at lucas@pickfordfilmcenter.org.