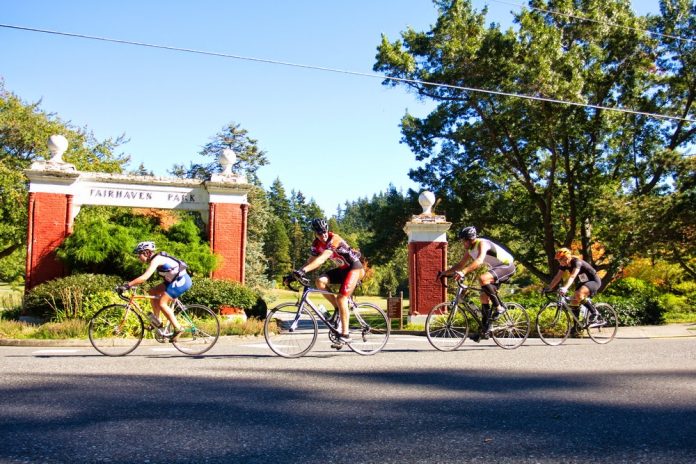 Have you ever considered participating in a relay race? Until recently, I hadn't. More likely to be found hiking or backpacking, I tend to shy away from competitive forms of recreation. But imagine a different kind of race — one that focuses more on fun (think costumes, simple rules, and a beer garden) than winning. It has a competitive aspect for those who seek first place, but also fosters an inclusive environment for participants of all abilities. That race is the Vital Choice Bellingham Traverse, and it's coming up on Saturday, September 17 in Bellingham.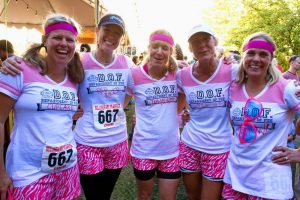 Organized by local non-profit Recreation Northwest, the Bellingham Traverse is all about getting the community together for a good time. "I have intently avoided calling it a race over the years," says Recreation Northwest Executive Director, Todd Elsworth. "I joke with people — why are they in such a hurry? This is really all about fun."
Todd created the Bellingham Traverse in 2001. Born in Bellingham, he left the Pacific Northwest for a number of years before returning — like so many of us do — to his northwest roots. According to Todd, "When I chose to leave the northwest, my buddy said, 'You're a salmon. You were born in Bellingham; you will return.' When I came back, it was fulfilling that life journey that I had for myself."
Upon returning to his birthplace, Todd was inspired to create a new race in celebration of the journey of wild salmon. "I started this race because I had done a similar endurance race solo and saw an opportunity to complement Ski to Sea," says Todd. His goal was to design a course that could be completed solo by endurance athletes, while allowing teams to compete as well. Today's course is 37 miles long, with five distinct legs.
The course includes a 5.5-mile Greenways run to Lake Padden, a 6-mile mountain bike on the Padden trails, an 18-mile road bike around Lake Samish to Fairhaven, a 3.4-mile trail run in the Chuckanut Community Forest, a 3.6-mile paddle on Bellingham Bay, and a 0.65-mile team trek from Cornwall Beach back to the finish line.
Racers participate in the Traverse as Chinook (solo), Coho (tandem) and Chum (relay teams). The rules are simple: be safe, have fun, and show respect. Within these bounds, participants are welcome to exercise their creativity. "We've had people in 14-person canoes," says Todd. "One team carried an empty keg the whole race. They handed it off as a baton."
Amidst the fun, the Bellingham Traverse serves a greater purpose. Because the Traverse has an impact on Fairhaven Park (the trail running leg utilizes park trails), Recreation Northwest has chosen to support the park through stewardship. The end goal? To build a wetland boardwalk and connect Fairhaven Park to the Chuckanut Community Forest. In Todd's words, the Traverse "is a way for us to fulfill our mission and take care of the places where we play."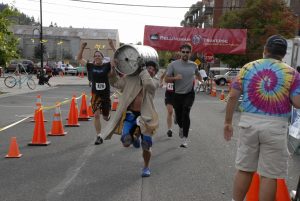 That mission — promoting outdoor recreation and bringing people together to enjoy, preserve and improve the places where we play — is what Recreation Northwest and the Bellingham Traverse are all about. Of course, none of this would be possible without a committed crew of volunteers. "It takes 100 volunteers to make this happen day of, and even more as the year goes on," says Todd. "The success of the Traverse really comes down to the great volunteers and the Traverse crew that make this all happen."
The Bellingham Traverse celebrates its 15th anniversary this year. Commemorative navy blue t-shirts are available, featuring the Traverse salmon logo on soft-poly wicking material. Additionally, race participants and volunteers receive a collectible gift. This year's prize is a snap-on beer koozie, reflecting the Traverse's celebratory spirit and partnership with Boundary Bay Brewery.
The Bellingham Traverse begins and ends at Boundary Bay. Bellingham's oldest brewery has been involved with the Bellingham Traverse since the beginning — each year, they brew up a special batch of Traverse Red IPA and throw a big party at the finish line. Spectators can hang out here, check out the farmers market across the street, and cheer racers on as they finish. Race sponsors and partners will set up booths at the finish line, providing games and demonstrations to keep spectators busy during the race.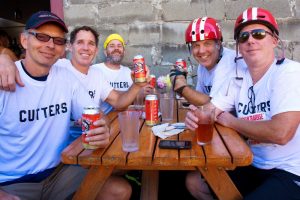 For those like me who are on the fence about relay races, the Bellingham Traverse may be the answer. After all, it's simply a big party for a great cause. And everyone is welcome to participate. "If you do it as a team, the legs are really approachable as an individual without really even training," says Todd. So form a team, break out your best costume, and give the Bellingham Traverse a try. See you at the finish line!
For more information and to register for the Bellingham Traverse, visit Recreation Northwest's website.
Sponsored