Christian Health Care Center's (CHCC) Care Transition team recently received the 2016 Excellence in Research and Education Award presented by Leading Age Washington.
This award, a part of the Leading Age Awards Program, Awards of Excellence, recognizes individuals and organizations that have made an outstanding contribution in the fields of aging, health care, housing and community-based services.
Leading Age Washington is a trade association serving not-for-profit and mission-driven organizations dedicated to providing quality housing and skilled long-term care services.
The care transition program at CHCC is made up of a team of Faith Community Nurses, CHCC social services staff, and healthcare administrators who work to educate and advocate for patients and their families. The service is designed to assist adults with the follow-up care they need to remain at home and out of the hospital after surgery or an extended illness.
The program started in January 2012 in an effort to reduce the percentage of re-admittance following discharge from PeaceHealth Medical Center. Christian Health Care Center offers care transition services at no cost to their patients and their families. Since 2012, more than 400 individuals have taken advantage of the program at CHCC.
Care transition services include one pre-discharge visit, one home visit within 48 hours of discharge and three follow-up phone calls (or home visits) within 30 days.
"One of the goals is to educate patients how to take care of themselves," says LeAna Osterman, program coordinator. "We are the support person for patients as they transition from acute care to rehabilitation and home."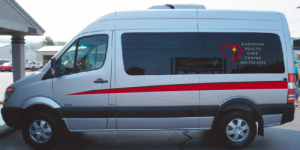 Through follow-up, a team member monitors the recovery process and helps patients and their families navigate through the health care system.
Osterman says they are also able to link patients to other helpful resources in Whatcom County such as Northwest Regional Council, Lion's Club medical equipment loan programs and Northwest Adult Day Health & Wellness Center.
As a result of this service, CHCC has seen a decline in the percentage of patients being re-admitted to the hospital. And that's the main objective of the program, says CHCC's social services manager, Steve Wallace.
"A follow-up with patients who have been through our care transition program 45 days after discharge from the hospital shows a re-admittance rate of only 4.42 percent," says Wallace. "Nationwide this percentage is approximately 25 percent."
In fact, Wallace points out that CHCC does get inquiries from other facilities curious to know what makes this program work so well.
The initial meeting with the patient and family prior to discharge is to discuss any concerns, go over the medications, and prepare plans for medical visits.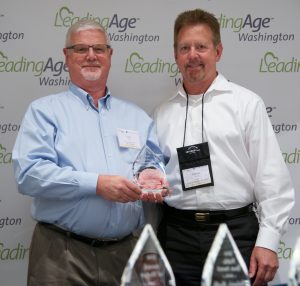 Then, they meet with the patient in his or her home a few days later to ensure that the patient is in a safe environment with a support person available.
The patient is provided with a mini medical record that lists all of their medications and includes space for the patient to write down questions for his or her medical care provider.
Education regarding possible warning signs is also provided to the patients, helping them identify when to call a medical care provider in order to ensure quick treatment and preventative care. Warning signs may include elevated temperature of pain.
"Each nurse has a different background," says LeAna of the collaborative effort of the team. "If we're faced with a challenge, we just put our heads together to find a solution."
Faith Community Nurses are partnered with the Health Ministry Network and act as liaisons between the hospital and the patient, providing spiritual and clinical support. Their goal is to provide a holistic healing approach, regardless of the patient's religious affiliations. They are trained to provide personal consultations, offer education, advocacy and referrals to adults within our community. These nurses are also specially trained in transition care.
Most recently, the program had its first two students from Western Washington University's RN to BSN program participate in the care transition program as a part of their studies. The students were able to see the clinical setting they had just learned about in their care transition training course.
Christian Health Care Center continues to be at the forefront of providing care and advocacy that makes a difference to patients and their families in Whatcom County.
"It's been a lot of fun working with these retired nurses," says Wallace. "It's been a who's who of nursing in Washington."
For more information on this cost-free and valuable service, visit CHCC's website.
Sponsored