Natural beauty is abundant in Whatcom County. It's why many of us choose to live here, and one of the top reasons why tourists flock to visit our corner of the state. While many locals and tourists are active on our mountains, trails and waterways, one doesn't have to be an athlete to appreciate the great outdoors. Whatcom County offers scenic drives aplenty, with multiple roadside viewpoints worth a stop. So fill up the tank and make a day of it — birdseye views are just a Sunday drive away.
Chuckanut Drive

Historic Chuckanut Drive was completed in 1896 as a dirt logging road. Today, it connects Whatcom County to the Skagit Valley via a paved, winding scenic byway between the Chuckanut Mountains and Bellingham Bay. Beginning in Fairhaven, head south on State Route 11.
No description of Chuckanut Drive would be complete without mentioning Washington's first state park, Larrabee. Most visitors use the main park entrance for beach access. Those seeking soaring views should check out Cyrus Gates Overlook, a 1,800-foot-high point at the top of Cleator Road. From here, you can gaze across Chuckanut Bay all the way to Canada. The 3.5-mile gravel road can be rough, so prepare for possible potholes along the way. Discover Pass required.
Back on the state route, continue south along Chuckanut Drive to cross into Skagit County. Several pullouts between mileposts 11 and 13 are worth a stop. At mile 12, a large pullout offers great views across Samish Bay to the San Juan Islands — the perfect place for sunset shots.
It's possible to turn this drive into a loop without ever putting tire to pavement on I-5. Between mileposts 8 and 9, take Colony Road east. Navigate to Samish Overlook (up another gravel road) for a 1,200-foot viewpoint overlooking Samish Bay and the Skagit Valley flats. Time it right and you'll be in for a treat — Samish Overlook is a popular jumping-off point for gliders. Bring your Discover Pass for parking.
Once you've soaked up the seascape, take Lake Samish Drive back to Bellingham to keep your cruise freeway free.
Mount Baker Highway
Originally built in the late 1800's for logging, Mount Baker Highway is now a National Scenic Byway. During summer, drivers can cruise the road's full 58 miles to Artist Point for some of the finest views in Whatcom County.
Highway 542 begins in the city before transitioning to farmlands and forest. Take a detour at milepost 40 to see Nooksack Falls — one of our top choices among Whatcom County waterfalls. Many visitors make their first scenic stop at Picture Lake (milepost 55). This aptly-named little lake produces a picturesque reflection of legendary Mount Shuksan, looming large in the distance. Some say that Shuksan is the most photographed mountain in America (or even the world).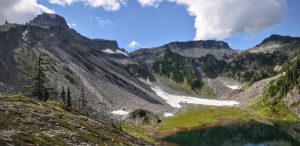 Stop by the Austin Pass Picnic Area and Heather Meadows Visitor Center for awesome views all around. Look across Heather Meadows to Bagley Lakes below and Table Mountain above. Watch for hikers and backpackers as they traverse Herman's Saddle on their way to and from Chain Lakes. When you're ready for the grand finale, continue to the end of the road.
From the nearly mile-high Artist Point parking lot, wander a short distance along Artist Ridge. Miles of trails begin from here, but you don't have to go far for alpine vistas. To the east, majestic Mount Shuksan stands proud at 9,131 feet. Mount Baker — the third highest mountain in Washington state — is visible to the southwest. This 10,781-foot stratovolcano is simply spectacular.
A Northwest Forest Pass is required for parking at all stops mentioned along Mount Baker Highway. Passes are available at the Glacier Public Service Center. The final 2.7 miles of the road to Artist Point closes seasonally during winter. Visit Washington State DOT for current conditions.
North Cascades Highway
Planning for the North Cascades Highway began many years before its eventual completion in 1972. Today Highway 20 begins in Skagit County and veers north into Whatcom before entering the Okanogan. Another designated scenic byway, North Cascades Highway has been called "The Most Beautiful Mountain Highway in the State of Washington."
The highway's most notable roadside attraction — Diablo Overlook — is located in Whatcom County at milepost 132. Admire Diablo Lake's turquoise waters from this 1,700-foot high perch.
Mountain streams carry glacier-ground rock silt, or "rock flour," into the lake. This rock flour reacts with sunlight to give the lake its bluish-green hue. Above the lake, several mountains tower in the range of 7,000 to 8,000 feet. No parking pass required.
Continue along the Cascade Loop to exit Whatcom County and experience the entire 440-mile route. Highway 20 closes seasonally during winter — visit Washington State DOT for current conditions.