Thinking of UPS often brings to mind that familiar giant brown truck delivering special packages straight to you or your business' door. But The UPS Store itself offers a great deal more than just quality package delivery. It might be the place your start-up designs its first business card, where you send out that important fax, or get important documents notarized. Offering a full-service copy machine, public computer and 24-hour postal boxes, The UPS Store operates as a small business hub.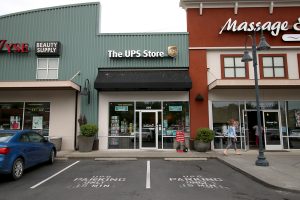 Tucked into the Sehome Village shopping center between Ed Wyse Beauty Supply and Massage Envy is UPS Store 5075. Upon entering the store, customers are greeted not only by a friendly staff, but a wide selection of products and services as well. A large printer stands tall just to the right of the entrance, trays of color paper are easily accessed along the wall, and greeting cards are available on a spin-around rack. Head to the back of the store and this is where PO box holders can conveniently pick up their mail. Continue on past the mailboxes and you'll see a computer where Sehome Store Manager, Bobbi Gainer, has helped many budding entrepreneurs design custom business cards for their small companies.
"We are becoming more of a business orientated toward the businessman and small business because we can do printing," Bobbi explains. "We've got mailbox services here. We've got internet provisions here. We can do your brochures, business cards — basically anything for the small businessman or woman."
These services are especially helpful for business owners who don't have a physical storefront or office space. "We have a lot of customers who are doing online businesses, and so they need a place they can come to that can be their office," Bobbi says. "A lot of them work from home, but they don't have the equipment or if they are traveling and they don't have the facilities to print or use computers, so we can provide everything for them that way."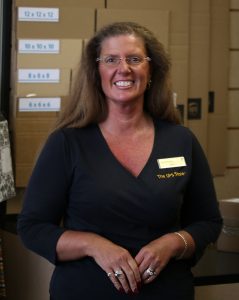 When it comes to having business cards, reports or fliers made, just bring the ideas you have and whatever pieces of the project you can. Bobbi can help you find the details you haven't rounded up yet. No pressure to know exactly what you want either; just bring yourself and your ideas, and Bobbi can help design your business card completely from scratch, start to finish.
For customers with a more hands-on approach and a desire to design on their own, the full-service public computer offers Adobe software and Microsoft Office. For a small hourly fee, customers can design and print right at the store. The full-service printer is ready to bind, laminate, staple or fold the document you're printing in black and white or color. Even more convenience can be had with The UPS Store's online and mobile printing. Documents can be sent from home and picked up later at the store.
"We also do shredding for people who don't have shredder services or facilities," Bobbi shares. "It's a dollar a pound and they can bring it in and leave it with us. And you don't even need to worry about staples, small binder clips, rubber bands, or anything like that."
While The UPS Store has delved into the world of business services, it still provides an extensive array of services surrounding shipping. Customers can bring in unpackaged items knowing packing material, boxes and tape are available right at the store. For large items, Bobbi can package them after the customer has left, providing a no hassle service for customers needing to figure out how to send their item. And because The UPS Store is open seven days a week, customers can drop packages and letters off for shipping any day. UPS can also provide freight services.
"There was a huge China hutch, eight feet tall," Bobbi shares. "And we were able to order the supplies for it, get a palette, get it created and get it taken care of."
Packages can also be held at the store for customers as well. "We also provide a service for when people aren't home and they know they are not going to be home but are expecting a package. They can have it rerouted to the store and pick it up from here," Bobbi shares. "So that way it's not sitting on a doorstep."
In addition to package care, Bobbi takes customer care seriously and thoughtfully, as well. "We have a lot of customers that come back because of us, because of my staff. They are treated like friends and family. And a lot of them do become very close friends through the years. We start to care about them. We really do."
The UPS Store 5075
336 36th Street
Bellingham WA 98225
The UPS Store 2472
4152 Meridian St. #105
Bellingham WA 98226
Sponsored