Stand-up is a unique kind of comedy. Unlike sketch, improvisational, tragic and musical comedy, stand-up relies on the insights and talents of a single individual. As the comic stands center-stage with the light shining into his or her face, the comedian's voice, attitude, and timing defines their unique style. Their own creativity makes — or breaks — the experience of the audience.
Stand-up comedians have been entertaining us — and making us see the world in new ways — since the variety and burlesque shows that flourished in New York City's turn-of-the-century vaudeville theater. That hilarious, occasionally gritty and unpredictable, stand-up tradition continues here in Whatcom County.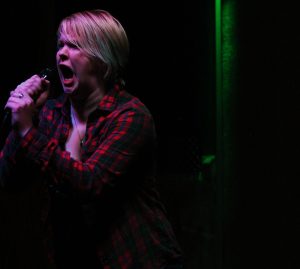 Below we've profiled a few of the Bellingham venues that regularly offer and support this beloved art form that continues to make us laugh until we cry.
Guffawingham at The Green Frog Acoustic Tavern
The free Monday night open mic, Guffawingham, at the Green Frog Acoustic Tavern — known around town as simply, The Frog — has provided both emerging and seasoned local and regional comedians an opportunity to try new bits in front of a willing audience.
Local actor, writer, producer and comedian Glen Nelson Bristow did his first stand-up set at a Guffawingham open mic when it was just getting started. "Since 2013, Monday nights at Guffawingham have been a fun chance to see new comedians learning the ropes," notes Bristow. "My stand-up sets, like many comedians, are largely about relationships."
The Frog is a Bellingham staple with an industrial vibe and quality sound. While listening to the numerous short sets, patrons can enjoy great local beers, a wide variety of whiskey, or their famous grilled cheese sandwiches. My favorite is the Michael Boston: cheddar, bacon, corn and barbeque sauce grilled on thick bread to perfection.
The Green Frog Acoustic Tavern
1015 N State Street
Bellingham, WA 98225
www.acoustictavern.com
Mondays at 9:30 p.m.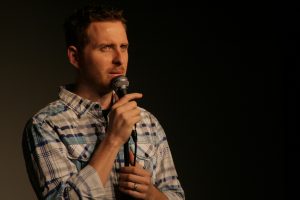 Stand-Up at The Upfront Theatre
The 100-seat cabaret-style Upfront Theatre, owned by famed "Whose Line is it Anyway?" comedian Ryan Stiles, offers stand-up on the first Thursday of each month. Stand-up is hosted by Mainstage Ensemble member Cecilee Beck and costs only $5. The stand-up show follows the long-time improv show The Good, The Bad, and the Ugly, where Stiles himself will occasionally surprise the audience with his own clever, and sometimes devious, improv performance. Many patrons enjoy a full evening of laughs by taking in both shows at this all-ages venue that also offers wine, beer and snacks.
The Upfront Theatre
1208 Bay Street
Bellingham, WA 98225
360-733-8855
www.theupfront.com
All ages, first Thursday of each month at 10:00 p.m.
Comedy Nite at Poppe's 360 and Four Points by Sheraton
"For stand-up, Poppe's is the big one. Jay Benton brings in great acts from all over the country," notes local comedian, producer and filmmaker Sue Mattson.
"Once a month at Comedy Nite, local folks can see professional comedians who've been honing their craft for decades," adds Bristow. "The larger events are held in the Grand Ballroom."
Voted by The Best of the Northwest for Best Cocktails and Best Bar and Lounge, Comedy Nite is held often on Friday or Saturday nights and includes a variable cover charge from $10 to $25. You can arrive early to get a good seat and enjoy appetizers or dinner there too if you like.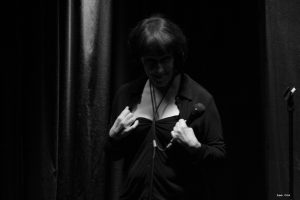 Poppe's 360 and Four Points by Sheraton
714 Lakeway Drive
Bellingham, WA 98229-6220
360-671-1011
www.poppes.bellingham-hotel.com
Monthly on a Saturday night
The Shakedown
"The Shakedown is offering a pretty popular showcase, currently produced by Joel O'Connor. Like I did when I produced it, Joel tries to bring new talent to Bellingham, booking people that have never played here before, so there's regularly new performances along with our favorite locals," explains Mattson. Affordable drink prices and a cover around $6 makes this place a favorite with local comedians and patrons alike.
You can make an evening of it by arriving early to play on the 18 pinball tables next door at the Racket Bar and Pinball Lounge.
The Shakedown
1212 North State Street
Bellingham, WA 98225
360-778-1067
www.shakedownbellingham.com
Cosmic Comedy Stand-Up Showcase
Cosmic Comedy is a newer, free show hosted by local stand-up comedians inside the comic book store Cosmic Comics. If you secretly idolize a superhero, this may be the perfect venue for you. "I'm extremely happy Cosmic Comics is working out. I think that room has a lot of potential," notes local comedian, Lee Cox.
Cosmic Comics — Disc Golf, Magic, and Games
1905 Cornwall Avenue
Bellingham, WA 98225
360-34-8058
www.cosmiccomicsonline.com
All ages on some Sundays
These venues support a historic art form, bring big-name comedians to town, and help talented locals develop their best material, all to bring belly laughs to their patrons. Take advantage and get out in Bellingham for some irreverent, and affordable, stand-up soon.