Half Price Books in Bellevue was a hopping place back in the late 90's. In the middle of a store packed with both new and well-loved books, vinyl record sleeves hanging from the ceiling, and the crash of dishes echoing from the adjacent food court sat the used book counter where a man stood watch over the store. He would often step down from behind the counter and visit with shoppers, recalling details from previous conversations with ease, making connections with all kinds of people.
That bookstore suffered quite a loss when that man turned in his Half Price Books nametag for a Village Books badge 19 years ago. That man is Robert Gruen.
Texas-born Robert is full of interesting stories about his early days. Before joining the staff at Village Books — and prior to his gig with Half Price Books — he worked at the Strand in New York City. Before that, he was a chef at one of the first natural food restaurants in Soho.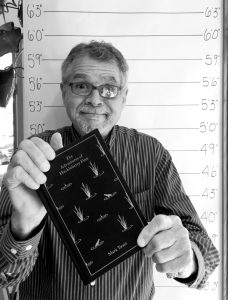 During his restaurant days, Robert met some colorful characters. He remembers catering dinners for Yoko Ono and the founder of Shakespeare in the Park, Joseph Papp. During this time he would also enjoy regular breakfasts with Chris Frantz, the drummer for the Talking Heads. When Robert ate with Frantz, he says he had no idea who Frantz was. "I thought he was in some sort of garage band," Robert says, laughing.
Life has taken Robert all around the country — and world, from Texas to New York all the way to the Pacific Northwest where, for nearly two decades, he's been a familiar face at Fairhaven's beloved Village Books. But with a fast-approaching retirement on the horizon, he's preparing for the next chapter of his life.
At Village Books, Robert has worn many hats. He's sold books, bought books, and has organized ticket sales for non-profits at the bookstore. A number of years ago, Village Books also operated a bookmobile, and Robert was, on occasion, responsible for a few of the vehicle's trips into the county.
Reflecting on Robert's nearly 20 years with the bookstore, Village Books Co-Owner Chuck Robinson shared a memory of Robert and the bookmobile. Robert was returning from a trip out to Everson, coming up to where Sunset intersects with James, when the brakes on the bookmobile gave out. When Robert informed Chuck of the malfunction, Chuck was understandably concerned for Robert's safety and inquired where Robert had to park the bookmobile.
"Up a block, at the laundromat on 12th," was Robert's reply.
Robert used the emergency brake and manual transmission to slow the vehicle, and the bookmobile's $12,000 worth of inventory sat in the parking lot for the weekend.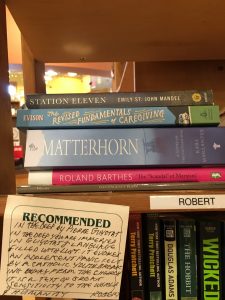 "I knew Chuck would tell you that story," Robert said when I spoke with him days later.
Though, like a bookstore, his life is an arsenal of interesting stories, Robert generally likes to keep to himself.
When I asked Robert's colleagues at Village Books if they would like to share a story about Robert, all of them smiled and laughed quietly.
Joan has worked with Robert for the majority of his tenure at the store. When I sat with her at her desk and pressed a bit for an anecdote about Robert, she smiled and looked out over the bookshelves. "He's a bit uncomfortable with all the attention surrounding his retirement," she shared.
But, as easy to talk to and beloved as he is, it's hard to avoid the attention.
One of Robert's customers enjoyed his company so much that she invited him to accompany her on a three-month cruise through South America. Robert took a sabbatical from the bookstore to make that international journey, and then again when he took another trip with the same woman a few years later to Asia and the coast of Africa. Vacation was saved up annually and spent for skiing time.
Robert will step out of his role at Village Books later this month. His last day in the store is June 29.
Upon his retirement, Robert plans to do more traveling, mentioning Sicily and the south of France as desired destinations.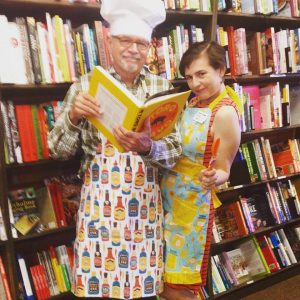 Want to learn more about Robert? The staff at Village Books recommends reading the following books to get a glimpse into the life of their fascinating employee, co-worker and friend.
"Where's Waldo: Travel Edition" — Chuck
Chuck laughed and explained Robert sometimes wanders away from his station in his zeal to connect with customers, often making it hard to find him. (Note: Robert was responsible for a number of years for hiding Waldo and harbors a dislike for the striped-shirted.)
Anything by Tom Robbins — Sam
"Robert is a multi-faceted, multi-layered man," says co-worker Sam. "His recommendations shelf showcases a lot of very complex, esoteric novels about people in situations you would believe impossible." Sam says any of Tom Robbins' books would remind him of Robert
"Poetry as Insurgent Art" — Joan
"He likes more literary and academic titles," co-worker Joan explains. "Beat poets are definitely right up his alley."
"What to Listen for in Music" — Kelly E
"Robert and I have one thing in common I don't have with anyone else around here, and that's we are both classical pianists. I can communicate about music with him unlike anyone else."
Sponsored