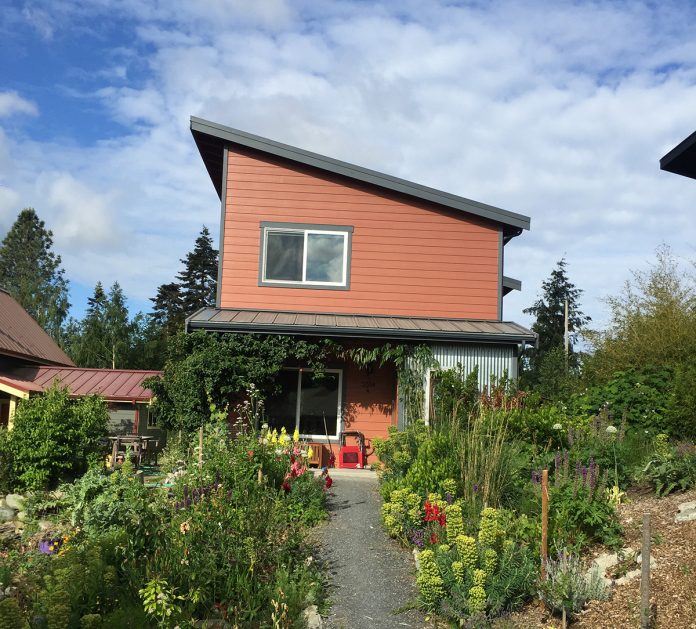 Submitted by Sustainable Connections
Cohousing in the United States is still a relatively rare way to live. According to the Cohousing Association of the United States, there are only 162 communities across the entirety of our nation, and each cohousing community is as unique and varied as its inhabitants. We are lucky enough to have two such gems right here in Bellingham, and on July 25 one of them will be opening its doors to the public.
The Millworks Cohousing Community is one of the sites on Sustainable Connections 2016 Imagine This! Home and Landscape Tour. It is special even for the tour as it is the perfect catchall, showcasing in one spot, many of the green design features found throughout the other seven stops. With eight custom designed houses, each was built with a focus on sustainability; integrating energy efficiency, passive solar gain, low impact development, pervious surfaces, and permaculture throughout the entire community.
All of Millwork's houses were built smaller than the average single family home as the community shares a common house where community members can use the large rec space, kids play area, kitchen, and woodshop. There is one certified LEED Platinum home on the site, but all the homes are also Green Built and Energy Star Certified. The grounds have a small orchard, a community garden and small wetland that Millworks residents worked to restore when the community was being built.
Cohousing sites are usually intentionally designed to increase strong neighbor bonds and a sense of community. At Millworks, this is easy to see with their common house which is regularly used for get-togethers and celebrations. Most recently, the community had a dance party, replete with a salsa teacher and lessons. The parking for the houses is also clustered. After residents have left their car, they walk through the community green space and past the neighbor's front porches, encouraging more social interaction. Design like this speaks to the social aspect of sustainability. A neighbor and close friend of the community, Rose Lathrop, says "It has been amazing to see kids grow up in this beautiful multigenerational space with ample room to play, connect with the environment, and be supported by a small village of families."
Robert Putnam, a well-known political scientist from Harvard perfectly illustrates why creative infill projects like cohousing, with its focus on increasing social capital (our network of community relationships), can be such a positive and powerful way to build, saying "community connectedness is not just about warm fuzzy tales of civic triumph. In measurable and well-documented ways, social capital makes an enormous difference in our lives…Social capital makes us smarter, healthier, safer, richer, and better able to govern a just and stable democracy." Millworks is a community in Bellingham that exemplifies this, in addition to all of the outstanding environmental design onsite.
Take advantage of this rare opportunity to glimpse inside one of the most sustainable communities in Bellingham by attending Sustainable Connections' Imagine This! Home and Landscape Tour. Explore Millworks Cohousing community and seven other sites on a self-guided tour, or participate in the guided VIP bus tour which offers in-depth green building education, local lunch, snacks at each stop, and special deals throughout the day. The event takes place on Saturday, June 25 from 10:00 a.m. to 5:00 p.m. Visit WhatcomHomeandLandscapeTour.org for more details about the tour or to purchase tickets. Be careful, though. Tour goers might just leave with the inspiration needed to start building their own dream community!