During the eighteen 18 years your child has taken to grow into an adult, a lifetime of personality has emerged. Getting that senior portrait after all your child has experienced and accomplished can be so much more than his or her face against a backdrop. At Turner Photographics, Mark Turner takes on the challenge of senior portraits with creativity and expertise in a way that can make your teen's personality really shine.
Think of all your child has gone through and what you want to remember most. Their unique personality and those brimming interests that sets them apart from everyone else is a memory definitely worth capturing. It's this personal aspect of senior portraits that Mark enjoys the most, often going the extra mile or climb to make that one-of-a-kind photo extra special.
Capturing that special photo has a lot to do with the individual. By listening to his clients' interests and achievements, both can work together to design a plan for a custom photo shoot. "Seniors often have some fun, creative ideas of their own," Mark shares. "I photographed a young man last fall. We went up to Artist Point because he's an outdoors person. He's a budding photographer so he wanted some pictures with his camera." Up at those heights, Mark was able to capture a variety of both engaging and action portraits providing different background views of Mount Shuksan and Mount Baker. Toward the end of the session, as dusk approached, the two were treated to an unexpected and delightful viewing of the Northern Lights in the distance — an experience that added memorable depth to the portrait session.
Location is important, but so are clothing choices. Mark allows for outfit changes during the session, knowing that dress and poise can often create a very different feeling to each photograph. Mark photographed that same young man's sister two years' prior down at Larrabee. "She was into rock climbing. So we did some images of her really bouldering on some of the sandstone cliffs down there," Mark says. After the climbing photos were taken, Mark captured additional portraits of her dressed in more formal apparel along the trails in the woods. The contrast of the photos showcased her personality and created great options for portrait gifts to send out to friends and family.
Going that extra mile and utilizing a client's treasured props, whether it is a car or a beloved pet, Mark is eager and up for the challenge. One of his senior portrait sessions has taken Mark to Chukanut to the top of Cleator road where he photographed a young man with his Rally car. "He brought his dog," Mark shares. "We did some images with him with his dog in the woods overlooking the mountains up there."
While some of Mark's photographs include action and adventure, he is also able to problem solve technical challenges with lighting. With the beauty of the Bellingham Bay close by, several of Mark's seniors want to be photographed at Zuanich Park. When the sun began to set during one of the sessions, Mark was prepared with the additional lights he brings on location. "I lit her to balance with the natural light of the sunset."
After the session has ended, Mark selects the very best photos from the shoot in the comfort of his studio on Wynn Road in Bellingham. Families can select that perfect one or two portraits to display in their home at a size large enough to enjoy from across the room, as well as smaller gift sizes to send out to friends and relatives, perhaps in a graduation announcement. Canvas or framed options are available and create a finished product ready to display.
Mark also offers the ability to purchase photo books for senior portrait clients as well. "This little book is another product that we offer for those pictures that you just absolutely have to have but it's not the signature image you are going to put on the wall," Mark explains. Offered as 5"x5" or 5"x7" and hardbound with a classic black cover, these albums can be a cherished keepsake for families and relatives.
For as long as teens have been graduating from high school, senior portraits have been a way of commemorating that cherished moment. And the value is in capturing that moment with remarkable representation. Whether it's capturing a cheerleader mid-jump, photographing a teenager alongside his or her most beloved pet, or a photo session that ends with Northern Lights in the distancel Mark's true goal for each senior is to "capture their personality and tell their story."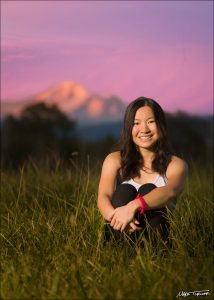 Summer is the ideal time for senior portraits. The weather is great, schedules are more flexible, and yearbook photo deadlines are early in the school year. It may feel strange to get your senior portrait snapped before you start your senior year, but that's the best time for it.
To schedule and reserve a custom senior portrait session, contact Mark Turner at Turner Photographics by visiting Turner Photographics online or by contacting Mark directly at 360-671-6851.
Turner Photographics
4682 Wynn Road
Bellingham, WA 98226
360-671-6851
www.turnerphotographics.com
Sponsored