There's nothing like the back-to-nature feeling of walking into a berry field and filling your bucket with the brightest, most luscious fruit. Surrounded by the fragrance of fresh berries, the perfect beauty of their roundness and the peacefulness of a farm environment, this is an experience my kids and I anticipate with relish every summer. We return home to make fresh smoothies in the blender, delicious jams we'll savor all year long, whipped berry desserts and in the fall, home-baked apple pies. The fruit we pick lingers long in our freezer and pantries and is a tasty treat that reminds us of Whatcom County's bounty long after the harvest has passed.
Thanks to its fertile farmland, this county has many places that welcome u-pickers to their fields. The price-points per pound tend to be fairly similar, though it tends to be slightly cheaper on berry fields that aren't carefully maintained, but where you have to navigate through rows of weeds to find the right crop. In these cases, it can also take longer to fill your buckets — but depending on your budget and the fruit quantities you're looking for, that may still make it worthwhile to select your farm carefully.
Some advice before you go:
Check farm websites and/or voicemails before you leave home to ensure they're open on a particular day. Most are family owned and their opening hours reflect their personal schedules and the amount of fruit remaining on their fields.
Bring cash! No one has a credit card machine out in the fields and checks are not always accepted.
Ask if children can pick freely. Some farms have restrictions on what kids can pick because of their propensity to pick indiscriminately.
Ask if you can eat while you pick. Some farmers don't mind how much you consume while you're picking. Others prefer you to eat after you've weighed and paid for your fruit.

Fresh organic raspberries for sale at the Bellingham Farmers Market. Photo credit: Bellingham Whatcom County Tourism.

Ask if you need to bring Tupperware or other receptacles to transport your fruit. Some farms offer cardboard boxes, and some charge for receptacles if you don't bring your own. Don't rely on plastic bags to transport your fruit home. Berries squish easily and your hard labor in the field is unlikely to be rewarded by a plastic bag carrier.

Ask if they spray their fruit. You don't want to be ingesting pesticide toxins out there in the fields. Some farms don't spray at all; others do. Research the best way to clean the fruit before you leave home. The key to keeping berries fresh at home, for example, is washing them in a vinegar water bath (1 cup white vinegar, 8 cups of water). The pH of vinegar kills any spores on the fruit, keeping them fresher longer.
Remember to be respectful. Those fruit fields that entertain you and your family for a couple hours represent long, arduous labor, maintenance and upkeep for a farming family. They're private property and their crop is important income to the owner. So tread cautiously, don't be noisy and respect the privilege of picking your own fruit on their fields.
Barbie's Berries
Open for u-pick strawberries May 27; call for updates on other berries.
7655 Melody Lane, Ferndale
360-384-1260 | barbiesberries.com
Hours:
Monday–Saturday: 9:00 a.m. – 6:00 p.m.
Sunday: 10:00 a.m. – 4:00 p.m.
BelleWood Acres
Produce available beginning mid-August: sweet corn, Gravenstein apples and Red Clap pears. Twenty varieties of apples and pears will follow. Pumpkins and winter squash avaialable October 1.
6140 Guide Meridian, Bellingham
360-318-7720 | bellewoodfarms.com
Hours:
Open daily: 7:00 a.m. – 5:00 p.m.
Bellingham Country Gardens (Grubbs family farm)
No-spray u-pick, berries and veggies. Open June through October
2838 E. Kelly Road, Bellingham
360-223-3724 | bellinghamcountrygardens.com
Hours:
Wednesdays and Saturdays: 10:00 a.m. – 6:00 p.m.
Boxx Berry Farm
U-pick andwe-pick strawberries, raspberries, blueberries,blackberries and flowers. Also a variety of homegrown vegetables and Eastern Washington fruit; homemade jams and syrups; fresh strawberry shortcake, and ice cream cones. Open June 1 through September.
6211 Northwest Road, Ferndale
360-380-BOXX (2699) | boxxberryfarm.com
Hours:
Monday – Saturday: 9:00 a.m. – 6:00 p.m.
Sunday: 10:00 a.m. – 4:00 p.m.
Cloud Mountain Farm Center
We-pick certified organic strawberries and mixed vegetables, including tomatoes and peppers. Farm-ripened local cherries, apples, pears, peaches and small berries. U-pick pumpkins in October.
6906 Goodwin Road, Everson
360-966-5859 | cloudmountainfarmcenter.org
Generations Blueberry Farm
No-spray, u-pick and fresh-picked blueberries. Call ahead to place large orders.
2298 Stickney Island Road, Everson
360-966-2600 | facebook.com/GenerationsBlueberryFarm 
Grandpa's Farm (Wendell and Loi Feenstra)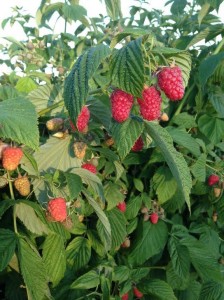 Duke blueberries; u-pick or we-pick, always fresh and available.
9222 Benson Road, Lynden
360-354-4547 | wlfeenstra@hotmail.com
Hannah Blueberries
U-pick, no-spray. Will pick if order by phone.
7892 Enterprise Road, Ferndale
360-366-1070
Haugen's Raspberries and Blueberries
High-quality Meeker raspberries and Duke blueberries; u-pick field and we-pick stand.
577 E. Pole Road, Lynden
360-354-4764 or 360-815-1344 | haugensraspberries.com 
Hauck's Orchard
U-pick pie cherries and sweet cherries, $5.50 a pound. A non-certified organic orchard.
1920 Harksel Road, Ferndale
360-384-5967 | www.haucksorchard.com
Kamm Creek Farm
No-spray strawberries, raspberries, blueberries and currants at farm stand and u-pick patch. Corn and pumpkins in the fall. Open May through October. Visit Kamm Creek Farm's Facebook page for seasonal hours.
850 Hampton Road, Lynden
360-433-7616 | kammcreekfarm.com
Koetje's Blueberries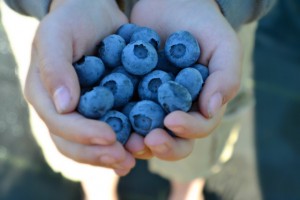 Four varieties of blueberries, early-, mid- and late-season. Bring own containers for transporting home; 24-hour notice for orders. Call to confirm early and late season picking dates. Located 100 feet east of 1792 Bradley Road, Lynden. Drive into field next to sign, blueberries on right.
360-319-8481 | Koetje's Blueberries on Facebook
Koskela Blueberry Farm
Fresh market and u-pick blueberries.
943 Piper Road, Ferndale
360-734-9509 
Lubbe Organic Strawberries and Veggies
Open for u-pick organic strawberries and raspberries, to be determined by availability. Farm stand opens 10:00 a.m. most days through July. Call ahead for evenings and after July. Order ahead for we-pick berries; five varieties, plus garlic, herbs, pepita seeds, other veggies.
3200 Lindsay Road, Everson
360-510-3510 | Lubbe Organic Strawberries and Veggies on Facebook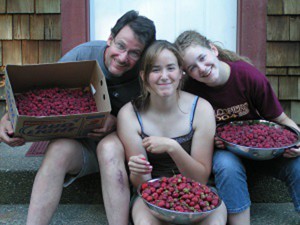 Shumway's Berries
Raspberries and blackberries, no-spray, u-pick, 3957 Mount Baker Highway, opening July 1.
Multiple location across Whatcom County. Visit Shumway's Berries online for location details.
360-815-7321 | shumwaysberries.com