If paying $10 a day or $30 a year is a deterrent for adventuring into Whatcom County's scenic coastal State Parks, try going on a discover free day. No payment or pass is required on these days, meaning you and your family can explore nearby state parks and a plethora of outdoor fun at no cost.
March 19: State Parks' 103rd birthday
March 26: Saturday Spring Day
April 22: Earth Day
May 8: Sunday Spring Day
June 4: National Trails Day
June 11: National Get Outdoors Day
August 25: National Park Service Birthday
September 24: National Public Lands Day
November 11: Veterans Day
Birch Bay State Park
Birch Bay State Park rests on the coast of the second most northern bay in Washington State. Gentle currents and the wide, flattened shoreline make it an ideal location for clamming.
Birch Bay features several picnic tables with barbecue grills all along the ocean front, as well as deeper into the park under the shade of evergreens. Plenty of picnic areas make it a popular place to gather with friends and family throughout the summer months when the town picks up and comes alive with locals and tourists.
For hiking, enjoy walking along the beach and exploring the Terrell Creek Loop Trail, which showcases native plants and information placards. About halfway through the trail is a bench that overlooks the Terrell marsh, a freshwater estuary that flows between the shore and the forest, dividing the park.
Additional activities of bird watching, crabbing, windsurfing, sailing and swimming can all be enjoyed here, depending on the weather conditions. If you find yourself wanting to come back and stay longer, there is always overnight camping to be enjoyed throughout the year.
Larrabee State Park
Winding along cliffs through evergreens on Chuckanut Drive you'll ultimately arrive at Larrabee State Park.
Across the road from the Fragrance Lake trailhead is the state park entrance. Once past the welcome station, a right turn leads to the campground, straight goes to a picnic area, and left leads to the day area parking lot.
The day area opens up to a large field stretching out toward an amphitheater, and a playground is tucked in the northeast corner. A long covered day use center houses multiple picnic tables for gathering friends and family. The Burlington Northern Railroad travels directly through the park and can be seen quite easily from this area, offering an exciting up-close experience. A tunnel with a distinctly northwest themed mural passes under the train and leads to a hiking trail.
Heading left on the trail leads to the area's rocky shoreline, perfect for sunsets and wildlife viewing. The path to the right goes down toward a beach cove in the exact place a creek flows out into Samish Bay. Pebbled shoreline stretches out under gentle ocean ripples and sandstone while sculptural qualities adorn the north cliff side.
A boat ramp accessible from Cove Road can be used during high tide while calm waters and gorgeous views create excellent conditions for memorable canoeing. For a full day of hiking up Chuckanut Mountain, head up the Fragrance Lake trailhead to reach Fragrance Lake, Lost Lake and the Chuckanut Ridge Trail. Both lakes are fishable with a license. With its remote lakes, peace and quiet might be the ultimate catch.
Peace Arch State Park
Peace Arch State Park rests along northwest Washington at the Canadian border. Panoramic views of White Rock, Semiahmoo, Vancouver Island and Boundary Bay can be seen in the distance on a clear day. It's easy to marvel under the Peace Arch, a large 67-foot arch honoring peace between two countries.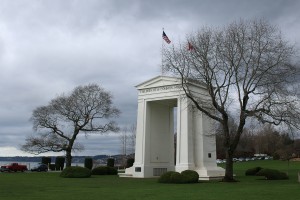 Here, you can enjoy the afternoon strolling along the beautifully maintained gardens. The path at the west end of the parking lot guides past white oak, red sunset maple, weeping katsura, hydrangea and more. Daylilies, roses and dahlias bloom and burst into color throughout the warmer weather. A hedged garden contains Pleasure, Double Delight and Fragrant Cloud rose varieties, to name a few.
Well-placed gazebos, ocean views and landscaping make this park an excellent place for gorgeous family photos and get-togethers. Swing on the swing set. Play horse shoes by the east side of the parking lot, and enjoy a picnic at a table or on the sprawling lawn.
Sculptures ornately decorate the park May through September. Though there is no overnight camping here, the interest of views, gardens, picnics and family fun can leave you coming back the next day for more.