Like many folks in Bellingham, I drink a lot of coffee. After draining my French press every morning, I'm usually ready for a recharge by early afternoon. The words "double tall nonfat cappuccino" roll off my tongue like, well, foam from a pitcher. Lately, however, I've been working on expanding my caffeinated horizons and trying some new and different brewed creations.
Here's a sampling of some of my favorite local coffee shops, where I tried to step out of my caffeine comfort zone by taking the advice of their wise baristas, who offered some amazing alternatives to my usual fare.
Lettered Streets Coffeehouse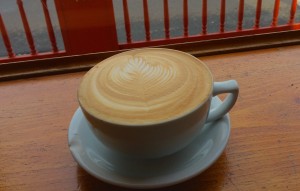 This is my home-office-away-from-home. I love the historic building and the cozy rooms with large windows overlooking Dupont Street. Instead of my customary cappuccino, I tried one of their signature lattes, which the Lettered Streets baristas make beautifully. Starting with a smooth, medium-bodied Guatemalan roast — made exclusively for them by Onyx Coffee — and finished with a frothy work of art, it was almost too pretty to drink. Almost. This is a smooth, not-too-milky cup of coffee that is best savored slowly while composing emails or collaborating with clients.
Lettered Streets Coffeehouse
1001 Dupont Street
Bellingham, WA
360-933-4689
Tony's Coffee Shop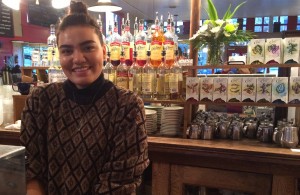 Since I start every morning with a cup of Tony's Songbird Blend, it's safe to say I'm a big fan. I also love their coffee shop in Fairhaven, where I normally order a cappuccino so rich and foamy I have to dig deep with my spoon to find the espresso. But this time, I asked barista Jackie Stowers to change up my order. She recommended an Americano, which she served up with a rich crema, the flavorful froth created when air bubbles combine with the coffee's soluble oils. This rich, buttery, caramel-y drink is made with Tony's Carmelita roast, along with a large dose of skill by Jackie. As she says, "A good coffee drink takes time, energy and love."
Tony's Coffee Shop
1101 Harris Avenue
Fairhaven, WA
360-738-4710
Pure Bliss Desserts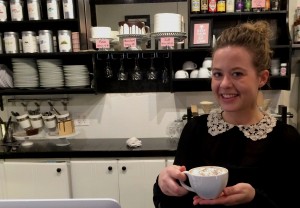 Known primarily for their amazing desserts, the folks at Pure Bliss understand that nothing goes better with a rich slice of cake than a cup of coffee. And sometimes, the coffee becomes the dessert. Such was the case when I ordered a salted caramel mocha during my last visit. Pure Bliss uses its house-made caramel sauce and chocolate ganache to enhance the Moka Joe's ¡Si Se Puede! espresso blend, which is topped with whipped cream and a dusting of cocoa powder. As I reclined on the café's pink velvet couch, sipping this creamy, rich, and intense cup of magic, I was struck by how well the flavors worked together. Yes, it was sweet, but not overwhelmingly so. Had it been a couple hours later, I would have opted for a shot of Baileys to go with it. Now that's what I call a happy coffee.
Pure Bliss Desserts
1424 Cornwall Avenue
Bellingham, WA
360-739-1612
Caffé Adagio 
As its name suggests, Caffé Adagio serves up Italian-style coffee. And though I'm trying to break out of my cappuccino box, I couldn't resist their version. The smaller, more intense brew brought back memories of sidewalk cafés in Rome, where cappuccinos are the afternoon standard. Adagio uses a Caffé D'Arte espresso blend, a bit less foam than other shops, and serves it in a 6-ounce cup, making this oh-so-Italian concoction a bit stronger than the typical cappuccino. And the café's large space is lined with windows and filled with light — perfect for meeting friends or cozying up on the couch by the fireplace.
Caffé Adagio
1435 Railroad Avenue
Bellingham, WA
360-671-1198
Black Drop Coffee House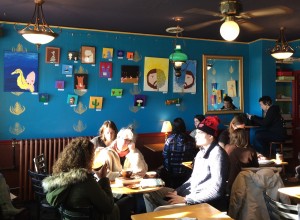 The Black Drop repeatedly wins people's choice awards, and with good reason. They start with great beans from Maniac Roasting, and their friendly baristas are clearly passionate about serving a stellar cup of coffee — each and every time. If you're looking for something out of the ordinary, which I was on a recent chilly afternoon, check out their specials board. I opted for the Bee's Knees, a latte with rose, honey and house-made vanilla. I was a little dubious about the rose flavoring, but it was subtle enough to not overpower the drink, which was rich and creamy, with just the right amount of sweetness. The Black Drop is usually bustling, which makes it a fun place to meet friends — or just pull up a bar stool and people-watch while you savor your personally crafted cup of joe.
Black Drop Coffee House
300 West Champion
Bellingham, WA
360-738-3767
Trapeze Café, Deli and Bakery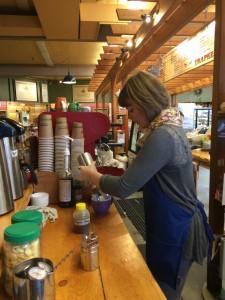 Located in the Public Market alongside Terra Organic and Natural Foods, Trapeze offers coffee and a healthy selection of sandwiches, soups and salads from its large deli counter. It's a great spot to grab a bite and a cuppa before hitting the grocery aisles, and with hundreds of used titles from Mt. Baker Books lining the walls, it's an easy place to linger. I asked barista Lily Welle for her coffee recommendation, and she immediately sold me on their upside-down version of the café con panna. Two shots of Poverty Bay espresso are poured over a healthy dollop of whipped cream, dusted with cocoa powder and cinnamon, then drizzled with honey. I have to say, it was delicious. The sweetness of the whipped cream and honey nicely offset the strong espresso, and the consistency was melt-in-your-mouth creamy.
Trapeze Café, Deli and Bakery
1530 Cornwall Avenue
Bellingham, WA
360-594-6069
There are many other great coffee shops in Bellingham — indeed, all over Whatcom County — serving up creative concoctions alongside the classics like my trusty cappuccino. And thanks to our thriving coffee culture, I can continue my caffeinated quest indefinitely.