The busy holiday season makes me crave comforting. I like a margarita as much as the next girl, but 'tis the season for cocktails full of warmth and spice. The following are cocktail recipes from some of my favorite Bellingham bars. If you're looking for something fancy for your holiday festivities, add these cocktails to your holiday menu. Not the adventurous home bartender type? Head to these fine establishments and give any of these drinks a try. You won't be disappointed.
Daphne's in Fairhaven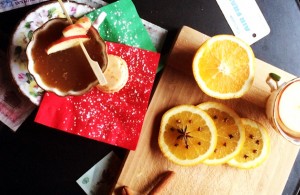 You don't have to leave town to find a classy dark-bar this holiday season. Whether you're meeting friends out or hoping to escape on your own for a bit, Daphne's is the perfect small bar with a big city vibe. I recommend you stop by for a hot cider (recipe below) or Pomegranate Flip, made with pomegranate seeds, white rum, Meletti 1870 bitters, lime, and hint of maple syrup.
Can't bring yourself to get out of your comfy pants? Never fear: Daphne's Creative Director, Thomas Grayling, shared Daphne's hot cider recipe for your at-home enjoyment.
Daphne's Hot Spiked Cider
Mulled cider base:
Pour a half gallon of organic, unfiltered apple juice into a large saucepan or slow cooker. Add your favorite mulling spices. Daphne's uses cloves, orange peel, star anise and cinnamon (Thomas suggests that you could add unsalted almonds and raisins, too). Heat on low to medium and allow to steep until it reaches your desired spiciness.
By the glass:
1 oz Christian Brothers brandy
.25 oz St Elizabeth's allspice dram
4-6 oz mulled cider
For a crowd
16 oz Christian Brothers brandy
4 oz allspice dram
Half gallon of mulled cider
Serve in mugs or tea cups. Garnish with an apple fan and a stick of cinnamon. Thomas says: Enjoy the boozy almonds and raisins, too!
Daphne's in Fairhaven
1200 10th Street, Suite 102
Bellingham, WA 98225
360-778-3462
www.instagram.com/Daphnes.fairhaven
*Editor's Note: Daphne's closed their doors in December of 2016.*
Redlight Bar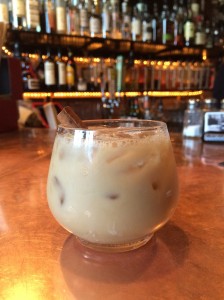 If brick walls and creaky floors make your heart swoon, Redlight is the spot for you. Originally a butcher shop in the early 1900s, Redlight has turned the original meat locker into a seating area that you can rent for your goth holiday party (complete with red glow, of course). In addition to the drink below, I recommend trying the Cranberry Shrub Martini or Spiced Pear Sazarac — a holiday spiced spin on the rye whiskey classic.
If meat-hooks don't put you in the holiday spirit, Redlight owner Rebecca Ogden shared her recipe for the bar's seasonal Winter Busker cocktail to serve houseguests at your own holiday party. From Seattle's Sun Liquor and Scrappy's Bitters to Bellingham's Chuckanut Bay Distillery and Flying Bird Botanicals, this cocktail is filled with the best locally-produced ingredients.
Winter Busker
1.5 oz Sun Liquor silver rum
1.5 oz Chuckanut Bay Distillery Old Busker coffee liqueur
1 oz Flying Bird Chokola Tea brewed per package instructions
1 dash Scrappy's chocolate bitters
Cream
Ice
In a cocktail shaker combine rum, coffee liqueur, brewed tea and bitters. Fill halfway with ice and shake until well chilled (20 seconds or so). Strain contents into a serving glass filled with ice. Add a splash of cream (as much as desired) and a cinnamon stick to stir.
Redlight Bar
1017 N State Street
Bellingham, WA 98225
www.redlightbellingham.com
Rock and Rye Oyster House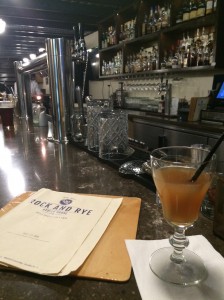 If you want to have a delicious meal while you sip on seasonal cocktails, Rock and Rye is the perfect fit for your holiday needs. This is a great spot to toast to the New Year or grab a quick drink at the bar. I recommend sampling the Winter Wassail (recipe included), Tequila and Sherry Eggnog, or the Mati Hari — a combination of cognac, chai-infused vermouth and pomegranate.
In need of a warm drink to serve a crowd? Bar Manager, Dennis Schafer, shared Rock and Rye's Winter Wassail recipe, perfect for your big holiday gathering.
Winter Wassail
Wassail base:
1 gallon unfiltered apple juice
8 oz cranberry juice
Aromatics: 1 inch piece of ginger, 4 cinnamon sticks, 12 allspice berries, 24 cloves (tie into cheesecloth pouch for easy retrieval).
Combine juices and aromatics in a stock pot or slow cooker. Heat until mixture comes to a light simmer and allow to steep on low for around 45 minutes. Strain aromatics from mixture.
To serve: Pour 1.5 – 2 oz of your favorite dark spirit such as apple brandy, whiskey, cognac, or dark rum into each mug. Top with wassail base. Garnish with a sprinkle of freshly ground cinnamon and nutmeg.
Rock and Rye Oyster House
1145 N State Street
Bellingham, WA 98225
360-746-6130
www.rockrye.com