By Lauren Fritzen
Long before Cheryl Strayed's memoir, "Wild," became a bestseller in 2014, Sehome High graduate Nell Highleyman was planning her own solo hike on the Pacific Crest Trail — a 2,650-mile trail that runs from the US-Mexico border to the US-Canada border.
Nell's introduction to nature began at an early age. "My family does a lot of outdoor trips, so I had some skills and a love for the outdoors," she explains. "Wild Whatcom and Explorers Club definitely expanded on that. And being with a group of your peers is a different dynamic. It really increased my leadership and collaboration skills. It was a new way of interacting with the outdoors and with other people."
Wild Whatcom is a local non-profit offering outdoor programs with a mission to help youth make deep connections with nature, themselves and others. Nell was an early member of the non-profit's signature youth mentoring program, Explorers Club, where second- to eighth-graders learn key life and outdoor skills in on-going small groups. It was with Wild Whatcom that Nell's dream of hiking the Pacific Crest Trail was born.
"I was on a Wild Whatcom backpack trip near Stehekin and we hiked for a little bit on the Pacific Crest Trail," recalls Nell. "That was the first time I'd heard of it." During the hike, Nell met a thru-hiker who was continuing on the trail. "From that interaction, I knew I wanted to do it at some point."
When Nell decided to take a gap year before college, the timing seemed perfect to make her Pacific Crest Trail dream a reality. She also saw an opportunity to use the hike as a fundraiser for the organization that helped inspire her journey.
"Go Play Outside: Nell's Hike-a-thon for Wild Whatcom" was launched amidst packing gear and planning food provisions for Nell's trek. "This fundraiser will help give other people the same soul-widening experience I was lucky enough to have," wrote Nell in her campaign appeal. "Wild Whatcom helped me gain the skills, fortitude and self confidence to embark on this journey. I am super grateful and want to give back. It will be great to know that every mile I hike on the Pacific Crest Trail will help this wonderful organization thrive."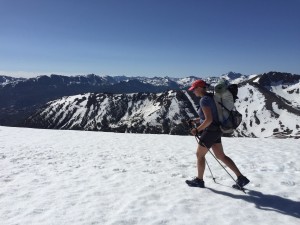 With a goal of completing the hike in four-and-a-half months — and with a group of supporters following along vicariously — Nell departed the Pacific Crest Trail's southern terminus near Campo, California, on April 3, 2015. She made good time from the get-go, averaging about 25 miles a day in southern California — where the terrain is fairly easy.
However, once Nell hit the Sierra Nevada, her pace slowed to about 15 miles a day as she navigated through the steep, snowy, challenging passes. But overall, the scary moments were few and far between, and Nell even made some great friends along the way. "It's pretty incredible how close you can get to people on the trail," she recalls. "You're all working together toward this similar goal, without a lot of distractions. You just are who you are."
Thru-hikers often give each other trail names, and Nell was dubbed "Merkel" — after German Chancellor Angela Merkel — early on. "Apparently because I'm mature and have my act together," she says.
As a solo hiker, Nell spent most of her days alone on the trail but often met other hikers for lunch breaks and then again at day's end, when they would pitch their tents together. After sharing a meal and stories from the day, she would fall asleep at nightfall, eager to recharge for the following day.
Nell's pace picked back up in Oregon, where the terrain wasn't as challenging, and she hiked a personal record of 50 miles in one day. As she crossed into Washington, she was ahead of schedule and decided to slow down a bit to savor the rest of her journey. "Washington was amazing because it was like coming home," explains Nell. "I'd hiked sections of the trail before and it's so beautiful. That was really special."
As Nell neared Stehekin, where her dream of hiking the Pacific Crest Trail was formed, the haze from forest fires was getting thick, and she had to detour around a 50-mile section of the trail. When she finally arrived at the northern terminus on the US-Canada border on August 19, it was a bittersweet moment. "I was excited to be done, but actually pretty sad as well. I felt like I could just keep going," she explains.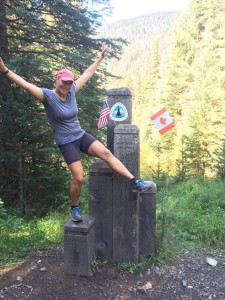 Nell arrived home feeling pleased with her fundraising efforts and is confident Wild Whatcom will put the $7,600 she raised to good use. "Nell's PCT donations will go directly toward getting kids outside — to connect meaningfully with the natural world and experience some of the joy and passion that Nell developed while participating in Wild Whatcom.
For Nell's mom, Emily Barnett Highleyman, Nell's journey is particularly special. Emily is the executive director for Wild Whatcom, a role she assumed after seeing how positively the non-profit impacted her child's life. "After seeing the many ways in which [Wild Whatcom] helped Nell grow into a strong, collaborative and wise person who loves being outdoors, I couldn't resist getting involved and working to help Wild Whatcom thrive," she says.
Nell's transition back to the everyday world has been a whirlwind. She had just 10 days to rest and get ready for the next chapter in her life – college at Wesleyan University. She's now feeling settled, but admits it's been an adjustment switching to a more cerebral existence.
Nell recently went on her first weekend hike since returning from the Pacific Crest Trail. "Just being able to put on my backpack and go outdoors for a couple days is really exciting," she says. "It's my place to step back and be alone and reflect."
Interested in supporting Wild Whatcom and helping other Whatcom County-area youth discover a passion for the outdoors? Visit Wild Whatcom online to learn how you can make a contribution.