By Lauren Fritzen

One sure sign of a successful restaurant is a steady stream of regulars. Arriving for lunch at Leaf and Ladle in downtown Bellingham, you'll find the diner-style counter stools full of familiar faces, chatting and eating away. Behind the counter, owner Linda Melim holds up her end of the conversation while deftly building salads and sandwiches and serving up homemade soup. Even on the busiest days, she does it all with a relaxed sense of humor.
Leaf and Ladle's menu isn't huge, but it's healthy, delicious and satisfying in a home-cooked kind of way. It's also surprising flexible. Among the selection of salads, wraps, paninis and soups are many vegan options, and all menu items can be prepared gluten-free. "I feel like I'm cooking the food I've always cooked. This is the kind of food I ate growing up, and the food I cooked for my kids," says Linda.
Raised by restaurateur parents, Linda moved to Bellingham as a teenager and waited tables at Denny's for years. By her late 20s, she was divorced and raising three young kids on her own. She put herself through college, earning an elementary education degree while running a small business making wicker baskets. She soon realized that teaching was not her passion. "I'm not a good rule follower. I'm much more creative and free form," she admits. "I think that's one reason my soups are so good," she adds with a laugh.
Turning her creative talents to garden art, she started a business called Doodah Garden Jewelry, which was successful beyond her expectations. She took her wares to art and garden shows, eventually selling in galleries from Seattle to Sedona. "I worked a ton, but I worked at home, so I was able to be there for my kids. And I was able to buy the house I was renting. That was amazing. As a single mom with three kids, I never thought I'd own my own home," she says.
As her kids grew up and the garden art business ran its course, another opportunity arose. Linda began working at the newly opened Honey Moon Mead and Cider on the State Street alley. She stayed for over seven years and, for many folks in town, was the face of Honey Moon. "It was a great job for me. They let me run with a lot of ideas. I introduced more food and started booking live music. It grew from a sleepy little tasting room to a full-on bar and music venue. It was a great way to become part of this downtown community," she says.
Linda's immersion into the downtown community deepened when she sold her house and moved into an apartment on State Street. Eventually she started fantasizing about opening her own restaurant. Her oldest daughter, Morgan Gaunt, was pregnant at the time, and Linda saw a future for both of them, complete with the flexibility that Morgan would need as a new mother.
When Linda saw the space for rent on State Street — halfway between the Herald Building and Pepper Sisters — she knew it was right. With the large counter in front and half a dozen tables in back, it's small enough to run with a tiny crew. And two years later, business is good. Morgan handles the bookkeeping, marketing and organizational side of the business and Linda does the food sourcing and cooking.
Linda shops nearly every day, sourcing her produce from Joe's Garden and nearby Northwest Youth Services, which runs a vocational training program called We Grow, training local youth in all aspects of running a production garden.
With continued interest from her customers to expand Leaf and Ladle beyond just lunch, Linda recently extended the restaurant's hours to accommodate the dinner rush.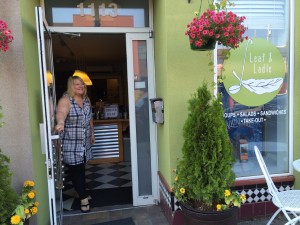 Linda's foodie followers will be ready for whatever comes next, and she's grateful for that. "I feel lucky that people have totally responded to this. I get positive feedback all day long. There's something to be said for people being appreciative of what you're doing every day. It's not brain surgery, but if people come in and enjoy their lunch, I feel like that's a win."
Leaf and Ladle
1113 N. State Street
Bellingham, WA 98225
360-319-9718
Hours:
Monday through Thursday: 11:00 a.m. to 8:00 p.m
Friday: 11:00 a.m. to midnight