By Stacee Sledge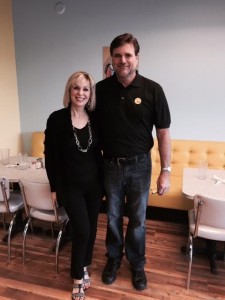 When Jamie and Colleen Bohnett decided to open their eatery Over Easy in Bellingham, it was as if a weight had been lifted.
"We were very close to signing a lease in Bothell," says Jamie, who grew up immersed in the business, his father the co-founder of a Santa Barbara restaurant that expanded nationwide. "But Colleen didn't have peace about it; she said, 'Let's keep looking.' And the day before we were to sign the final lease, she found this location online."
In Jamie's mind, the couple would come and see the space so they could eliminate the option, and then move forward with the Bothell plan. Even though he was nervous about the location and lease terms, they'd already invested so much time and money into the possibility.
Instead, they both fell in love with the spot and started making plans to move to Bellingham and bring the first Over Easy outside of Arizona—famous for appearing on two popular Food Network shows—to Sunnyland Square. The diner is just two doors down from Trader Joe's.
Over Easy Bellingham officially opened in late April, followed by a grand opening celebration in July. Fifty percent of the proceeds from the fete went to support Bellingham's Lighthouse Mission.
The food was already a hit, even before it made its way to Bellingham. The first Over Easy opened in Phoenix, Arizona, in 2008, and grew to enormous popularity after landing on the Food Network programs "Diners, Drive-Ins and Dives" and "The Best Thing I Ever Ate."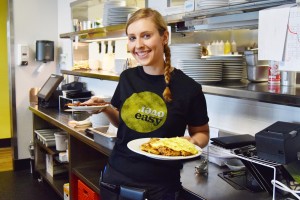 The original owners decided to expand outside of the four Over Easy eateries in Arizona and the Bohnetts, who own the Bellingham store, have been the first to open a new location.
Jamie and Colleen's Over Easy is completely their own—and completely Bellingham.
Popular dishes include The Wolfpack, which sandwiches two eggs any style with bacon and cheese between layers of hash browns. And the chilaquiles, a mixture of tortilla chips, ranchero sauce, chicken, sour cream and cheddar, topped with eggs.
"Build-your-own burritos are popular, and our sandwiches are great," says Jamie. "People just love the biscuits and homemade gravy—and the pumpkin French toast. I could go on and on."
A young father cutting up pancakes sprinkled with Reese's Pieces for his son tells me that he's already a regular. I spy the chicken-fried steak piled high on a plate at his elbow, just waiting. "I love it," he says of the dish. "I order it every time I come in."
"It really feels good when people say, 'I'm glad you're here,' and 'It's my favorite place,'" Jamie says with a smile, looking around at the diners happily eating and laughing with one another.
For the Bohnetts, the food is important, of course, but equally so is the atmosphere and the feeling folks get when they come to Over Easy.
"We really want people to have an experience," Jamie says. "And I want there to be a difference with us. If they're having a bad day, I want them to walk out feeling better than when they come in."
The décor alone practically guarantees a sunny mood. The feel-good space is awash in vibrant yellow and blue walls, with sparkling silver 1950s kitchen chairs set up next to brilliant yellow booth seating. The tables are covered in a quintessential mid-century modern pattern.
Another important part of the Over Easy experience is enjoying local ingredients, when possible, and well-loved local products, such as ACME Ice Cream and beer from Kulshan and Aslan.
When asked about his Over Easy team, Jamie is quick to say the whole crew has been great, and then points out two employees in particular.
"Anita Maguire is our kitchen manager," he says, nodding toward the kitchen, where Anita is hard at work, even though the diner has now closed for the day.
"I'm in the witness protection program!" she yells out with a smile, eliciting laughs.
"She's great – a good team-builder and organizer," Jamie says. "She really cares about her team."
He also mentions front-of-house manager Austin VanGerena. "He's great with our scheduling and as our lead server. He really keeps us going up front," Jamie says.
It's a bunch that has had to quickly figure out how to handle packed-to-the-gills weekend shifts, as more folks discover this gastronomical gem. If you want to try Over Easy for the first time but hope to avoid a possible wait, stop in any weekday morning or lunch hour.
"We have a lot of regulars already," Jamie says, looking around the space with a smile. "We're feeling really good about it. We're on our way."
More than anything, the Bohnetts want their business to serve the community. In fact, Jamie—who worked in the nonprofit sector for nearly three decades and   received a master's degree in social entrepreneurship in 2012—thought very seriously about ways to create Over Easy as a nonprofit organization.
That plan didn't pan out, but their devotion to helping nonprofits in our community remains strong. The Bohnetts hope to open the eatery—which closes at 1:00 p.m. on weekdays and 2:00 p.m. on weekends—to nonprofits, hosting afternoon or evening events that will serve local ACME Ice Cream on waffles or French toast, teamed with Fidalgo Bay coffee.
"I'm used to putting on events and am very aware how nonprofits really need to build relationships with their constituencies," says Jamie, who plans to dub the events friendraisers rather than fundraisers.
Any local nonprofit organizations interested in learning more about staging a "friend-raiser" at Over Easy, they can contact Jamie or Colleen at the eatery for more details.
Over Easy
2430 James Street in Bellingham
360-565-6585
Hours:
Monday – Friday from 6:30 a.m. – 1:00 p.m.
Saturday and Sunday from 6:30 a.m. – 2:00 p.m.