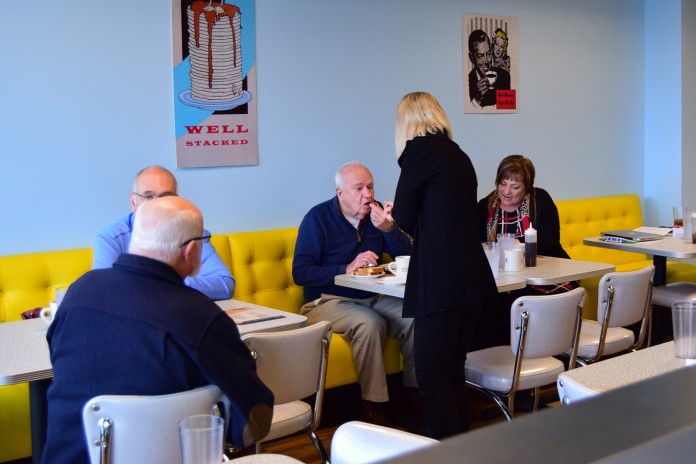 By Stacee Sledge
Over Easy has made the hop from Phoenix, Arizona—and notoriety gained by appearances on two popular Food Network shows—to Bellingham's Sunnyland neighborhood.
Brad May and his son, chef Aaron May, opened their first Over Easy in 2008. An appearance on Guy Fieri's "Diners, Drive-Ins and Dives" television program helped catapult them into the limelight, and they opened three more in the Phoenix area.
Now they've set their sites on expanding further afield—and Bellingham is their first stop.
When I sat down with Brad May and Over Easy Bellingham owner Jamie Bohnett (his wife Colleen Bohnett is co-owner), brown paper still covered the storefront glass as a slew of busy workers prepared the place for its opening.
The space is bright and welcoming with vibrant yellow and blue walls, sparkling 1950s kitchen chairs set up next to brilliant yellow booth seating. The tables are covered in a quintessential mid-century modern pattern.
"This is my mother's kitchen," May says, looking around proudly. "It's the kitchen I grew up with."
May is quick to share his many philosophies, one of which is that everybody wants to have breakfast at their mother's kitchen table.
"The only thing I haven't been able to figure out how to work into the restaurant is the white metal kitchen cabinets," he says. "That would make it perfect."
Bellingham's Over Easy duplicates everything that's made the first four stores so successful.
Jamie Bohnett was looking to open a franchise a year-and-a-half ago. His father co-founded the popular 1950s restaurant chain Sambo's, and Bohnett spent time in his 20s working in the industry with his father.
"I loved the business, but I didn't like the hours," Bohnett says with a laugh. After working in the nonprofit realm for 30 years, he was ready to return to the restaurant world after meeting Brad May and falling for both Over Easy's food—and its philosophy. (And its hours: it closes at 1:00 p.m. on weekdays and 2:00 p.m. on weekends.)
"Brad told me, 'We're not in the food business,'" Bohnett recalls. "'We're in the hospitality business.'"
May speaks up: "It's true! I don't want you leaving here with just a full belly—I want you leaving with an experience that you'll remember."
An undeniable part of that experience, though, is fantastic breakfast food. The menu offers breakfast classics, such as omelettes, egg benedict, chicken fried steak, waffles, pancakes, and French toast—but many options include a delicious twist.
The Wolfpack sandwiches two eggs any style with bacon and cheese between layers of crispy on the outside and creamy on the inside hash browns.
Over Easy's chilaquiles mixes tortilla chips with ranchero sauce, chicken, sour cream and cheddar, all topped with eggs.
Do you love French toast? Try Over Easy's caramelized banana and pecan brioche version and you'll never think of it the same way again.
Another of the eatery's popular items landed it on Food Network's "The Best Thing I Ever Ate." Waffle dogs are breakfast sausages on a stick dipped in waffle batter, fried to a golden brown, and served with a dusting of powdered sugar and 100-percent maple syrup.
"We make everything from scratch," says May, readying another of his philosophies: "I don't think people should be allowed to sell food that other people make."
He acknowledges one menu item that they do buy frozen: tater tots. They're simply too labor-intensive to make by hand.
"I once made tater tots stuffed with goat cheese and they were amazing. But I'd have to charge $10 for an order!" he says with a laugh. "They go really well with our homemade tomato jam."
"But everything else we serve, we make here from scratch," he continues. "And we buy local when we can."
Whatever your first-meal-of-the-day desire, Over Easy has something (or 12) to love. And though it is a franchise, the Bellingham store is very much a mom-and-pop place, with Jamie and Colleen Bohnett at the helm.
That was one of the challenges Brad May faced with growing Over Easy organically.
"I don't want any of our stores to have a corporate or chain feel," he says, "because I won't eat in a chain restaurant. I like the smaller, individually owned places and I'm trying to create that."
Over Easy opened its doors in the Sunnyland neighborhood on April 30 and its owners and staff hope for a nice, slow growth. May has seen the chaos that can come with an unexpected surge of hungry customers.
"A bunch of people told me that once we aired on 'Diners, Dives and Drive-Ins' that our sales would go up 70 percent," he says. "I said: 'Not possible.' But I'm not stupid, right? So I planned more staff and bought more food."
He was prepared for a 70 percent increase in business, if it came. What he got instead was 350 percent more business than over the previous week.
"It was crazy," he says, laughing. "Do not let your children watch television, people; it is way too powerful and influential over people."
2430 James Street in Bellingham
360.656.6585
Hours:
Weekdays: 6:30 a.m. to 1:00 p.m.
Weekends: 6:30 a.m. to 2:00 p.m.