By Lorraine Wilde
A new eight-member group of highly experienced and talented musicians from several other Whatcom County bands, Baby Cakes classic soul, R&B, and funk tunes are as engaging as their modern pop beats for both young and old. With a combined total of more than 70 years of performance experience, Baby Cakes has earned the label, Supergroup.
In early December last year, Chair Nine in Glacier, WA needed another band for their New Year's Eve show. They called experienced drummer, Kevin Chryst, known widely as Kreestoe, who has performed in Whatcom County for the past 12 years. "They wanted a funk and soul cover band and gave me the freedom to pick the players and tunes. I reached out to talented friends in other local bands and we put together Baby Cakes in just a couple weeks," explains Chryst, now Baby Cakes drummer and manager. Chryst's friends just happened to be some of the most skilled and absorbing musicians in Whatcom County. "A lot of us have been here for quite some time and we're pretty rooted in this music community."
Whether he's performing with rock/electro/funk band Acorn Project, crunk soul cats Vaughn Kreestoe, or the jazz/funk/soul group Sunkenfoal, Chryst's drumming electrifies. His brown dreadlocks fly in step with the music, the joy of the work emanates from his face. That energy is balanced well by Baby Cakes' keyboardist, Richard Keene's, concentration during his performances. His cool comes from many years with more than ten local bands and musicians including classic rock/R&B band Joy Ride, David Bowie cover band, Scary Monster and the Supercreeps, and long-time Bellingham favorite, the Adrian Clarke Band.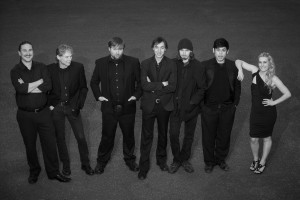 Drummer Chryst, and Baby Cakes rhythm section, made up of bassist, Elkay Stabo, laid-back guitarist, Matt van den Heuvel, and stellar saxophonist, Dylan Hermansen also perform together locally as Sunkenfoal. They most recently appeared at the Rock N Rye's First Anniversary Celebration.
Baby Cakes' diminutive lead vocalist, Stephanie Walbon, holds her own with the raucous bunch of musicians. She solidified her spot with them on New Year's Eve when the male lead vocalist failed to appear. "We were on the verge of a meltdown and Steph came on stage and asked what songs we knew," begins Chryst. "Steph and Elkay knew Don't Stop Believin' and the rest of us just figured it out on the spot," adds trumpet player Jeremiah Austin. "That was a defining moment for us," finishes Chryst. "Steph saved the day and we played for two more hours. After that, we felt like we could do anything together."
The mutual respect and camaraderie between band mates is evident. Trumpet player Austin is the group's standup comedian. Owner of North Sound Studio and trumpet teacher by day, he brings levity and ridiculousness to their practices and makes their hard work fun. "He's like the older brothers I grew up with," notes Walbon. Stabo, who has also played locally under the name Lyman Lipke, released an alternative blues rock double disc album early last year with the Vonvettas that he recorded in Austin's North Sound Studio. Austin's intensity on stage meshes well with Baby Cakes' solid trombonist, Mars Lindgren, and saxophonist, Hermansen.
Hermansen may get overshadowed by his band mates when it comes to chatting, but his intricate, tireless solos are a highlight of every performance. An accomplished musician before Baby Cakes, Hermansen has won several awards including his high school's Louis Armstrong Award and a soloist award from the Reno International Jazz Festival. In addition to saxophone, Hermansen also teaches and plays flute and clarinet.
Having earned a degree in music from Western Washington University, guitarist, van den Heuvel, wows audiences with his exceptional skill. "Matty is also with Bellingham-based, Snug Harbor, who plays soul and funk originals around the Pacific Northwest," notes Austin. Many of Snug Harbor's members also make up part of the Michal Menert Big Band who recently played at Colorado's Sonic Bloom Music Festival and Red Rocks Amphitheatre and San Francisco's Fillmore Theatre.
Although the name Baby Cakes might remind some of an elementary school snack cake, it's actually a euphemism. "When we play, we want you to remember a fond memory, some positive association. But there's no indirect way to say it so…I'll just say it," smirks Chryst. "It's another name for the posterior of a beautiful lady. We like to say that Cakes make the world go round." The band's playfulness and sense of humor are apparent as they explain. "All the members of Baby Cakes are fond of, or fans. We say, all Cakes are created equal," chuckles Austin. "A lot of Cake fans here," chimes Walbon.
"To choose our songs, we all bring our favorites to the group and decide together what we cover," explains Austin. "I like Beyoncé's Love on Top and told Steph about it. She'd never heard of it. Then she laughed when she heard it because it's such a hard song."
Walbon's vocals for Baby Cakes are continually impressive, reaching incredible heights with steady power. "The first time we practiced it, I couldn't get through it and my abs and back hurt the next day," laughs Walbon. "But now she loves it," notes Austin.
"I like songs people want to dance to," adds Walbon.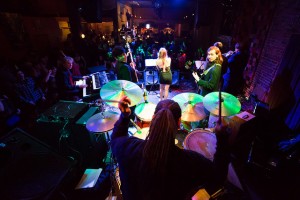 "We're also funk fans," clarifies Keene. "Everyone has speckled in their own tastes," finishes Chryst. "The original list included songs I'd grown up with, tunes on the radio driving around Seattle to garage sales with my dad. They're deep and meaningful. The messages are positive, fun, spiritual, loving, endearing – just like Baby Cakes."
As the band looks ahead they have a clear direction. "We have a nostalgic part of our set, but we're working nowadays on adding current top 40 pop. We also have some writers in the band and a talented arranger so we'll be working on some originals soon," explains Chryst.
Baby Cakes is ready to begin touring outside Whatcom County as well. "We have a multi-generational crowd and have done several all-ages events, with kids and people our folk's age," describes Chryst. "Our crowd goes to bed before midnight," jokes Austin. "But we also have something to offer the late crowd too," finishes Chryst.
You can see Baby Cakes on a number of summer dates including July 16 as part of the Bellwether's Blues, Brews & BBQ summer concert series and opening for Five Alarm Funk at Downtown Sounds on July 29.
Follow Baby Cakes on Facebook and Twitter (@babycakesband)