By Lorraine Wilde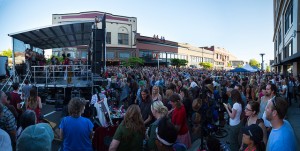 A free outdoor concert series now in its 11th year, Downtown Sounds, will bring local and nationally touring bands, area food vendors, and a beverage garden to Bay Street every Wednesday night in July. "It is Whatcom County's biggest urban music festival," explains Downtown Bellingham Partnership Events Manager, Lindsey Payne. "It is unique to downtown and everyone can attend."
The Downtown Bellingham Partnership, a non-profit established in 2000, works to represent the diverse interests of Bellingham's downtown businesses and residents while providing leadership in the development of public policy with the City of Bellingham to ensure a healthy, vibrant culture. "Downtown Sounds is just one of the great events we coordinate that shows all of the resources and cultural opportunities we have here," notes Payne. The Partnership also organizes Downtown Wine and Art Walks, trick-or-treating, and Bite of Bellingham, to name a few.
"Downtown Sounds began in 2005 and aimed to build a sense of community. We wanted to encourage equitable access to culture and arts, and use existing space creatively," describes Payne. The alley between Mindport and the Wild Buffalo was originally chosen for its urban beauty and central location. "The event was a way to revitalize underused urban spaces," explains Payne. Eventually outgrowing the space, the event moved to its current location on Bay Street between Holly and Magnolia Streets. "This all happened at the same time the City of Bellingham was investing in this area as a downtown arts district, so it just made sense," notes Payne, who has organized the event for the past seven years.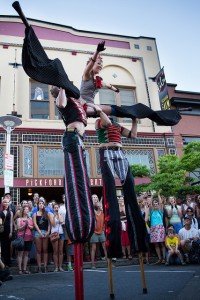 Downtown Sounds is just half of the Levitt AMP Bellingham Music Series, a 10-week concert series sponsored through a grant from Levitt Pavilions, whose focus on revitalizing public spaces will occur in 16 cities and 14 states this year. The other half of the series, organized by Bellingham Parks and Recreation, features free lunchtime concerts in Maritime Heritage Park in August and early September, called Music at Maritime.
Music this year is an eclectic mix of Bellingham mainstays and regional bands from Seattle, Vancouver, B.C., and beyond. Talent originally formed in Bellingham includes Polecat's stomp-worthy bluegrass, the contagious electro-funk of Acorn Project, and the classic R&B/funk/soul of Baby Cakes. Seattle-based bands are also represented including the jazz organ and funk band McTuff and the urban rock band Ayron Jones and the Way, who have opened for B.B. King and made a record produced by Sir Mix A-Lot. The stellar guitar stylings of Portland, Oregon's Scott Pemberton Trio and Vancouver, B.C.'s Five Alarm Funk will also fill the downtown scene this July.
No tummies will be grumbling at Downtown Sounds either. Local food and beer vendors make this event much more than a concert. "Delicious Mischief, El Capitan's gourmet sausages and pretzels, and Goat Mountain Pizza will offer yummies on-site," beams Payne, "and we'll have healthy options from Electric Beat Juice and a little sweetness from Pure Bliss." As is true for most Bellingham events, local breweries will also be well represented. "Boundary Bay Brewery has always been an amazing partner to work with for our beer garden, and we will also offer favorites from other local breweries including Aslan Brewing."
"Our first night of the series is going to be a crazy, huge street party," laughs Payne. Yogoman Burning Band, a Jamaican/New Orleans ska/soul brass band, will kick off the July 1 event. Aerialist performances by members of the Bellingham Circus Guild will captivate intermission before the reggae ambassadors, Third World, take the stage. The beer garden is sponsored that evening by Pint Night, an event organized by RE Sources and KISM radio who will broadcast live and give away free tickets to Yes, We CAN!, RE Sources' 4th of July canned craft beer festival in Bellingham.
Attendance at the event grows each year, ranging from 1,000 to 3,000 per show. "Within five days of making our Facebook event page, we had over 1,000 people indicate they would attend. It took us a month to get there last year. Now we're up to 1,600," reveals Payne.
Accordingly, the Downtown Bellingham Partnership is looking for volunteers to help with these July events so get in touch if you're interested. "Every year is a different challenge," says Payne. "Changes are happening and downtown is growing. We're honored that Downtown Sounds is a part of it."
Downtown Bellingham Partnership
1310 Commercial Street
Bellingham, WA 98225
360-527-8710