By Lorraine Wilde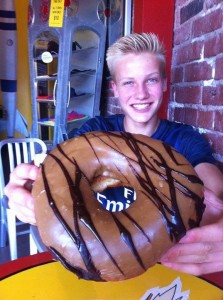 My first job as a 16-year-old was as a doughnut hop. I poured coffee, hand-pumped the jelly into bismarcks, and dipped frosted doughnuts into the tub of multi-colored sprinkles. Each time I step into Rocket Donuts, I am instantly transported back to those bygone days. By combining eclectic 1950's science fiction (sci-fi) movie memorabilia and décor, fresh, handmade doughnuts, and locally-sourced coffee and ice cream at two convenient locations, Rocket Donuts offers an other-worldly treat for every age.
When entrepreneur and philanthropist, Jim Swift, first moved to Bellingham in 2005, he couldn't find the succulent doughnuts he savored from his Los Angeles childhood. Having already owned a restaurant, an ice cream franchise with 40 stores, and a number of other successful food-related businesses, it wasn't long before Swift brought the doughnuts of his childhood to Bellingham. He opened the Holly Street Rocket Donuts in 2006. A marketing specialist by experience, Swift chose another of his childhood loves, sci-fi B movies, as the theme for his beloved doughnut shop. The 25-foot glistening silver rocket ship that conspicuously marks the Holly Street location has since become a downtown Bellingham icon. The café is adorned with movie posters from classics such as 1953's Phantom from Space and 1956's Forbidden Planet and is watched over by the imposing figure, Gort, a 9-foot silver, animatronic robot replica from the 1951 movie, The Day the Earth Stood Still.
That nostalgic feel is echoed in the impeccable taste of the doughnuts. "Jim Swift has extremely high standards for the doughnuts themselves," explains Vice President of Sales and Marketing, Mary Goit. "They have to be perfect, just like the ones from his childhood. We use many local ingredients and Jim doesn't sell day-olds." In fact, they are donated to the Bellingham Food Bank.
The atmosphere and quality product made Rocket an instant hit in Bellingham. A second location opened in summer 2013 at 11th and Harris in Fairhaven. With its own 25-foot rocket, Goda, from the movie Alien Trespass, this time suspended from the ceiling, the Fairhaven location also streams 50's doo-wop and black and white movies on several screens and boasts an impressive movie ray gun collection.
Like the doughnut shops of my day, Rocket has its regulars. "The buttermilk bar is our number one seller, but our regulars come in the early morning with their newspaper and order their coffee and plain cake, old-fashioned, or raised glazed," describes Goit. "Our appeal spans the generations." Without fail, a Rocket stop is usually the first weekend request from my tweens. We've often had a tough time choosing among the many traditional favorites that fill the gleaming glass display case.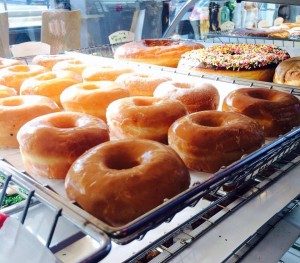 Rocket's Donut of the Month is a creative highlight. The popular Seahawk-inspired delights of football season have given way to March's double chocolate doughnut with peanut butter frosting and April's Oreo Cream doughnut. The bacon-covered maple bar is a Rocket mainstay. "Who doesn't love bacon?" laughs Goit.
As if fantastic doughnuts weren't enough, Rocket also offers Acme Ice Cream and Moka Joe Coffee at both locations. Swift owns Acme Ice Cream along with several beloved Whatcom County businesses including Fat Pie Pizza and Acme Diner. "Acme uses fresh, hormone-free, Whatcom County cow's milk to make 'no air' ice cream," notes Goit. "We don't whip air into it like the store brands, so our pint is denser, and much richer and creamier." Not everything at Rocket is retro. Anacortes-based Moka Joe Coffee is organic, fair trade, sustainably grown, and so much better than the coffee we drank way back when. They also offer customers free Wi-Fi.
Based on Swift's love of the Saturday matinee, Rocket also sponsors a rare treat: sci-fi matinees on the big screen at the Pickford Film Center.
Rocket has been a highlight for my family since it first opened. "Everyone who likes to have fun and enjoys quality food loves Rocket," beams Goit. "We've got them covered with doughnuts, coffee, and ice cream all day long."
Two Rocket Donuts Locations: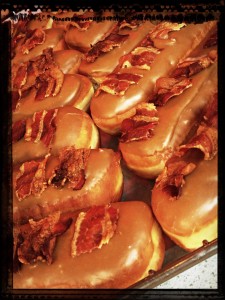 306 West Holly Street
Bellingham, WA 98225
360-671-6111
Monday through Saturday from 6:30 a.m. – 5:00 p.m.
Sunday from 7:30 a.m.- 5:00 p.m.
1021 Harris Avenue
Bellingham, WA 98225
360-366-8135
Monday through Saturday from 7:00 a.m.—8:00 p.m.
Sunday 7:30 a.m. – 8:00 p.m.