Submitted by My Garden Nursery
When My Garden Nursery opens April 1 in north Bellingham, co-owner Jenny Gunderson plans to start growing something that can't be found in a plant catalog – customer relationships.
Located at 929 E. Bakerview Road, My Garden Nursery will offer a broad array of plants, trees, tools and gardening products with an emphasis on organic and environmentally friendly products. But Gunderson and co-owner Bill Raynolds want most of all to connect with their customers.
"It's going to be a fun, colorful, exciting nursery!" Gunderson exclaimed.
For example, not too many full-service nurseries include a ping-pong table, but My Garden Nursery will be getting one. If anyone can beat Raynolds in a game, they'll win a plant, but don't get your hopes up – Raynolds lost only once to a customer when they operated My Garden Nursery for seven years in Mill Creek.
Other family oriented activities include a train table for young children, a Fairy Festival and a Birthday Club where customers get a discount equivalent to their age for shopping on their birthday. My Garden Nursery also will be active in the community by raising funds for Alzheimer's and breast cancer research.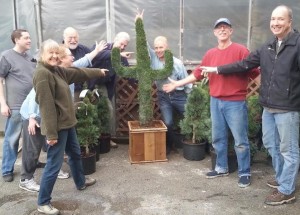 My Garden Nursery was successful in Mill Creek, being voted best Home and Garden Store in Western Washington in 2010, 2011 and 2012 by "Evening Magazine" television viewers. However, Gunderson and Raynolds decided to leave in search of a site that they could own and are delighted they found the former Bakerview Nursery location.
"I love that the community loved Bakerview Nursery and that so many are happy there will be a nursery here again," Gunderson said.
My Garden Nursery will have a grand opening April 1-4 with door prizes each day. Refreshments will be served while the Bellingham/Whatcom Chamber of Commerce & Industry conducts a ribbon-cutting ceremony for its new member between noon and 1:00 p.m. April 1. Live music from The Winterlings is scheduled from 11:00 a.m. to 12:30 p.m. and 1:30 – 3:00 p.m. Saturday, April 4.
Store hours will be 9:00 a.m. to 5:30 p.m. Monday through Saturday and 10:00 a.m. to 5:00 p.m. Sundays. For more information, call (360) 366-8406 and visit www.MyGardenNursery.com.