By Lorraine Wilde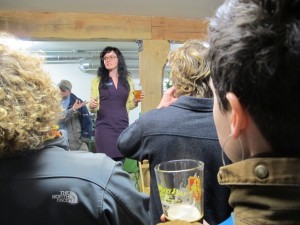 Going strong for more than eight years, Bellingham Green Drinks provides an informal, face-to-face opportunity for individuals, politicians, and professionals to network and discuss environmental issues, comfortably, over a pint. Green Drinks isn't a Bellingham original, but a branch of Green Drinks International, "an organic, self-organising network" began by Edwin Datschefski in 1989 in a North London pub called The Slug and Lettuce.
Today, more than 600 Green Drinks gatherings are held in 69 countries, including 14 cities in Washington State. ReSources For Sustainable Communities Manager of Communications and Development, Hannah Coughlin, has been coordinating the monthly event for about five years. "The wonderful and peculiar thing about ReSources is that for 30 years we have been malleable and innovative. We find the gaps and fill them, connecting people to build partnerships and find that synergy," explains Coughlin. "Starting a Green Drinks here fit nicely with our mission and goals."
Martin Passmore, a long-time Bellingham resident passionate about reducing climate change by increasing soil fertility, appreciates the variety of venues that host the event. "I've been to many places I would have never been otherwise: a solar panel builder, 2020 Engineering, and George Dyson's place," explains Passmore. In the past year, Green Drinks has met at the World Famous Up & Up, Brandywine Kitchen, Backcountry Essentials, and ReSources, to name a few.
Coughlin secures locations and collaborates with local business to provide food, drink, and education to the 50 to 100 monthly Green Drinks attendees. Taylor Shellfish provided fresh clams at the December meeting while Boundary Bay Brewing has partnered with ReSources many times to provide local brew for a donation. February's meeting offered Aslan Brewery's No Coal Porter, a beer brewed specifically to raise funds to protect the community from risks associated with SSA Marine's proposed Gateway Pacific Terminal.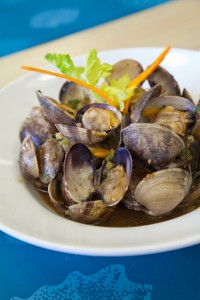 March's meeting was held at the Powerhouse, a Net Zero Plus Cohousing project in the Roosevelt Neighborhood, built by Ted Clifton of TC Legend Homes. "Ted likes to network with other builders and answer people's questions about energy-efficient housing," explains Clifton's wife, Rachel Lee. "He's kind of a pioneer because he's not making high-end properties. He's doing it in an affordable way." Clifton has received a lot of attention for the houses he's built in the Seattle area but would like to construct more in Whatcom County as well. The Powerhouse's on-site solar panels power both the house and cars for under $150 per square foot.
Politics are inextricably connected with environmental issues and so it's not surprising to hear them meandering through Green Drinks conversation. I met Barry Wenger, the current ReSources Board President, who retired from the Department of Ecology after more than 30 years of public service. We started talking of his leadership in the Bellingham Bay Demonstration Pilot Project and ended up discussing our favorite Gershwin tunes. Bellingham City Councilor, Michael Lilliquist, attends often, along with other progressive city and county council members. Former Washington State legislative aide, Tara Almond, heads to Green Drinks whenever possible. "Some people tune out when they clock out of work. Bellinghamsters still talk about policy issues because we don't just talk it, we live it."
I also met interfaith minister and realtor, Reverend Meredith Ann Murray, who has been an active public servant and businesswoman in the Whatcom County environmental community for many years. "I love connecting people and it brings me joy when I can help people find solutions or partnerships. The people of Green Drinks are my tribe."
Scott Sanderson, an advocate of socio-political change, also comes to meet and connect people. "I've only missed about two gatherings in eight years. I help promote non-profits that make a positive difference." Many positive partnerships have come out of Green Drinks. ReSources Director of Communications and Development, Peter Frazier, plans to hire a videographer he met at Green Drinks while Coughlin notes, "ReSources has presented informational workshops as a result of informal Green Drinks conversations."
Each gathering is unstructured except for a short set of 3-minute announcements about relevant events, policies, or causes. Within an hour of casual conversation, I learned of Shannon Maris' Transition Whatcom movement to reduce fossil fuel dependence, Bellingham's Highland Hemp House renovated with Hempcrete, and upcycling of unwanted textiles at Ragfinery.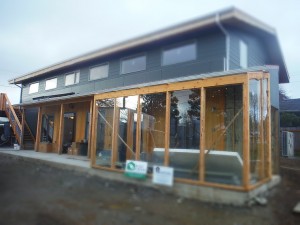 "For me personally, I appreciate the solidarity on environmental issues," confesses Coughlin. "I can't tell you how many times I've gone to Green Drinks feeling down about bad environmental news and later left uplifted. Having that support from those that share my values is extremely valuable."
Bellingham Green Drinks meets the first Wednesday of each month at 5:00 p.m. at various locations.  Find the next meeting here.  Green Drinks April meeting will be co-hosted by Futurewise Whatcom from 5:00 p.m. to 7:00 p.m. at the Herald Building and will feature information on their new Green Link Project, which will help establish an integrated network of green spaces with people, water quality, and wildlife in mind.
"We look forward to supporting Green Drinks consistently in the future," explains Coughlin. "We'll encourage it to grow and welcome new faces and ideas to join our existing community."