Nearly a quarter of all Whatcom County households choose Whatcom Educational Credit Union for their financial needs – from checking and savings accounts to mobile banking, safe deposit boxes and loans of all kinds.
But many members of this trusted nonprofit cooperative don't realize just how deep WECU's roots go into our community – its years of fiscal support given to education, health and community concerns – and the depth of giving, in volunteer hours, that comes from its employees.
Known today as WECU, the organization was founded as Bellingham Teachers' Credit Union in 1936, a cooperative just for educators.
With a name change in the mid-1970s and expansion in 2002 that opened membership to those outside education, WECU has grown and evolved along with its Whatcom County communities.
One thing that hasn't changed is a requirement of just $5 to open a savings account.
"We are open to anybody who lives, works, worships, or goes to school in Washington State, but we primarily target in Whatcom County," says WECU marketing manager Kessa Volland, "and most often simply based on word of mouth – you do right by someone and they're going to tell their neighbors and friends; that's how you maintain a good business structure."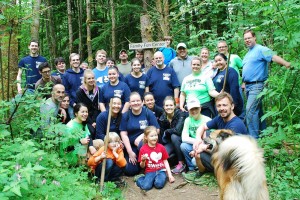 Membership has more than doubled since 2002.
WECU's employees are also dedicated community members, each with a strong desire to give back to this fantastic place we all call home.
From putting together teams for the annual Jingle Bell Run and several other charity events to trail maintenance on Galbraith Mountain, work parties for the Salvation Army, Whatcom Humane Society, and more – WECU's employees band together to do an enormous amount of good in our area.
WECU has even formed a Sweat Equity Team for WECU employees looking for fun, rewarding, and interesting volunteer opportunities.
"Our staff members have always supported different organizations on their own time," says Volland, "and we wanted to give them the forum through which to do that, as well as recognize their contributions."
WECU raffles off goodies throughout the year to employees who have volunteered their time, and recognizes those who help the most.
Putting together these regular volunteer events as a team has inadvertently turned into a great welcome wagon.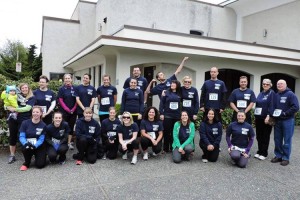 "When I greet our new employees I tell them this is an excellent opportunity to get out and do something you're proud of, get some visibility in the community, and also to interact with people from other departments or branches that you might not normally get to see," says Volland. "And you're doing something together that you can feel really good about at the end of the day."
The list of organizations that have benefited from WECU's volunteer hours and fiscal donations goes on and on.
"WECU has partnered with us for years," says Mike Cohen, executive director of Bellingham Food Bank. "Staff at WECU has always been very community-minded and eager to help us."
The Sweat Equity Team helps with two food drives every year – the food bank's Milk Money and Food4Tots campaigns.
"WECU has done an excellent job of promoting these causes and engaging hundreds in our fight against hunger."
Carla Hasche, executive director of Whatcom Center for Early Learning (WCEL), is equally grateful for the help WECU employees have given her organization.
"WECU volunteers have been amazing at helping out Whatcom Center for Early Learning," says Hasche. "They came and painted the fire escape on 'The Big Blue House,' the home of our organization."
"We were so grateful that they would donate their whole sunny Saturday to our project," she continues. "And what a fantastic job they did; it made such a difference in the building's appearance."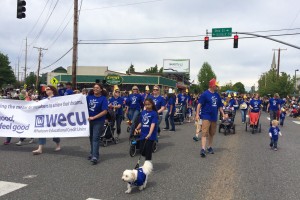 WECU volunteers also help WCEL with its fundraising, offering data entry and other support services on the night of its annual gala. "They are such capable help and make things run smoothly during our biggest fundraising event of the year," says Hasche.
These are just two examples of the many organizations and projects WECU employees enthusiastically throw their support behind.
"We also do quarterly donations through out Social Responsibility Committee," Volland continues. "We strive to fiscally support organizations that really keep the community strong, addressing issues that really benefit us as a whole."
Organizations can apply for a social responsibility donation at WECU's website.
"We sit down and hash those out," Volland says. "The committee talks it through and tries to find the most pressing needs. Our giving is pretty diverse, with a lot of requests for different pieces of community support."
In the first quarter of 2014 alone, WECU donated more than $42,000 to a variety of organizations.
Learn more about WECU's Sweat Equity Team and see a list of the many local organizations WECU has donated to in the past year at WECU's website.