Submitted by Dave Brumbaugh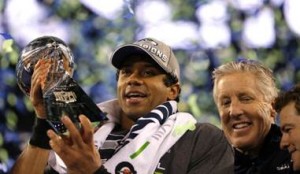 The Seattle Seahawks will be displaying their Super Bowl championship Lombardi Trophy for public viewing from 3-7 p.m. Sunday, July 6 at Poppes 360 Neighborhood Pub, part of the Lakeway Inn & Conference Center at 714 Lakeway Drive, Bellingham.
The Lombardi Trophy will be set on a raised stage, enclosed in a clear case on a stand just outside the Poppes 360 patio entrance in the Lakeway Inn's north parking lot. No touching of the trophy nor access to the stage will be allowed, but attendees may gather around the stage to take photographs.
The Seahawks also are bringing members of the Sea Gals dance team, their mascot Blitz and the Blue Thunder Drummers from 3-5 p.m. Sunday. Barbecued hamburgers and hotdogs will be available. Attendees 21 and older may see the trophy from the Poppes 360 patio, where food and drink specials will be offered beginning at noon.
The trophy tour's stop in Bellingham is its only one in Northwest Washington.
"We're so excited to have the Super Bowl trophy coming here for fans to see," said Larry MacDonald, General Manager of the Lakeway Inn. "The Seahawks were so impressed by the turnout at their tour stop here last summer that they made Bellingham one of the few communities getting a chance to see the trophy and relive their amazing championship run."
Parking will be available in the Lakeway Inn's north parking lot, accessed from Lakeway Drive, and its south parking lot, which has a Lincoln Street entrance.
The Best Western PLUS Lakeway Inn & Conference Center, managed by Providence Hospitality Partners, is located at 714 Lakeway Drive, just off Interstate 5 at Exit 253. The Lakeway Inn is totally smoke-free throughout its 132 guest rooms, two restaurants (Poppe's 360 and The Oboe Café), indoor pool, fitness area and 11,000 square feet of meeting-room space. For more information, call (360) 671-1011 or (888) 671-1011 or visit www.thelakewayinn.com.