Registration is now open for Recreation Northwest's inaugural Kulshan Quest – a 6- or 12-hour adventure race that includes sea kayaking, trail running, and mountain biking on June 21.
The twist?
Determining the best race route is up to each individual participant. A series of checkpoints must be reached from start to finish, but otherwise, the exact course is whatever racers want it to be.
Teams or individuals must navigate their way to each checkpoint by kayak, on foot, or by bike, using only a map and a compass – no GPS.
Another twist?
Information on the general course location and checkpoints are announced just 30 minutes before the race begins, meaning time is tight to fashion the fastest course of action.
Race director Brent Molsberry thought for many years about bringing an adventure race to Bellingham.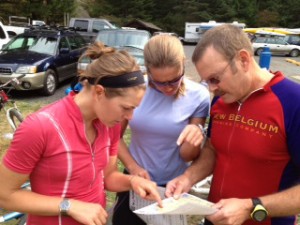 "Living in Bellingham, I know the world-class recreating that's at our fingertips," he says. "I've wanted to showcase this area in an adventure race since I started racing."
Molsberry experienced his first adventure race in 2004.
"I jumped in with both feet when some friends and I did Primal Quest, an expedition-length race," he says. "After six days of hiking, biking and kayaking, we reached the finish line exhausted and enthralled."
Molsberry says adventure racing has a lot to love.
"I find it much more cerebral than a running race or triathlon," he says. "You can't just put your head down and charge; you have to be aware of your surroundings, take note of where you are, and make sure you're heading in the right direction."
There's also a feeling of victory that comes with finding each checkpoint.
After a successful partnership last year with Recreation Northwest to organize the San Juan Island Quest, Molsberry's plan took hold to create a race here in Bellingham – finally.
"Adventure racing and Bellingham fit well together," he says. "We have such a wide assortment of recreational opportunities in the Bellingham area: Gailbraith, Chuckanut, Blanchard, Lake Padden, Lake Whatcom, Bellingham Bay, and now the reconveyance – they all provide amazing areas to play outside."
"When it comes down to it," he continues, "that's all adventure racing is about: it's a really fun way to play outside – and it's a natural fit for this area."
Molsberry says first-time Kulshan Quest racers can expect to surprise themselves with what they can do.
"They can also expect to get a little lost, and then feel the excitement of finding their way back on track," he says. "They'll see places they've never seen before, and also see places they've been to numerous times in an entirely new way."
The Kulshan Quest also serves as the Pacific Northwest qualifier for the USARA Adventure Race National Championship, held in Maryland in October.
So, here's what we do know about this very first Kulshan Quest: It will begin in Fairhaven and will certainly encompass the Chuckanut Mountains and Bellingham Bay. There will be bikes, kayaks, running shoes, maps and compasses. Racers will likely get lost but will eventually find their way. And they'll definitely have a blast and look forward to racing again next year.
Watch this short video about the San Juan Island Quest to get a glimpse into adventure racing.
Kulshan Quest kicks-off on Saturday, June 21. Click here for race times, registration information and additional details.