Bellingham knows beer. Whatcom County boasts 12 excellent breweries, with new pubs opening their doors left and right. The City of Renewed Excitement, as the Downtown Association calls it, goes beyond beer. Our bustling drink scene relies not only on craft beer, but on craft cocktails, too. Crafted drinks are on the rise – just ask Fairhaven, where two lively cocktail bars recently set up shop.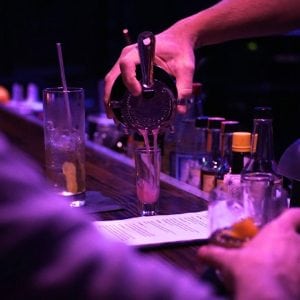 As crafted cocktails garner our attention, the city's drink menu is larger than ever. If you haven't checked out Bellingham's impressive selection, hightail it into town for one of these top-notch cocktails:
The Blonde Redhead at Redlight
The Blonde Redhead is one of many legendary drinks served at the swanky Redlight Bar on State Street.
Vodka is infused in-house with fresh strawberries and black peppercorn, then combined with lip-smacking lemonade for a sippable refreshment. This drink is the perfect addition to an all-too-rare blue sky Bellingham afternoon.
Head to this deco-era cocktail lounge to taste their selection of house-infused liquors. The bar's lavender vodka stands out in this refreshing cocktail with lemon and pressed blueberry.
Galloway's connects to the charming Fairhaven Village Inn. After a few lip-smacking Lavender Blues, you'll be happy to find quality rest next door.
I don't know how to find local framboise in Whatcom County, but the creative bartenders behind Hundred North do. It's featured in the restaurant's Mrs. Robinson drink alongside celery infused gin, lemon and bubbly for a uniquely delicious sip.
Hundred North is more than a knockout cocktail bar – it's a fully functioning upscale restaurant serving brunch, dinner and dessert. I hear their locally sourced black cod is to die for.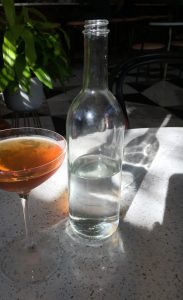 The mention of "spiced grapefruit cordial" is enough to make any cocktail fiend stop in their tracks. Combine it with gin, sherry and lime, and you've got an eager audience.
The Temple Bar has been serving fine wine, beer, cocktails and local fare in Bellingham since 2002. It's obvious they spent years learning to perfectly craft intriguing drinks for thirsty patrons and creating an inviting ambiance.
The bar describes their drinks as "refreshingly free of bells and whistles" and "inventive yet familiar."
Next time you stop by the Temple Bar for their classy, low-lit atmosphere, do yourself a favor and try the complex Hunter/Gatherer.
A well-made classic can't be beat and Fireside knows it. Their made-from-scratch mojito is top of the line. Fresh mint and muddled lime give mojitos their signature refreshing flavor, and Fireside Martini & Wine Bar kicks it up a notch with a fizzy twist. This ultimate summer drink is sure to leave you wanting more.
You may have seen the back door cocktail lounge while walking downtown near Boundary Bay Brewery and Rumor's Cabaret. The bar is mixed drink heaven. If you haven't stopped in, you're missing out.
The Professor is one of their most popular drinks. It's inspired by a traditional rum sour, but this one adds extra lime, silky egg whites and blackberry-balsamic reduction to the mix. To top it off, their sour mix is made in-house with fresh ingredients.
Bellingham's best Irish bar goes beyond Guinness and Jameson, serving a variety of tasty concoctions. Whether it's St. Patrick's Day or any old night out, Uisce is the place to go.
Their take on the Sidecar is a standout. It's strong but balanced, and a favorite among brandy enthusiasts.
You'll also find Bellingham's largest selection of Irish Whiskey and Scotch here.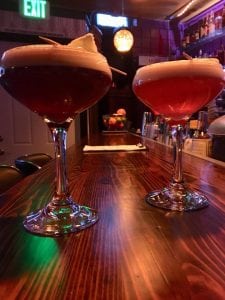 As the name suggests, this cocktail is delightfully golden in color. Its royal appearance stems from ginger liqueur, OJ and turmeric.
Turmeric is a known anti-inflammatory and brain booster, a nice excuse to drink to your health.
A number of other tasty concoctions are on The Black Cat's menu, including both house creations and classics. Their prime spot in downtown Fairhaven allows you to eat and drink with a view, too.
Swim Club Wet Bar and Resto is Fairhaven's newest addition, opened in April 2018. The bar's ambiance immediately transports you to the French Riviera, at the intersection of fancy and tropical.
The menu describes the La Louisiana as spirit forward. Though it's little, it packs a mighty punch – a delicious punch of rye whiskey cut with sweet vermouth, Benedictine, a touch of absinthe and New Orleans style bitters. If you prefer your drinks stiff, this cocktail is for you.
Like your drink with flare? Order the Coconaut from downtown's new tiki bar, Red Rum. This coconutty cocktail comes garnished with a flaming sugar cube.
Red Rum opened its doors in downtown Bellingham in March of 2018. If their Coconaut doesn't lure you in, the quirky Hawaiian-themed decor will.