Kristi Kucera tells of porpoises swimming alongside her boat – so close she could hear them blowing with each spray of sea water. This is just one of her awesome experiences on the Salish Sea – experiences she wants to share. Kucera owns Moondance Sea Kayak Adventures, a Bellingham-based adventure company with a wide variety of programs for everyone.

Kucera never guarantees wildlife sightings because "wildlife is wild," she says. It "can't be predicted." Although, she does see quite a bit of it. The Salish Sea is unique; it's protected by the costal range which encloses and protects both kayaks and wildlife from the tides. With bad weather held back by the mountains, unique rock formations are created.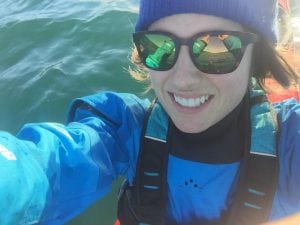 These conditions have also created species diversity. The San Juan islands have over 200 species of birds that either live on the islands full time or migrate through seasonally. This habitat is one of the most diverse in the world. Kucera has seen minke whales off the coast of the Chuckanut Mountains. She also recalls a sea lion that slowly rose out of the water so close to her boat that it appeared to be a sea monster.
"The water is never the same one day to the next," Kucera says. One day it's calm, peaceful and meditative. The next it's boisterous, ruckus and wild. This is why she recommends going through a kayaking company. Moondance is very cognizant of safety, first and foremost. Kucera keeps a close eye on the wind, tides, currents and weather. She will not go out if there's danger of currents.
Kucera and her guides make the day fun, enjoyable and educational. Her love of the area, habitat and land is palpable. She and her guides teach a mixture of geology, geography, ornithology, biology and history of the region. Kucera says that although she has dozens of stories about kayaking and wildlife, some of her favorites are the connections she makes with people.
On one tour she explained the history of Chuckanut Island, known to locals as Dot Island. It's a five-acre sanctuary originally owned by a conservationist named Cyrus Gates who donated it to the Nature Conservancy preserve. Then Kucera discovered that she was actually speaking to the great grandson of Gates. The man had heard stories about his great grandfather, but didn't know which island he donated.
Kucera moved to Bellingham six years ago from Salt Lake City. After spending five years of summers in the San Juan's, she fell in love with the area. She met Sharmon Hill, a coworker at REI who owned and founded Moondance Sea Kayak Adventures. When Hill was ready to sell the company after 20 years of ownership, Kucera jumped at the opportunity. She gave the company a facelift; updating the website and growing the business with more guides including Hill, who decided to keep her office on the sea.
Kayak groups are kept small in order to teach and keep groups intimate. Kucera doesn't shy away from young children or beginners, and enjoys the opportunity to engage and excite them. She gives children field guides to read. Together they hunt for birds and marine life. "Parents know best what they're children are capable of," she says. If they feel that their child will do best with only a few hours out on the water, then we'll make the trip a couple of hours.
She works hard to keep the trip engaging and fun. Kucera reads the weather and group, catering to the age, ability and participants' adventure level. For beginners and those seeking a more placid experience will be content around Bellingham Bay and the San Juan Islands. Generally speaking, Moondance tends towards calm, relaxed trips with plenty of time to socialize and enjoy the water, scenery and education.
Kucera keeps her classes small and intimate, with no more than eight guests per teacher and only six per teacher for multi-day adventures. She offers a variety of trips from a few hours to several days. There's a foraging class on edible seaweed and a very popular bioluminescent night paddle. She's working on starting a sailing and sea kayaking multi-day tour with Gato Verde Adventure Sailing.
Try out a local adventure on the Salish Sea and you might see an eagle catch a loon for lunch. Or, if you're really lucky, a majestic pod of orcas swimming into the sunset.
Moondance Sea Kayak Adventures
360-738-7664
info@moondancekayak.com