Ihave been floating through the ornate halls of Mount Baker Theatre (MBT) since it opened in 1927. Everyone calls me Judy. I wouldn't really say that I "haunt" the theater. I'm a friendly spirit. I putter through the dressing rooms after hours, hang out in the balcony and sit on the chandelier.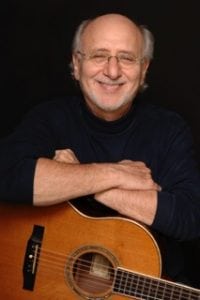 Of all the 400 shows that come and go on the stage of MBT some of my favorites are the ones that explore history. The importance of remembering the past and celebrating its hardships, sharing its successes and singing along to the music is what really makes me feel connected to the people that come into the theater.
That's why I'm thrilled to reminisce with Peter Yarrow in Concert. I can't wait to spy on Peter Yarrow of Peter, Paul and Mary. You know, Puff, the magic dragon lived by the sea, and frolicked in the autumn mist? Yes – that Peter!
That's right, the Peter Yarrow. He's coming to our Mount Baker Theatre. I remember learning about his story in a discarded New York Times article that talked about how Peter, Paul and Mary mixed music with politics and social activism. They even marched with Rev. Dr. Martin Luther King Jr. in Selma, Alabama, and Washington, D.C. I also learned that the trio sang at the 1969 March on Washington, which Peter helped to organize.
Peter really is a legend for his work and his music. I hope he sings Puff the Magic Dragon and If I had a Hammer! Music has a way of reconnecting places, people and the past in the most magical way. I can't wait to sing alongside Peter.
Sponsored