Submitted by: Hotel Bellwether
Romance is in the air and there is no better place to spend time with your loved one than Hotel Bellwether. Did you know we have one of the premiere hotels in the Northwest right here in Whatcom County?
Hotel Bellwether has been recognized as the number one Luxury Hotel on King 5 Evening Magazine. Stop by and you'll see why. Hotel guests enjoy luxurious rooms with fireplaces, jacuzzi tubs, spectacular sunsets and an awesome view of the San Juan Islands. The staff will greet you warmly and ensure your accommodations are prefect for your romantic getaway.
Hotel Bellwether is proud to offer exclusive specials celebrating the entire month of February as the "Month of Love." Guests may book a two day stay package arriving between Feb. 2 and Feb. 28 and receive a trio of brilliant red roses from A New Leaf flowers and chocolate dipped strawberries in their room upon arrival. This package includes a "Tails for Two" offer in the hotel's scenic waterfront restaurant, The Lighthouse Grill – two Maine lobster tails for the price of one! This special may be booked on HotelBellwether.com by selecting valid dates in February or by calling a friendly front desk agent at 360-392-3100.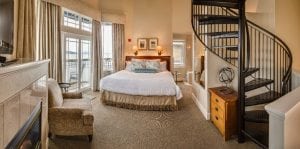 Once you're settled in, there is no need to leave the hotel. You can enjoy your comfortable accommodations and then wander down to the Lighthouse Grill. Top off a relaxing evening with delicious northwest cuisine hand-crafted by the Lighthouse Grill's outstanding culinary team. You'll savor fresh seafood, steaks and creative nightly specials. Enjoy ongoing entertainment from a talented team of musicians performing in the cozy Sunset Lounge.
The restaurant will be celebrating The Oscars this month with a mouth-watering, locally-sourced "Steak Oscar" dinner special available from Feb. 8 through Feb. 18. Skilled Chef Michael Grogan's "Steak Oscar" dinner special spotlights asparagus as the seasonal vegetable of the month. There will be a fresh and delicious "Salmon Oscar" special available for seafood lovers as well. He has put together a delicious array of toppings to accompany his signature béarnaise sauce.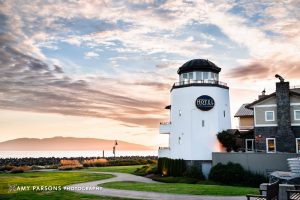 Hotel Bellwether offers 66 beautifully appointed rooms and has a unique view of Bellingham Bay featuring vistas of the San Juan Islands, Olympic Mountains and Mount Baker in the distance. Relax with a loved one in the plush luxury of newly renovated rooms featuring mattresses from Sleep Solutions Mattress in Fairhaven and lovely honor bar essentials with a carefully curated selection of local products including favorites from Sea Holly Beauty Products, BelleWood Acres, Chocolate Necessities and more!
Guests may book any room type with this package including the hotel's signature Lighthouse Suite – a 900 square foot, three story suite that offers a one-of-a-kind, 360 degree view of downtown Bellingham, Bellingham Bay and beyond.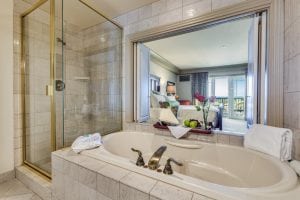 "Hotel Bellwether is an escape by the bay that is sure to sweep your loved one off their feet," says General Manager Jim Haupt. "We especially love to see our Whatcom County locals come in for a romantic waterfront staycation not too far from home."
Rekindle, relax and be swept away in luxury with your loved one. Join us this February for the Month of Love!