Paintings fill the space – surreal close-ups of dew drop laden leaves, a striking solar eclipse in the blackness of space, a silhouette of a woman holding hands with a young girl on a sunset beach. Finished paintings hang on walls, works in progress stand on easels and commissioned paintings lean against the table, waiting for their new homes. This is where local mover-and-shaker Kevin Coleman has been busily creating art for his new project, The Give Back Program.

"2017 was a total awakening for me," says Kevin. He had put his art on hold after adopting two sons and starting a new career as WhatcomTalk Community Relations & Business Development Manager. Previously a designer from Florida by way of Seattle, he's now become a staple of the Bellingham business community, loved for his enthusiastic personality and his knack for bringing people and businesses together. But, after his period of awakening, Kevin realized he wanted to do more to help the community by reigniting his passion for art and channeling it toward funding local non-profits.
"We're given a limited amount of time on this planet and we must give back to those in need," he says. "By using my skills as an artist, along with my community network, I have the best chance of making the most difference by doing what I love."
Encouraged by his husband, family, close friends and associates, Kevin started The Give Back Program. The premise is simple: Kevin creates original art pieces which he donates for local non-profits to auction at their fundraising events. Prints and reproductions of the artworks are made available for sale to the public on Kevin's website. This allows him to earn some income with his art while simultaneously donating it to raise money for good causes.
"I saw an opportunity for the community – and for me as an artist – to do something huge and impactful," he says. Since then, he has been working with a growing list of local non-profits, including: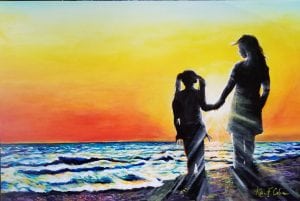 Kevin is a self-taught painter who works mainly in acrylics. He often separates layers of color with polyurethane to create more vivid contrast and a signature brightness that pops. As a trained sculptor, he sometimes incorporates deep, three-dimensional textures that rise up from the canvas.
"I like photo realism," Kevin says, "and showing themes that people normally take for granted, like using reflections in water – drips, light, texture. Each piece is going to be different. What I feel becomes the piece." Kevin's paintings can evoke powerful emotion. His passion for art and the cause he is supporting invariably shows through.
Kevin recently donated a painting to Lydia Place's annual Hearts for Housing Gala and Auction. Community Engagement Director Shultzie Willows says, "In 'Hope Has No Limits,' Kevin's time, talent and personal reflection of our mission at Lydia Place were perfectly captured in acrylic, highlighting the good, the heartbreak and the hope that our families feel in a beautiful sunset by the water's edge, featuring a mother and her daughter. Kevin's contribution demonstrates that everyone can help to disrupt the cycle of homelessness by contributing what they can, whether it be financial support, volunteerism, their skill or, as Kevin so poignantly portrays, a painting with a purpose."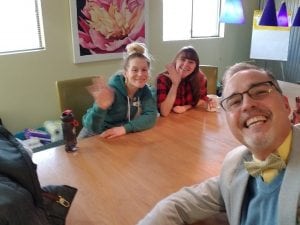 Kevin's total awakening was a revelation on how to impact people in positive ways, make moments count and live with intention and purpose. "I only want to work with you when it's right and when we put the right intention behind it," Kevin says. He calls this "The Right Method" and explains with a smile, "If you're with the right people in the right places at the right time for the right reasons, the right things will happen. And you can take me to church on that one!"
Kevin describes his job as going out and finding the positives in everything. It's caused him to change his habits and inspire people to have the attitude of "I can" rather than "I can't." Through The Give Back Program and his role at WhatcomTalk, he's set to be a driving force in our local non-profit community. If you'd like to learn more about what he's up to, view or bid on his art and help out a local non-profit, visit kevinfcoleman.com. "Come on," he says, "let's raise our caliber! Let's raise the status quo!"