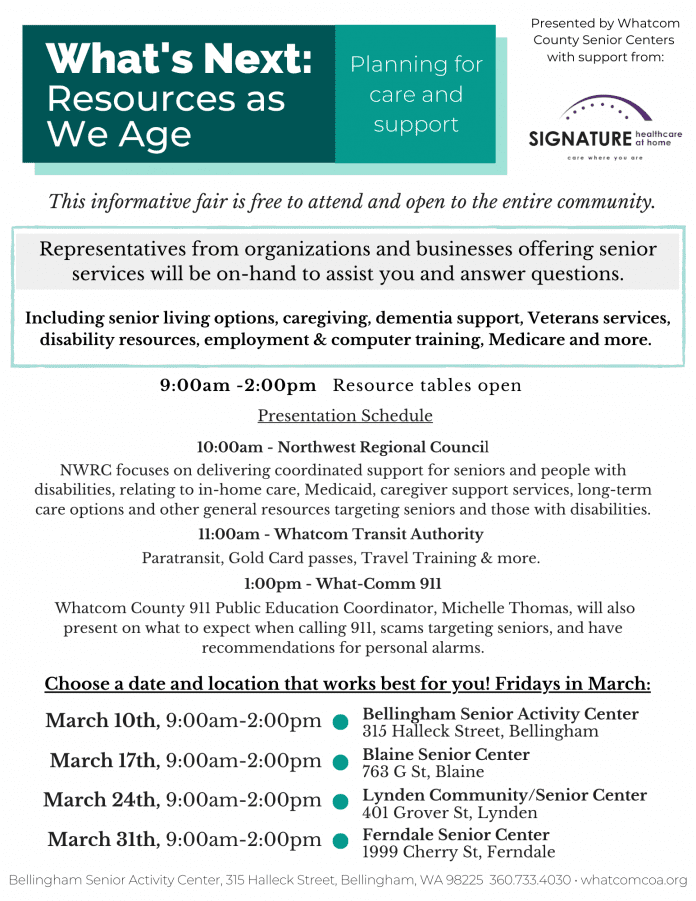 When:
03/10/2023 @ 9:00 am – 2:00 pm
2023-03-10T09:00:00-08:00
2023-03-10T14:00:00-08:00
Where:
Bellingham Senior Activity Center
315 Halleck Street
We invite the community to attend "What's Next: Resources
as We Age" to be held at four Whatcom County Senior Centers during the month of March 2023. These events are free and open to the entire community.
March 10th – Bellingham Senior Activity Center
March 17th – Blaine Senior Center
March 24th – Lynden Senior/Community Center
March 31st – Ferndale Senior Center
What's Next: Resources as We Age is an opportunity to share information and answer questions about what resources are available to seniors in our community including senior living options, caregiving, dementia support, financial services, Medicare, computer training and more. Our goal is for people to receive information on the various resources to help with planning for future and present needs, for not only themselves, but their families and loved ones as well.
Resource Tables open 9:00am to 2:00pm
Northwest Regional Council (Aging & Disability Resources), Alzheimer's Association of
Washington, Signature Home Health, Cordata Court Senior Living, Puget Sound Energy,
Evergreen Goodwill, Whatcom Hospice, Opportunity Council, Right at Home Northwest,
Academy for Lifelong Learning, Lynden Farmers Market, Eden Hospice, Brookdale Fairhaven, The Bellingham at Orchard, BrightStar Care.
Presentation Schedule:
10:00am – Northwest Regional Council – NWRC focuses on delivering coordinated support for seniors and people with disabilities, relating to in-home care, Medicaid, caregiver support services, long-term care options and other general resources targeting seniors and those with disabilities.
11:00am – Whatcom Transit Authority – Paratransit, Gold Card passes, Travel Training & more.
1:00pm – What-Comm 911 – Whatcom County 911 Public Education Coordinator, Michelle Thomas, will also present on what to expect when calling 911, scams targeting seniors, and have recommendations for personal alarms.