When:
2019-07-12T00:00:00-07:00
2019-07-13T00:00:00-07:00
Where:
Cornwall Park North Shelter

Contact:
Kirsten Wert
360-685-8387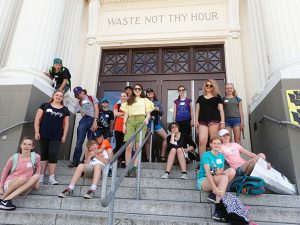 Adventure, exercise, self-esteem, confidence and independence. Kids 12-14 can get all of these (and more!) by learning to walk, bicycle and ride the bus for transportation.
The Smart Trips Adventure Camp will train kids to travel safely and independently in Bellingham. Whatcom Smart Trips Staff will use games, field trips and classroom activities to teach map-reading, walking and bicycle safety, and bus route planning.
All skills will then be put to the test during a super-fun Urban Transportation Scavenger Hunt! Must attend all training sessions (Mon-Thurs) to compete in the Urban Transportation Challenge on Friday.
Camp meets Mon-Fri, 9am-1pm