When:
2023-03-18T00:00:00-07:00
2023-03-19T00:00:00-07:00
Where:
Singh Sabha Gurdwara
591 Telegraph Ave. Bellingham
WA
Contact:
The Chardi Kala Project
5106752603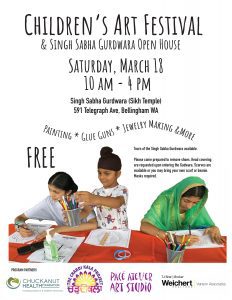 Bring your whole family to the Children's Art Festival and Open House at Bellingham's new Singh Sabha Gurdwara. The Pace Atelier Art Studio has designed and will supervise art project tables for children (and adults too) to explore different mediums; like painting, and yarn art, and glue projects and more.
The Singh Sahib Gurdwara will serve Langar, East Indian vegetarian food and pizza. Tours of the new Bellingham Gurdwara will be available for those interested.
Everyone entering a Gurdwara (Sikh temple) is asked to take off your shoes and cover your head. Kerchief headcovering are provided by the Gurdwara, or wear your own scarf or beanie.