On any given day, someone traveling around Whatcom County will spot kids running around on sports fields or maybe even hear balls bouncing from inside gyms. For most of his life, Jeremiah Wright has been one of those kids. Since a young age, Wright and his buddies have been throwing, kicking, running, and shooting their way around the county.
While the act of playing sports from a young age up through high school is a common practice, in speaking with Wright, you get the feeling that for him, it was a little different. Wright, now a senior at Lynden Christian High School, is the team's starting quarterback and linebacker, playing in high-stakes games week in and week out as he and his teammates strive to be the best in the state. While Wright is all in on football at this moment, football has not been his sole focus. When asked what his favorite sport was, he simply replies: "Whatever's in season."
When the football season ends, Wright will transition to basketball to play forward, where he and his lifelong teammates will attempt to achieve the rare feat of threepeating for a state title. During Wright's sophomore and junior years, the team brought the state title back to Lynden, and they have ambitions for Lynden Christian be the last team standing at the end of the 2023-2024 season, as well.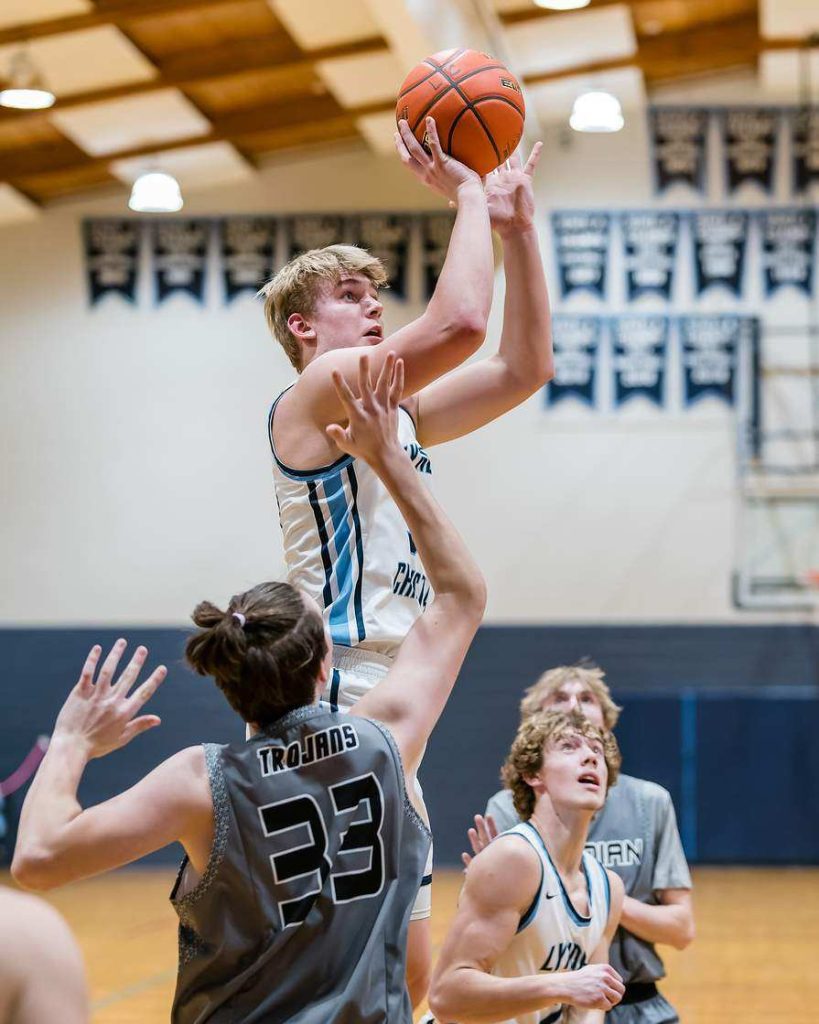 While the goals Wright has set for himself are ambitious, it's because of those around him that he has the confidence that he and his teammates can overcome challenging obstacles. "Just the camaraderie of being able to lean on your teammates if you're not playing well and vice versa and always doing it with the guys I've been going to school with since kindergarten," Wright says. "We just have that close relationship, and it makes it a lot more fun when you have other guys around you that all have the same goal."
Coaches and trainers throughout Wright's life have helped him achieve his goals, no matter the sport. He also has the encouragement and support of his three siblings and parents, who were athletes themselves. Wright's mom, Michelle Wright, played volleyball and ran track in high school. His dad, Josh Wright, played collegiate football in Idaho and at Western Washington University.
Wright credits his parents for exposing him to sports at a young age and making it possible for him to play a variety of sports. They drove him wherever he needed, including to Seattle, where he competed. Being the oldest of four, he also appreciates the time his siblings have spent cheering for him.
When his senior year of basketball concludes, Wright will turn his attention to the spring sports season and fall of 2024. He has participated in more than one of the spring sports and is undecided on what he will do in his senior season. It may be influenced by what he chooses to do after high school. He has seen the value of being a multi-sport athlete and wants to use that to continue to develop.
"From the training aspect, it definitely works a lot of different muscles and movements. Working things, you don't necessarily get in other sports," he says. "That's definitely where it helps. From my background of soccer, when I was little, all that footwork that comes along with that has probably helped me now in high school."
While Wright has not made any decisions about college, he does hope all his hard work in sports and in the classroom translates into college opportunities. He is considering football and basketball in college, depending on the best fit for him. He's also open to changing positions in football and has spent some time at tight end in camps, which may be a good position for him at the next level.
While Wright loves his family, friends, and community, he's also excited to go see what else is out there. And it wouldn't hurt his feelings to spend the winters in a warmer, dryer climate — but he will go wherever has the best opportunities for both sports and academics.
In college, Wright is interested in studying architecture or design, with the hopes of designing homes in the future. He prides himself on doing well in academics and will take that into consideration as he considers his higher education options.
In the meantime, Wright is going to enjoy his senior year with his family and lifelong friends. Wright can be seen playing under the Friday night lights through the football season, and then will play basketball in the gyms around the county when basketball season rolls out.
Featured photo by Wendi Parriera