Submitted by First Fed
Port Angeles is nestled in the middle of a natural wonderland of mountains, rainforests, and beaches on the Olympic Peninsula, all just a few hours from Bellingham. The charming coastal town acts as a central springboard to awe-inspiring natural beauty, rich cultural heritage, and a plethora of outdoor activities. Whether you're a nature enthusiast, history buff, or simply craving a tranquil escape, this hidden gem will captivate your heart and leave you yearning for more.
Why start planning a trip to Port Angeles now? First Fed Bank is hosting a once-in-a-lifetime free event on the Port Angeles waterfront on September 3, 2023. The First Fed Centennial Celebration features performances on two stages including mainstage bands The Daddies (formerly known as the Cherry Poppin' Daddies), Snotty Nose Rez Kids, Lady A, and Abby Mae and the Homeschool Boys. Everyone is invited to enjoy the free community showcase, family activities, and fireworks.
You'll want to book your trip early to make the most of the Labor Day weekend in Port Angeles. Here are recommendations of where to stay, eat, and play.
Lodging
Whether you enjoy rustic cabins, charming inns, or lavish casino hotels, you'll find a wide range of styles to meet your needs in the Port Angeles area.
7 Cedars Hotel & Casino
Located in Blyn, just 30 minutes from Port Angeles, 7 Cedars offers luxury rooms, restaurants, a coffee shop and boutique, and a casino for anytime entertainment.
7cedars.com
A Hidden Haven Bed and Breakfast
Five luxury cottages located in a tranquil forest just 5 miles to the Olympic National Park and beaches.
ahiddenhaven.com
Emerald Valley Inn
Located off Highway 101, this remodeled mid-century inn outside Port Angeles offers easy access to the Olympic National Park. Unplug and unwind in one of the 6 rooms or one 3-bedroom guesthouse. The iconic Granny's Cafe is next door.
emeraldvalleyinn.com
George Washington Inn
This luxury bed and breakfast inn sits on a high bluff along the shores of the Strait of Juan de Fuca, just minutes from Port Angeles and the Olympic National Park.
georgewashingtoninn.com
Red Lion Hotel
Conveniently located next to the Black Ball Ferry terminal on the Harbor, enjoy sweeping water views and walking distance to downtown Port Angeles.
Red Lion Port Angeles
Sea Cliff Gardens Bed and Breakfast
Enjoy a relaxing stay at this oceanfront Victorian bed and breakfast, high atop a 130-foot cliff overlooking the Strait of Juan de Fuca. Stays for guests over 18 only.
seacliffgardens.com
Restaurants
These Port Angeles favorites offer local flavors and a taste of local culture. From brunch to a night out, there is something for every palate.
Barhop Brewing
This family-friendly brewery in Port Angeles serves up craft beer and artesian pizza.
barhopbrewing.com
Buena Luz Bakery
Stop in for coffee and fresh bread and pastries baked fresh daily. Open Tuesday – Saturday until 2pm.
buenaluzbakery.com
Downriggers
For breathtaking views of Friday Harbor, paired with scratch-made cocktails and Pacific Northwest cuisine, look no further than this classic Port Angeles restaurant.
downriggerssanjuan.com
Drakes U-Bake Pizza & Subs
Check out this local favorite for an extensive menu of sandwiches, subs, wraps, and salads.
drakespa.com
Harbinger Winery
Visit the tasting room of this local winery in downtown Port Angeles to enjoy wine, chocolate, cheese, and beer.
harbingerwinery.com

Kokopelli Grill
This Downtown Port Angeles favorite offers hand-crafted southwestern cuisine with waterfront views. Enjoy fresh, local seafood, including their award-winning salmon chowder.
kokopelli-grill.com
New Day Eatery
Enjoy brunch with fresh ingredients and unique twists on classic dishes. Or just stop by for a pastry and drink from their juice and smoothie bar.
newdayeatery.com
Shirley's Café
Entertain your inner traveler by dining in a sea of license-plate décor at this family-owned Port Angeles diner.
shirleyscafepa.com
The Strait Slice Pizza Co
A classic local pizzeria for the whole family to enjoy.
straitslice.com

Activities
Adventures Through Kayaking
Pick from a variety of personalized sea kayaking, lake kayaking, stand up paddleboarding, and mountain biking excursions to explore the Olympic Peninsula.
atkayaking.com
Erickson Playfield
If you have kids in tow, this beloved park in Port Angeles is a great place for free family entertainment. The recently remodeled Dream Playground will delight young ones, and the brand-new Pump Track is fun for any age on wheels.
padreamplayground.org, facebook.com/PAPumptrack
Feiro Marine Life Center
Get up close and personal with the marine life of the North Olympic Peninsula including sea stars, hermit crabs, sea cucumbers, and more. Fun for the whole family.
feiromarinelifecenter.org
Field Arts & Events Hall
The new world-class events center was designed by LMN Architects, whose projects include Benaroya Hall and Marion Oliver McCaw Hall. Field Hall is hosting its grand opening in July 2023 as well as the "Love Local" stage for the First Fed Centennial Celebration on September 3, 2023.
fieldhallevents.org
Hurricane Ridge in the Olympic National Park
While the historic Olympic National Park Lodge can no longer be visited since the fire, the scenic hiking trails in the area reopened on June 27, 2023.
nps.gov/olym/planyourvisit/visiting-hurricane-ridge.htm
Olympic Hiking Co.
This local company offers guided group tours, privately guided day hikes, multi-day backpacking trips, and an extensive backpacker trailhead shuttle service so you can explore the Olympic National Park.
hikeolympic.com
Port Angeles Wharf
The Wharf has glorious views of the water and is home to three restaurants, a coffee shop, art galleries and artist studios, a jewelry shop, a hiking tour company, an arcade, and seasonal whale watching.
portangeleswharf.com
Sound Bikes and Kayaks
For all your hiking, biking, kayaking and adventuring needs, this diverse outdoor equipment retailer in Port Angeles has you covered.
soundbikeskayaks.com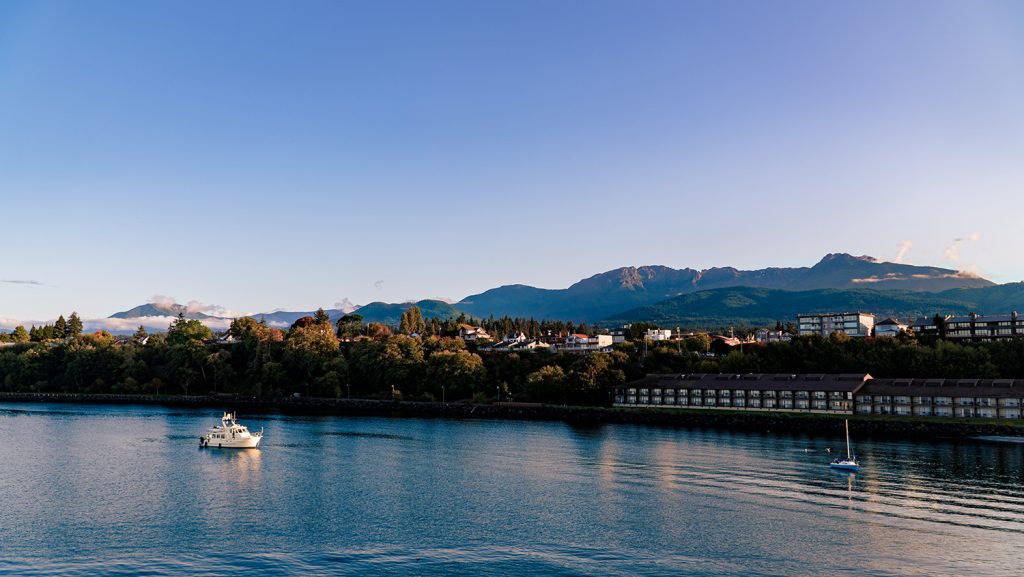 The vibrant arts scene, abundant recreational opportunities, and welcoming community are sure to provide an unforgettable experience on your next trip to Port Angeles. So pack your bags, adventure awaits just a few hours away!
First Fed is a member FDIC and equal housing lender. See current specials at ourfirstfed.com/rates