This January, Bellingham's CorePhysio earned 'Certified B Corporation' status — a business designation that indicates high standards of accountability and transparency in measuring their social and environmental impact.
CorePhysio is one of only four physical therapy and fitness companies worldwide to have earned this certification, and the clinic has made a long-term, holistic commitment to serve its employees, clients, and the wider community with the best care possible. CorePhysio is proud to be locally owned, which is increasingly unusual in healthcare companies.
"The mission of being a Certified B Corporation aligns with my personal values, and it aligns with our company values," says Elizabeth Hampton, CorePhysio's CEO and founder. "It's just a really logical fit."
Establishing Benchmarks
Hampton began considering B Corp certification as far back as 2014, but it was in 2020 — at the height of the COVID-19 pandemic — when CorePhysio formally started the application process. The B Impact assessment tool enabled the company to realize many of the things they were already doing aligned with the high standards required to become a Certified B Corporation.
CorePhysio wound up scoring 105 on their "B Impact" assessment, which covers five categories: governance, workers, community, environment, and customers. A score of 80 qualifies a business for B Corp certification; the average score for businesses overall is 50.9, which demonstrates the challenge for any business to pass the rigor of B Corp standards.
CorePhysio scored especially high marks in the 'customers' category, demonstrating the tools in place to provide client education regarding what to expect during their CorePhysio experience. They also scored high points for the comprehensive systems in place to actively seek feedback and information for their clients to support continuous quality improvement. Despite their overall score, Hampton says it doesn't mean the business is perfect by any means.
"We are driven for continuous quality improvement, always," she says. "The B Corporation assessment helped us identify areas where we can grow and improve the company. It really is a declaration of intent for ongoing learning and raising the bar."
The certification has been an exciting development for CorePhysio's 26 employees. Katie Schaner, a physical therapist (PT, DPT) and orthopedic clinical specialist, says B Corp certification reaffirms employee desires to go above and beyond, working to be part of community solutions outside the realm of the musculoskeletal.
"It makes me feel really proud to be part of an organization that cares about the environment and the community beyond what we do day-to-day," Schaner says.
Setting Goals
Once CorePhysio achieved its certification, the company's employees voted on B Corp goals for 2023.
The first of these is launching an anonymous employee engagement survey, allowing them to use that feedback to craft better goals for employee satisfaction. CorePhysio is a small healthcare company, and Hampton says that while they'd love to add perks onsite like larger B Corp companies have, they're likely to implement more budget-friendly but nonetheless helpful concepts instead.
As a B Corp-certified business, CorePhysio's primary environmental goal is measuring its carbon footprint and seeking ways to reduce it. Hampton says they're researching a free and comprehensive method of doing so, including factors such as employees walking or biking to work, and how many work from home at least part of the time.
CorePhysio is also working to partner with two local organizations on a resource drive and potential volunteer service as its community goal.
Janis Wolfe (MBA), the company's Director of Operations, says employees are excited about the possibilities, and have suggested drives that could involve lobby donation opportunities for CorePhysio patients, benefitting organizations like the Family Resource Center or a holiday gift tree. CorePhysio staff discussed individual interest in volunteer opportunities including Adopt-A-Trail or Girls on the Run — an adolescent girls' empowerment program.
Danielle McDowell, CorePhysio's Office Manager, says Schaner, Hampton, and Wolfe, along with Clinical Receptionist Holly Steindorf, laid the foundational work for these community efforts through their Justice, Equity, Diversity, and Inclusion (JEDI) team. Now, working with the entire staff to find the best ways to help the community, they're excited about the work ahead.
"There's so many really meaningful local organizations that we feel strongly about," Hampton says.
Finally, CorePhysio's B Corp work involves being transparent about what they're doing and how they're doing it. Using marketing savvy and social media, the company plans to document the progress towards their goals, updating the public fully after one year of working on their goals.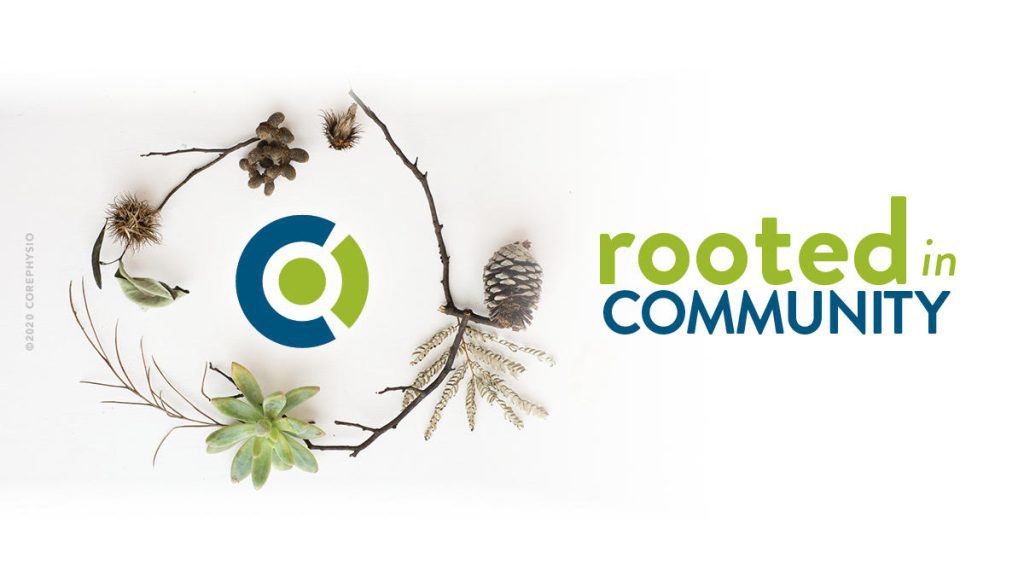 Looking Ahead
Becoming B Corp certified has confirmed for Hampton just how well CorePhysio's team of physical therapists and fitness trainers are already doing in delivering thoughtful, quality healthcare. She's excited to see just how far the CorePhysio team can go in the near future.
"Our friends, neighbors, and community want world-class care from people they know and trust," Hampton says. "It's the responsibility of a company to create an environment where our employees, as well as our clients, thrive."
CorePhysio operates two clinics: one in Fairhaven and another on Grant Street in Bellingham. For more information on their services, please see their website.
Submitted