Submitted by Whatcom Transportation Authority
Taking your bike on the bus with you can be a convenient way to connect to your destination or explore the many parks and bike trails in Whatcom County. While most bus riders remember to take their bikes with them, Whatcom Transportation Authority (WTA) sees an average of three forgotten bikes on board per week. Most bikes are claimed same-day. Abandoned bikes are held for up to two months.
WTA donates unclaimed bikes to the Whatcom Middle School Bike Club. The Bike Club, which meets weekly before school, focuses on repairing these bikes and donating them to those in need in the community.
Many of the bikes are broken and require new parts. The Bike Club focuses on the mechanics of safe and efficient bike repair and restoration. The Bike Club has a dedicated bike shop on the Whatcom Middle School campus and the Hub Community Bike Shop supports the club by donating spare parts.
This school year, the WMS Bike Club restored recreational mountain bikes for the Carl Cozier Elementary School Bike Club, which is led by parent, volunteer, and WTA Training Supervisor, Zach Cook. The club helps introduce kids to mountain biking.
"I'm proud of the work that the students at Whatcom Middle School are doing through the Bike Club," said Cook. "Not only are they learning valuable skills in bike repair and maintenance, but they are also helping to provide access to transportation for those who may not have it. It's truly inspiring to see."
In addition to donating bikes to the Carl Cozier Elementary School Bike Club, the Whatcom Middle School Bike Club has also donated adult bikes to the Lighthouse Mission. So far this school year, the Bike Club has restored 20+ bikes.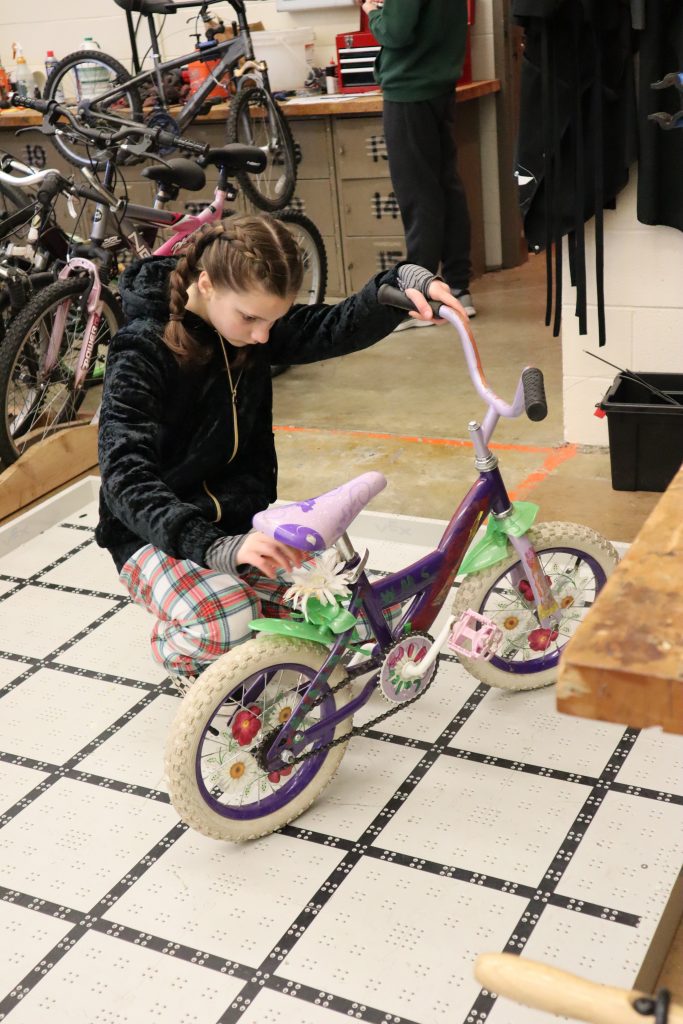 The Bike Club is led by Whatcom Middle School coach and teacher Matt Holmes and volunteer Nate Stiles. It was created and led for over a decade by former Whatcom Middle School principal Jeff Coulter.
"Our goal is to get as many people on bikes as possible, and we see this as an opportunity for Whatcom Middle School students to ride their bikes to school," said Holmes, who is in his first year of running the program. "We want to provide them with the resources they need to make that happen, whether it's fixing a flat tire or adjusting their brakes. We encourage them to come in and use us as a resource."
If you are interested in supporting the Whatcom Middle School Bike Club, please contact Matt Holmes at matthew.holmes@bellinghamschools.org. If you are interested in volunteering with the Carl Cozier Elementary School Bike Club, please contact Zach Cook at zachc@ridewta.com.