When Mike Welch was a teenager working after school at a local Whatcom County recycling center, he bought a 1960 Ford pickup that would become his first monster truck.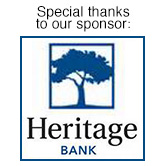 Welch eventually began altering the truck, so much so that he literally changed the definition of what constituted a street-legal vehicle in Washington.
"I single-handedly made the state rewrite all the height, headlight, and bumper height laws on motor vehicles," Welch says of his first elevated creation, which he came to call "Monster Mash."
A few years after graduating from Meridian High School in 1981, he embarked upon a monster truck odyssey at a time when its culture was just beginning. Over the decades, Welch established himself as an influential monster truck figure, racking up countless stories and adventures along the way.
Dreaming Big
Growing up in Laurel, Welch drew fantastical pictures of trucks with enormous tires. By age 10, he was racing motorcycles at Hannegan Speedway. And as he grew older, Welch found interest in building and inventing.
"I always just wanted to show off and do things," he says.
Bob VanderPloeg, a local tractor legend and owner of Meridian Equipment Company, encouraged Welch in his mechanical pursuits, letting him pick through tractor parts to find whatever he needed.
After Welch tricked out his truck with heavy equipment tires and axles, he became interested in where he could drive it. Monster trucking was a relatively new concept, born out of guest appearances at tractor pulls, mud bogs, and car shows, where trucks with oversized tires crushed cars.
"They (the older guys who did the tractor pulls) all thought that this was going to be a flash in the pan, a novelty that would fade out and never last," says Welch.
The idea he could make a living doing this seemed ridiculous to many, as it wasn't yet an established motorsports career path. At one point, the Intalco aluminum smelter — one of the county's premier employers — was set to hire Welch. He turned them down.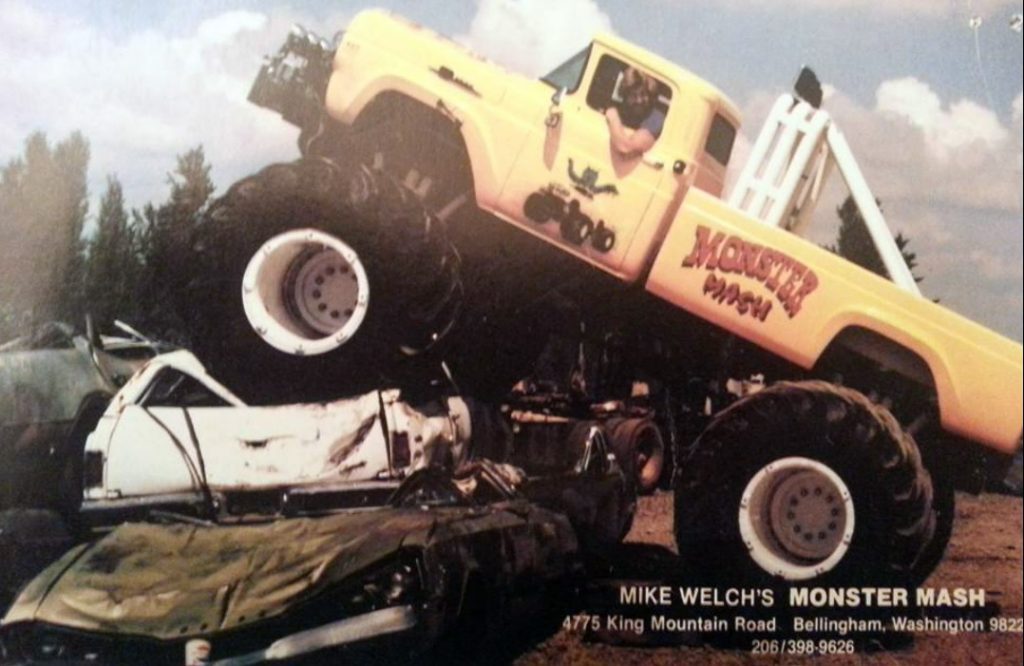 "The people who knew I had the opportunity to work at Intalco thought I was the biggest lunatic in the world," he says.
His parents didn't see it that way, and supported their son's passion for building, fabricating, and welding trucks. Welch had the rest of his life to work regular jobs, they told him, if his ambitions didn't work out.
"My parents were dreamers," he says.
Father of Freestyle
Welch began driving full-time in 1984, and was the first person to have a monster truck west of the Mississippi River, he says. Being the first offered him many good opportunities, and he took them.
Welch's first appearances were at World of Wheels car shows, since monster truck-specific shows didn't yet exist. By 1986, however, about a dozen other West Coast monster trucks were putting on shows.
Welch became known as the "Father of Freestyle," inventing a now-common monster truck format. He was the first Monster Jam driver to be paid, he says, and the first to roll a monster truck on purpose. Welch was also the first person to drive a monster truck with full hydraulic steering.
"I could steer mine with one finger," he says. "It was a very big advantage early on in the development of monster trucks, and now, that's what everybody runs."
In 1987, Welch appeared in "Rolling Vengeance," a Canadian action film featuring Ned Beatty. His work on the movie's iconic monster truck got him a paycheck in the mid-six-figure range — an incredible financial boost for a 23-year-old.
In 1989, Welch became the first American monster truck driver to visit Japan, and lost out to Bigfoot on being cast in the Patrick Swayze movie "Roadhouse."
Welch also worked with legendary racing promoter Mickey Thompson, whose monster truck and off-road shows toured the United States. Welch performed in front of packed crowds at stadiums like the Kingdome, executing stunts he'd only previously completed in his mind.
Over the years Welch built and drove dozens of trucks, with names like Grease Monkey, Lucky Logger, California Kid Crusher, and Uncle Buck's Chuck Wagon. One time, he drove a truck named "Fried Rice" to help promote several rice farmers.
Welch's favorite truck, however, is probably "Super Pete" — a 1947 Peterbuilt standing 14 feet tall and weighing eight tons. It harkens back to his father's truck driving operation, around which he was raised.
On the Edge
Welch's glory days weren't without danger: he once pulled all the tendons in his fingers when a hand flew out the open top of a truck during a rollover. When it's cold out, the hand still gets sore.
As Welch's career progressed, he added producing and announcing shows to his skillset, bringing monster trucks around the country and to local places like Hannegan and the Lynden Fairgrounds.
Welch also did things he now says he'd never do again, including announcing while lying down in a car as it was crushed.
Back when shows featured Army tanks stripped of turrets and outfitted with pickup bodies, Welch would announce and pretend not to see the tank coming towards him. Right before it would hit him, he'd drop to the ground and slide underneath the tank, grabbing a hook underneath to be dragged along. While still announcing, Welch would then let go, stand back up, and pretend he had a wedgie. He was never injured during the stunt, but others have been less fortunate.
"My father just absolutely hated [seeing] me underneath that thing, thinking that my legs were going to get turned and I'd get cut in half," he says.
Still Truckin'
Welch's driving days began to slow down around 2008, when his father asked him to spend more time in Bellingham. He obliged, and also picked up the commercial truck driving skills he'd occasionally used when not monster trucking. As time has gone on, it's become his primary gig.
"The reward isn't as good, but it's a lot less risky," he says of his current occupation.
In 2012, Welch's monster truck career was immortalized with his induction into the International Monster Truck Hall of Fame, which is located in Indiana.
"It was an honor," he says. "It was very fulfilling to realize that, worldwide, I was more popular than I ever thought."
Welch, however, isn't quite done with monster trucks. Though he last drove one in Japan in 2014, he is still hard at work building them. In addition to a new version of "Monster Mash," Welch is finishing an experimental rig he says will be his last hurrah.
 "I think it'll be very exciting to see," he says. "It's just something the world has never seen. It's very unique, and very bizarre."
Although Welch never married or had children — he describes himself as a workaholic — he has mentored many in the monster truck industry over the years, and is approaching the 5,000 friend limit on Facebook.
Besides the adrenaline-fueled rush of driving monster trucks, Welch said the most satisfying moments of his career have come in speaking with children, some of whom grow to be adults and reach out to tell him of their childhood memories.
In reflecting on his own journey, Welch says that no one should ever be discouraged from their dreams or passions.
"If they have an idea or an invention or something, pursue it," he says. "No matter how crazy they sound, no matter how big they are, and no matter how many people laugh at them or tell them that it can't happen. Because people laughed at me, and look at what I got to achieve with minimal education and a heavy desire to succeed."