"If you want to improve your health through what you eat — and you have to eat every day — cooking at home is so helpful and powerful," says Unity Care NW Registered Dietician Antrim Caskey. "I tell patients all the time to get in the kitchen, flip open your laptop, watch the videos, and get inspired. You'll have so much fun doing it."
Sometimes buying, cooking, and eating food takes an awful lot of time and money. But we also know that the food we eat has the power to make us sick, or to make us well. To help make sense of it all, Unity Care NW has created a series of videos called Dietician Kitchen that make food prep simple.
Mary Huselid is behind the camera, shooting and editing the videos, and Antrim Caskey is the dietician in front of the lens, showing how it's done. "Recipes have to pass a certain bar," Caskey says. "They have to be easy, healthy, tasty, and nutrient dense."
Caskey was born in Baltimore and went to school in Colorado and England. She spent 20 years as a photojournalist, based in New York City for 10 years, and traveled to every continent on the globe [for her work]. Then, in 2016, she moved to Idaho and went back to school, studying dietetics and nutrition at the University of Idaho.
"My supervised practice was in Boise, at the Department of Corrections, and then at the Boise Food Bank," says Caskey. "Right away, I knew that community was the most interesting pathway for me, as opposed to food service or clinical practice."
Life in the Pacific Northwest appealed to her, and she kept her eyes open for opportunities as she reached the end of her studies. "In school, we always said that outpatient community dietitian is the best position you can get, so when I saw the posting on Unity Care's careers page for this position — I thought, 'Holy moly, there it is!'" She visited for an interview and immediately fell in love with her surroundings. "I am really thrilled with where I ended up, absolutely."
Huselid's video training came from certification courses at Access Bellingham, the now-defunct public access television station. After Caskey made her first video, alone, with her cell phone, the two met and realized there was a better way to move forward. "We did our first video together, on knife skills, and that was on public access television, but then we switched over to social media," Huselid says. "We share Dietitian Kitchen videos regularly on Unity Care NW's YouTube, Instagram and Facebook pages."
The inspiration to focus on plant-based, high-fiber recipes comes from the lifestyle medicine that Caskey uses in her day-to-day practice. "Lifestyle medicine means therapeutic lifestyle change for the prevention, treatment, and reversal of chronic disease," says Caskey. "Most chronic diseases in America are related to diet and lifestyle, so I really see food as medicine."
This approach also made sense as Caskey and Huselid began to look at ingredients, and the cost of making meals. "We wanted it to be accessible and budget friendly, because a lot of people think it's too expensive to eat healthy," Caskey says. "Then you realize that beans, legumes, and whole grains are some of the cheapest foods around."
From there, the science of healthy eating came together beautifully with the mission of helping people help themselves.
"It's empowering," says Caskey. "We have so much at our fingertips that can heal people, and help people heal themselves, so let's show them how easy it is. That's why the first video we did was knife skills — you don't need a bunch of fancy equipment, you just need a knife and a cutting board, that's where you start."
Soon, the pair found they truly value working with each other, and that their videos were making a real impact on people in the community. "Of course, there are a ton of cooking videos everywhere, and we're not trying to reinvent the wheel," says Caskey. "But that shornakod video — an Afghan potato salad — is an awesome video, and then the other one is the cowboy caviar."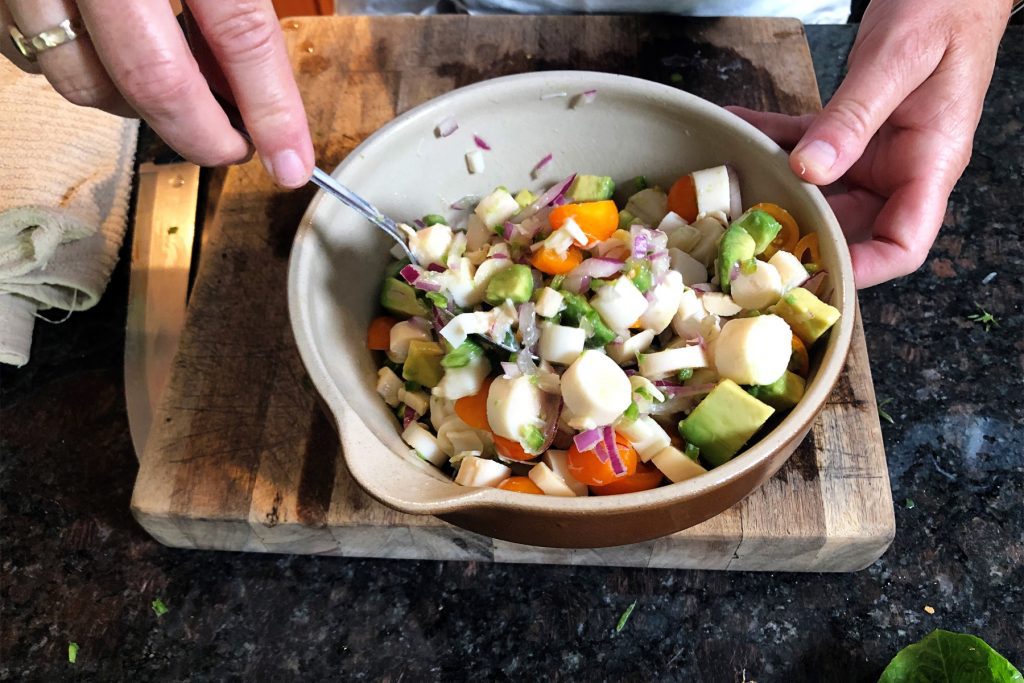 Whether you call it Afghan potato salad or shornakod, a name like that might make even an experienced cook think twice. But the video clocks in at just under two minutes, uses ingredients we're all familiar with, and doesn't leave any room for confusion. The cowboy caviar video is another example of how Huselid and Caskey use captions and close-ups to walk cooks through a recipe, as well as the details of the preparation, quickly and easily.
Sponsored