At the corner of Holly and Commercial Streets, Bellingham locals can find a gateway into another world. Third Planet is a boutique specializing in clothes, crystals, jewelry, pipes, and other eclectic gifts.
"The store started almost nine years ago, in February of 2014," says Manager Erika Millage. "I'm the only employee who's been there since the beginning."
Before it became a store, Third Planet began with a wholesale business distributing hand-carved statues from Bali, Indonesia.
"The business started 25 years ago," Millage says. "The owner, Gabe, started as a wholesale importer from Bali. He wanted to find a way to give jobs to some of the individuals in that country who were less fortunate; to buy products from them so they would have more money and better jobs."
Today, Bellingham shoppers can enjoy Third Planet's bohemian charm at both its storefront and booths at community functions.
Third Planet Products
Third Planet offers a wide range of items with a countercultural mystique.
"We honestly have a little bit of everything," says Millage. "We sell jewelry, crystals, clothes, a lot of gifts. We've got décor items, but by far, jewelry and crystals are our top departments."
Other items include enamel pins, stickers, candles, incense, pride flags, and Bellingham flag merch (in association with nearby Northwest Corner Goods). Third Planet's ecommerce site displays a limited selection of the items that are available in-store.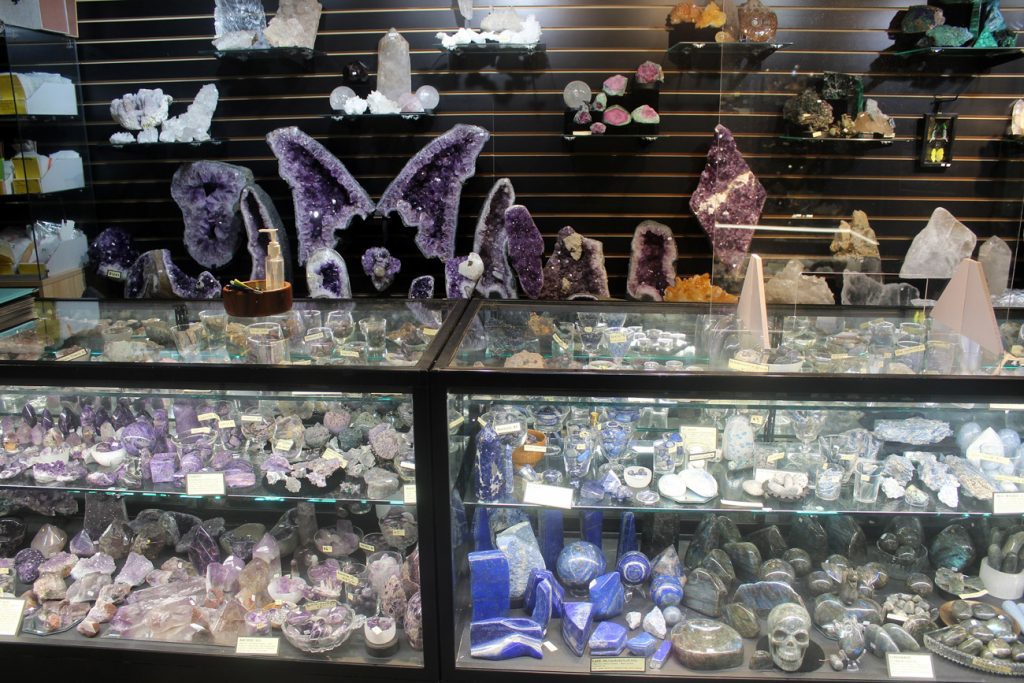 "The stone rings are extremely popular and the crystal grab bags have been a big hit," Millage says.
Third Planet distributes one-of-a-kind merchandise from artisans far and near.
"We sell a lot of local stuff," says Millage. "So we've been selling a lot of earrings by Art by Ciara; we sell a lot of earrings by the Goat's Coat. We also sell a lot of candles from a company called the Queer Candle Co, and then a lot of the rings I've purchased from different vendors from trade shows. So a lot of the sterling silver, the stone set, are things that I've hand-picked."
Community Involvement
Third Planet makes frequent appearances at local events, including the Bellingham Pride Festival.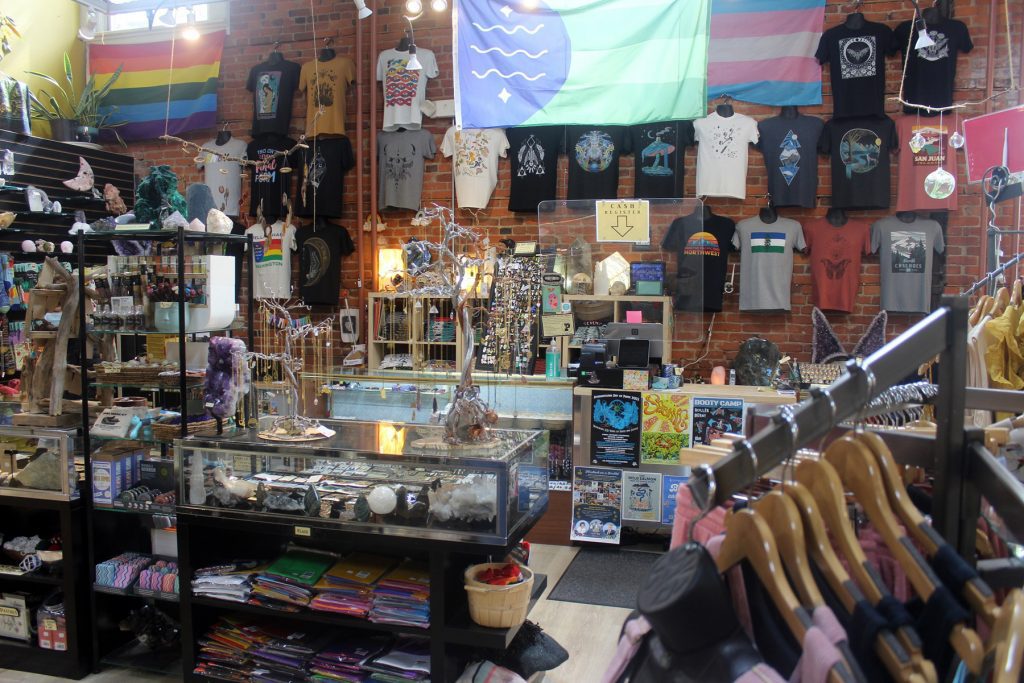 "I'm on several different committees of the Downtown Bellingham Partnership," Millage says. "We participated in the Commercial Street Block Party, where several of the businesses on this block have gotten together and decided to throw some community events."
Third Planet frequently supports local nonprofits. These include Kulshan Supported Employment, "where people with disabilities have come and trained at the store to see if working in a retail environment would be something that would work for them," Millage says. Additionally, Millage donates to nonprofit silent auctions.
"Really, most people who reach out for a donation for an event, we participate in that," says Millage. "And then we also always do the Lydia Place fashion show; we've been doing that, I think, for seven years."
The store has increasingly gained recognition from media outlets, such as Bellingham Alive and Cascadia Weekly.
"Third Planet has been very well received," says Millage. "We've really strived to create an environment where everybody feels welcome, where everybody feels equal." One of the things Millage is most proud of is that Third Planet has created an inclusive environment. "And then, during the shutdown and following the shutdown, in the throes of the pandemic, it was really wonderful to see how much the community supported us, as well."
Being Down-to-Earth in Bellingham
Millage says the most rewarding part of running Third Planet is "the people. Helping people find what they're looking for, helping artists reach customers because I know that's a barrier for a lot of creators, and then just being a safe space is the thing I'm most excited about."
Third Planet continues to grow in inventory and community support.
"My plans for the future are to be here for a very long time," says Millage. "I love running the store. It's a great staff — a lot of us have been working together for a really long time. The goal for me is to make sure everybody is having a really fulfilling life while also having a good work life, too."
Readers can learn more about Third Planet on its website, which calls for artist submissions.
"I really love my job, and I feel very grateful that a place like this exists in Bellingham now," Millage says. "I've lived here on and off since I was seven and I'm 36 now, so almost 30 years. This is the kind of place I would have liked to have seen when I was younger. It feels really great that it's turned into such a community anchor of the downtown area."